Classical CDs Round-Up 13 |

reviews, news & interviews
Classical CDs Round-Up 13
Classical CDs Round-Up 13
This month's releases, from Shostakovich's Bach to orchestrated Genesis
Saturday, 23 October 2010
This month's releases include two contrasted crossover discs, one in tribute to Armenian Orthodox church music, the other by, er, Phil Collins-era Genesis. There's an Elgar oratorio, and a disc of choral music inspired by the untimely death of a young royal. Orchestral fireworks can be found in a recording of a well-known British work and there's some approachable Modernism from a modern Polish master. There's a thrilling compilation of viola concertos, and a classic recent set of Rachmaninov piano concertos reappears at a lower price. Gershwin turns up on an interesting French disc of 1920s music for piano and orchestra, and a work more often heard in a gaudy orchestral transcription is given an excellent solo piano reading by a young Welsh pianist. There's an effervescent box of Baroque keyboard music played on piano, and a classic set of Shostakovich from the Brezhnev years reappears after a long absence. Chamber fans should check out Gidon Kremer's latest release, and those unhappy in love should avoid revelatory readings of two of the best string quartets ever written.
CD of the Month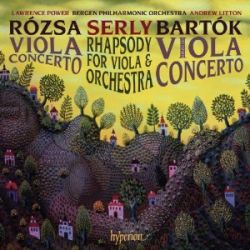 Bartók, Rózsa and Serly: Viola Concertos Lawrence Power (viola), Bergen Philharmonic Orchestra/Litton (Hyperion)

Bartók's Viola Concerto was left incomplete upon his death in 1945, as was the Piano Concerto No 3, but whereas that work only required a brief chunk of orchestration in the last movement, the sketches for the Viola Concerto were more fragmentary. Bartók's children passed the manuscript to the composer's friend Tibor Serly, who produced a performing version which was premiered in 1949. Serly's work has since been questioned, and two subsequent completions have been performed. Serly's realisation works well for me and this music sounds like idiomatic late Bartók. Lawrence Power relishes the elements of autumnal nostalgia, Bartók's restrained scoring always letting the viola sing out. The slow movement recalls the mood of the final piano concerto, culminating in that marvellously gawky horn introduction to the virtuosic finale.
The couplings are inventive; Serly's own Rhapsody for Viola and Orchestra was written in the aftermath of  Bartók's death and is based on the older composer's harmonisations of Hungarian folk tunes. More populist and even a touch schmaltzy, it's a delight here, Serly's double stoppings holding no terrors. More substantial is Miklós Rózsa's Viola Concerto, first performed in 1984. Rózsa was one of many European musicians who found careers in Hollywood, and his most famous score was to Hitchcock's Spellbound. Rather unexpectedly his last completed film work was on Steve Martin's Dead Men Don't Wear Plaid.  Unashamedly backward-looking and overheated, it's nevertheless great fun to listen to even if never approaching Bartókian levels of intensity or profundity. A really rewarding CD, helped by Andrew Litton's alert, lively accompaniments.
Watch a clip from Dead Men Don't Wear Plaid with Rózsa's music:
Other Releases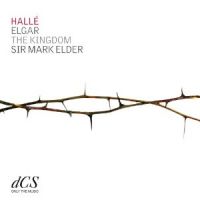 Elgar: The Kingdom Hallé Orchestra and Choir/Elder (Hallé)
Sir Mark Elder's Elgar series reaches this neglected oratorio in a superbly balanced live performance taped in Manchester in October 2009. Though nowhere near as popular as The Dream of Gerontius, Elgar was immensely proud of a work which remains little performed and recorded. It's certainly more episodic and rambling, and the highlights – some wonderful choral writing and luminous orchestration – are outweighed by a few too many stodgy recitatives and passages which can feel like padding.
With Elder's Hallé on excellent form, this is still a highly enjoyable listening experience with many choice moments. Mary's "The sun goeth down" is beautifully sung by Claire Rutter, and Iain Paterson as St Peter is impressive throughout. The Hallé choir sing with an operatic fervour and intensity, but the real attraction is the luxuriant orchestral playing.
Holst: The Planets Suite London Philharmonic Orchestra and Choir/Jurowski (LPO)
The world is hardly lacking in decent performances of Holst's most famous work, a glorious and occasionally baffling mixture of late-Romantic extravagance and English pastoralism. Vladimir Jurowski's live RFH recording is very decent indeed and kept me very happily entertained for 43 minutes – this is a swift reading, but one which never sounds breathless. Jurowski is good at pointing out the work's debt to mainstream European music: "Venus" has a Ravellian swoon and sheen, aided by luxuriant LPO string playing, and the final seconds of "Mercury" are exceptional, with a contrabassoon grunt just audible enough to make its point.
"Jupiter"'s central melody moves swiftly, eschewing jingoistic self-indulgence, and the closing movements all work well, the climax of "Saturn" appropriately macabre. I can't now listen to "Uranus" without thinking of the theme to This is Your Life, but it's nicely sardonic here. But where's the organ? I couldn't hear Holst's marvellous glissando two minutes before the close. The offstage female choir are ideally placed at the fade of "Neptune". In short, this is a consistently exciting, occasionally thrilling live performance, marred only by a stingy running time and an organ deficit.
Baroque: Alexandre Tharaud plays Rameau, Bach and Couperin (Harmonia Mundi)
A mid-price reissue collecting this young French pianist's three Baroque recordings. I fell in love with Tharaud's Rameau disc several years ago and never once missed the rattling sound of the harpsichord. Tharaud points out that Rameau's frequent ornamentation would have served to prolong notes on a harpsichord. This isn't necessary on a modern piano, and there's an incredible delicacy to the pianism here, with the trills and turns played with a barely credible lightness of touch. It's infectious stuff, with the witty character pieces from the Suite in G vivid and alive.
The Bach disc includes an effervescent account of the Italian Concerto. Bach's music has often been transcribed and arranged by his successors, so Tharaud imaginatively gives us several of Bach's own creative reinventions of concertos by Vivaldi and Marcello. Rarely heard on piano, they sound fantastic on a Steinway, the exquisite slow movement of the Marcello oboe concerto a highlight. Tharaud's Couperin selection is even better, and the exuberance and high spirits of these tiny pieces is totally invigorating. It's fun to hear Tharaud overdubbing himself in the Muséte de Taverni and the Bruit de Guerre, complete with a steadily beating tambour. Each of the three discs is recommendable, but Tharaud's Couperin has made me smile more than any Baroque recording I've heard.
Watch Tharaud play Couperin's Tic Toc Choc: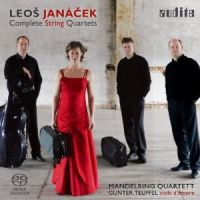 Janáček: Complete String Quartets Mandelring Quartet, with Gunter Teuffel (viola d'amore) (Audite)

Complete string quartets? Janáček left us just two, but this new release commands attention with a reconstruction of the Second Quartet in its original form, complete with viola d'amore. Both works can make for painfully intense listening, dating from Janáček's amazingly creative final period, where he produced a series of staggeringly original and quirky works. The 1923 First Quartet, subtitled The Kreutzer Sonata after Tolstoy's disturbing novella, always sounds to me like a succession of sighs, swoons and gasps, of short, choppy phrases and mercurial mood changes. It's remarkable to hear Janáček's free avoidance of conventional classical forms; themes recur unexpectedly, tension rises and ebbs, and after some passionate sparring in the last movement the music just stops enigmatically.
The Second Quartet, better known as Intimate Letters, is an explicit declaration of love to Janáček's much younger mistress, composed over a three-week period in 1928. His original scoring rather appropriately included a viola d'amore, an archaic seven-stringed viola variant with sympathetic strings under the fingerboard, vibrating with each bowed note. Janáček's original viola player found the instrument too difficult to manage, so the quartet was revised for conventional viola. "So I had to cut the viola d'amore, but it was awful" was Janáček's comment after revising the work. Gunter Teuffel's edition is based on surviving original scores, and the tone of the viola d'amore is immediately apparent when the two versions are compared. There are several other changes too, notably the original pizzicato opening to the first movement, better matched to the softer, veiled tone of the viola d'amore solo. This issue is more than a fascinating curiosity, with the Mandelring Quartet fully at ease with the technical demands of both quartets. There's a magical largamente climax in the middle of the Second Quartet's third movement and it sounds stunning here – an explicit declaration of love, the first violin singing out in the upper register. Both works are masterpieces, and I envy anyone hearing them for the first time.
Hélène Plouffe demonstrates the viola d'amore: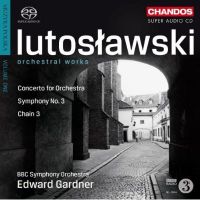 Lutosławski: Orchestral Works BBC Symphony Orchestra/Gardner (Chandos)
Witold Lutosławski's Symphony No 3, premiered by the Chicago Symphony Orchestra and Solti in 1983, starts with such a simple, effective idea, a late 20th-century response to the opening gesture of Beethoven's Fifth. Four loud E naturals recur during the piece's 30-minute span, and the motto's reappearance at the symphony's close wraps things up in a way that satisfies emotionally and formally. Lutosławski uses "limited aleatorism" – passages of controlled improvisation contrasting with sections of more conventionally notated music. None of which is anything to be scared of; the sounds and colours in the improvised sections are consistently entertaining and it's as if the work is composing itself before our ears, the moments of stasis occurring less and less as the symphony winds itself up to a gloriously spiky yet affirmative finish. It's all highly involving, much more than last month's disappointingly anaemic Arvo Pärt.
The couplings are generous, Lutosławski's Chain 3 another thrilling late work, compressing the Third Symphony's soundworld into a gripping 11-minute span. And there's the much earlier Concerto for Orchestra, a Cold War classic. Lutosławski cleverly uses a range of folk tunes, mocking and terrorising them into submission, with the last movement's closing chorale one of 20th-century music's most uplifting moments. Chandos already have an excellent version of the Concerto conducted by Yan Pascal Tortelier, but this generously filled SACD is just as impressive, skillfully led by Edward Gardner with the BBCSO in excellent form. Few orchestras can play this repertoire so well.
Rachmaninov: The Piano Concertos Stephen Hough, Dallas Symphony Orchestra/Litton (Hyperion)
One of a selection of reissues released to celebrate the Hyperion label's 30th birthday, this two-disc set is probably the best set of these works out there, and at mid-price it's an essential purchase. Take Hough's way with the chords opening the Second Concerto: he plays them as written, at tempo, and there's no uncomfortable cranking up of the tempo when Rachmaninov's doomy first theme sweeps in, sounding appropriately dark and Slavic under Litton's direction. The fast tempi help the music sparkle, and Hough is similarly propulsive in the massive Third Concerto, fleetness and lightness aided by his playing of Rachmaninov's more transparent revised cadenza.
It's the other disc that makes this set a standout. The later Fourth Concerto has never been as popular as its siblings, but Hough makes Rachmaninov's edgy rhythmic displacements and throwaway gestures gripping. The composer himself complained in the 1920s that he felt like "a ghost wandering in a world grown alien", and there's a touching sense of nostalgia amidst the wistful flailing around, the cry of a composer vainly trying to regain his mojo. The 1934 Paganini Rhapsody saw Rachmaninov's self-confidence restored. Hough avoids the schmaltz, revelling in the wit. Not forgetting a hugely enjoyable performance of the youthful First Concerto, these live performances are definitive; orchestral contributions are consistently good with some lovely touches of portamento in the string playing. Unmissable.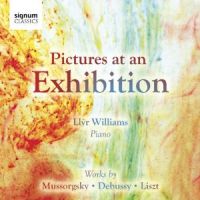 Pictures at an Exhibition: Works by Mussorgsky, Debussy and Liszt
Llŷr Williams
(Signum)
I've long resisted the flimsy charms of Ravel's over-fussy orchestral treatment of Mussorgsky's Pictures at an Exhibition, which tends to blunt the edges of the solo piano version. Llŷr Williams's version presents the piece in all its craggy glory, with such eloquent force that you can't understand the need to have an orchestral version. There's a blunt gruffness about his statement of the opening "Promenade" and an appealing lightness of touch in the faster movements, with unhatched chicks and bantering market vendors projected with unnerving clarity. "Samuel Goldenberg" and "Schmuyle" spring to life, with the latter's repeated cries increasingly desperate. There's a chillingly static account of "Catacombae" and a thrilling closing "Great Gate of Kiev", where the spacious, reverberant recording lets us hear the thunderous bass notes as real music.
Williams has coupled the Mussorgsky with pictorial music by Debussy and Liszt. The former's "Estampes" nicely restrained in the first two sections, followed by an exhilarating account of Debussy's machine-gun semiquavers in "Jardins sous la pluie". The three Liszt pieces provide a brilliant coda, especially in the tinkling water sounds of "Les Jeux d'eau à la Villa d'Este" and the beefy bell sounds preceding the soft amen which rounds off "Ave Maria, Die Glocken von Rom".
Tansman, Boulanger, Gershwin: Works for Piano and Orchestra David Greilsammer (piano)/Orchestre Philharmonique de Radio France/Sloane (Naïve)
No full-orchestra version of Gershwin's Rhapsody in Blue will ever sound as good as the tighter jazz-band original. Here, David Greilsammer does his best, but the massive forces of Steven Sloane's Parisian orchestra just can't compete in the shimminess stakes, despite some nice solo wind playing and entertaining squelchy brass chords just before the slow tune's reprise. No, you need to hear this CD for the other works, opening with Alexandre Tansman's Piano Concerto No 2. Tansman, born in Poland in 1897, moved to Paris in 1919. He quickly became acquainted with Stravinsky, Prokofiev, Honegger and Milhaud, the last two of whom even invited him to become a member of their unofficial composers' club, Les Six, a reaction against the perceived heaviness and solemnity of the Austro-German musical tradition. Tansman lived until 1986, remaining active until his death, and it's difficult to understand why this concerto hasn't been recorded before. Composed in 1927 and dedicated to Tansman's friend Charlie Chaplin, this is highly approachable, entertaining music, reminiscent of Martinů, Ravel, Prokofiev and others, but none the worse for that, and the jazzy syncopations in the Finale make the Gershwin work an apt coupling.
The influential teacher Nadia Boulanger, whose pupils included Quincy Jones, Aaron Copland and Philip Glass, knew Tansman and Gershwin. Her 1913 Fantasie, based on a Russian folk song, is an entertaining display piece, starting slowly and conservatively in the 19th century but quickly becoming much more interesting, the delicious Wagnerian chromaticism of the opening giving way to lively rhythmic assertiveness in the closing pages.
Dialogues of Sorrow: Passions on the Death of Prince Henry (1612) Gallicantus/Crouch, with Elizabeth Kenny (lute) (Signum)
In November 1612, James I's charismatic and popular eldest son Henry unwisely decided to go for a swim in the Thames, catching typhus and dying several days later. The resulting outpourings of collective grief bring to mind the aftermath of Princess Diana's death in 1997, though her demise sadly did not match Henry's in prompting a flood of high-quality musical tributes. Dialogues of Sorrow presents an intelligent sequence of 19 short choral pieces composed after Henry's death. Despite the CD's title and the inclusion of songs with names such as "Weep, weep Britons" and "O Grief", this is not a depressing issue.
Particularly enjoyable are four lute songs composed by John Coprario, their accompaniments sensitively played by Elizabeth Kenny and solo vocals realised with exquisite understatement - soprano Amy Moore achieving miracles in "O Poor Distracted World". Thomas Weekes's two short madrigals are gems, their warm major chord cadences touching and consolatory. Gabriel Crouch's Gallicantus give exemplary performances and the recording has just the right amount of ecclesiastical ambience. One of the year's best choral releases.
Hymns and Prayers: Music by Tickmayer, Franck and Kancheli Gidon Kremer, Kremerata Baltica (ECM)

There is a fascinatingly eclectic programme on Gidon Kremer's latest ECM release, with the contemporary minimalism of Kancheli and Tickmayer linked by César Franck's 1879 Piano Quintet. Serbian composer Steven Kovacs Tickmayer's Eight Hymns in Memoriam Andrei Tarkovsky dates from 2004. With Kremer's eloquent solo violin line sparely accompanied by piano and vibraphone, it's exquisitely unnerving music; slow bittersweet harmonic progressions suggest the leisurely pace of Tarkovsky's films, and the concluding Molto semplice section, full of ponticello judderings, leaves a peculiar, haunting aftertaste. Giya Kancheli, born in Georgia in 1935 is another "holy minimalist". His 2007 Silent Prayer is dedicated to Kremer and also to the 80th birthday of Mstistlav Rostropovich (who died that year). Even more than Tickmayer, this unsettling work seems to be throwing down a gauntlet to the listener: at what point does music like this become naïve and simplistic? On the surface so many aspects seem superficial and even corny. But somehow it works. Kancheli is canny enough to inject just enough harmonic edginess and slow-burning drama, and the eerie pre-recorded voice of Sofia Altunashvili still haunts me.
Franck's Quintet is given a full-blooded, exciting reading here, and the central Lento, con moto sentimento possesses a near-erotic charge. Kremer never steals the limelight, and Khatia Buniatishvili's piano playing is staggering, especially in the last movement's delirious coda. Recording and production are excellent.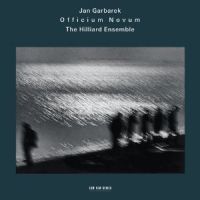 Officium Novum Jan Garbarek and the Hilliard Ensemble (ECM)

Officium, the unexpected collaboration between Norwegian saxophonist Jan Garbarek and the Hilliard Ensemble, appeared in 1994 and was a massive upmarket crossover success - a set of medieval acapella works, sung straight but with Garbarek's sensitive improvisations laid over the top. Recorded in the echoing spaces of a remote Austrian monastery, it's a wonderful album – coolly beautiful and a deserved bestseller. Officium Novum just about captures the same magic, taking inspiration from Armenian Orthodox music, specifically songs and chants collected and arranged by Armenian priest and musician Komitas Vardapet early in the last century, together with pieces from a variety of other sources.
There's an arresting solemnity in the opening prayer setting, Garbarek's breathy tone mirroring the human voice, with deliciously bare wrong-note harmonies sung by the Hilliards a perfect foil. It's the starkness, the cold, fresh air that makes the approach work. Kedrov's extended Litany has a warmer, more polished feel, as one would expect from an established church composer and student of Rimsky-Korsakov. Arvo Pärt's captivating "Most Holy Mother of God" surprises with its English text, but then Pärt's shorter vocal pieces almost always hit the spot. Garbarek's euphonious "We Are the Stars" sets a Native American poem and almost ends the disc, before actor Bruno Ganz's brief poetic incantation. Timely spiritual nourishment in these challenging times, and Manfred Eicher's production is as excellent as one would expect.
Reissue of the Month
Shostakovich: 24 Preludes and Fugues, Op 87 Roger Woodward (piano) (Celestial Harmonies)

Veteran Australian pianist Roger Woodward has recently recorded stunning versions of Debussy's Preludes and Bach's Well-Tempered Clavier, and Celestial Harmonies have just reissued his landmark 1975 recording of Shostakovich's set of 24 Bach-inspired preludes and fugues. They form a compelling cycle, devoid of symphonic bluster and dating from a particularly bleak period in Shostakovich's life after he had been denounced for political incorrectness in 1948. He kept his head down for several years by playing safe, writing patriotic film scores and innocuous oratorios, consigning more personal music to the bottom drawer.
The preludes and fugues were inspired by his hearing the pianist Tatiana Nikolaeva during the bicentennial Bach celebrations in Leipzig in 1950, and the cycle was completed for her to play in 1951. There's an absolute technical assurance to this music and, as with Bach, the formal constraints of writing a set of pieces in each key are never inhibiting. Woodward's cycle was the first to be recorded in the West, and will initially surprise those used to recent accounts by Ashkenazy and Melnikov. Tempi are predominantly fast, articulation is incredibly crisp and precise yet nothing sounds perfunctory. The dance-like moments possess the required ironic wit, as with the 8th and 15th preludes, and the brighter, less oppressive fugues have a warm inner glow. And the final D minor fugue is an overwhelming, exciting experience, Woodward's propulsive energy propelling the music, the semitonal clashes never derailing those inexorable unison Ds. All excellent. The notes are fascinating, the sleeve art is amusing, and the remastered analogue sound is dry but immediate. Woodward liked the Bösendorfer piano used for the sessions so much that he bought it. You should buy this CD.
Curiosity of the Month
Tolga Kashif: The Genesis Suite London Symphony Orchestra/Kashiv (Lightsong)

Blimey. Having already given us the Queen Symphony, Tolga Kashif unleashes The Genesis Suite, again transforming the original songs in lashings of ripe orchestral gloop. It's a bit of a guilty pleasure listening to this recording. Production values are predictably high, with London Voices and pianist Freddy Kempf all contributing valiantly. But surely an own goal has been missed by Kashif's exclusive use of Genesis tracks dating from after Peter Gabriel's 1975 departure. Genesis, originally a quirky prog outfit, were never quite so cool or as interesting again. Plus, orchestrating pop songs will always be a problematic exercise; you run the risk of ending up with something which falls flat between two stools, losing the energy and punch of the originals.
In his defence, Kashif can be imaginative in his treatments and doesn't just blandly transfer vocal lines to solo instruments or string sections. Caroline Dale's cello solo in "Follow You Follow Me" hits the spot, and "Mad Man Moon" is cleverly transmogrified into a 17-minute mini-violin concerto. But then you reach the final "Undertow/Blood on the Rooftops" and it's just a bit too much – hints of Alexander Nevsky and Carmina Burana swirl around cinematically but indulgently and it's impossible to discern what the choir are singing. The soft coda ends the 73-minute suite with welcome restraint, but I'm not sure who this release is aimed at. Anyone with a fondness for lush symphonic pop is advised to seek out Scott Walker's early solo albums.
Explore topics
Share this article