Cinderella, Royal Ballet |

reviews, news & interviews
Cinderella, Royal Ballet
Cinderella, Royal Ballet
Christmas cheer and Christmas camp from the Royal Ballet
Christmas rolls around, and so does Cinderella, a welcome alternative to the seasonal dance-critic bah-humbug that is The Nutcracker. First, the good news. The good news is Marianela Nuñez. Always a lovely dancer, in Ashton she just glows. No one could be more suited than she to Ashton's fiendishly difficult petite batterie, those tiny, beaten, viciously fast steps; no one could be more suited than she to Ashton's light, bright jumps: with her sunny temperament and lovely punchy ballon Nuñez rises (literally) to the choreography's demands.
She is not an effortless dancer, not one of those floaty, dreamy types who suddenly appears to be in the air. With Nuñez you always know how she got there – she is a dancer of sinew and muscle, forcefully creating the shapes, demanding that the air part for her.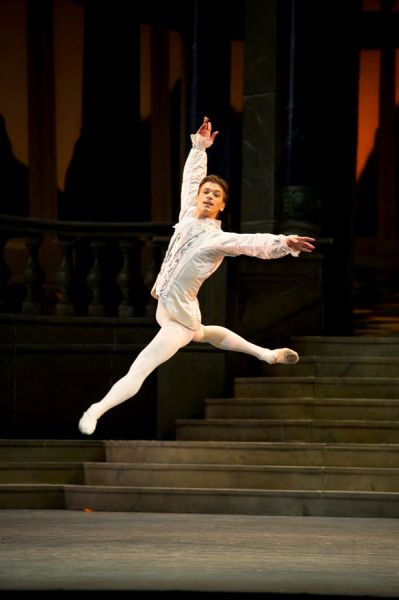 There is much to enjoy in this Cinderella: Rupert Pennefather (pictured right) partners sympathetically in a not terribly sympathetic part; Jose Martín, as the dancing master, uses his elegant classical poise to produce a cameo gem; Yuhui Choe, as the Fairy Summer, has the most beautiful head and arms of her generation (although even she, as beautiful as she is, can't overcome the beige horror that is her wig); while Hikaru Kobayashi, as the Fairy Winter, takes a tiny solo part and, seemingly by sheer force of will, transforms it into something that really matters. Kobayashi has been quietly forging ahead for the past year or so, with some impressive performances in a wide variety of styles. But classicism seems to be her natural home (not something that one says about many dancers at the Royal today). And here, in that pure classical idiom, she takes her small variation, and with a ferocious implacability embodies the idea of winter as I have never seen anyone do. The corps, too, is looking much better than it has in a while, neat and clean and well rehearsed, in some of Ashton's most musically coherent writing of the evening.

Because, of course, there is bad news too. The bad news is that Ashton's Cinderella just doesn't hold together, and it doesn't hold together because the aims of the choreographer and the aims of the composer, Prokofiev, diverge so widely. Ashton began to think of choreographing a full-evening ballet in the early 1940s, after the triumphant staging of The Sleeping Beauty, and it is, more than anything, his homage to the grand Russian Imperial style.
The music, however, is not: it is not the classical triumph of the late 19th century, but is instead the acid heart of Modernism – it is sour-lemon sherbet, even the glass shards in the caramel. None of that is apparently what Ashton wanted to do: his Cinderella is a pure fairy-tale romance, interrupted from time to time by the music-hall cross-dressing Ugly Stepsisters (played originally by Ashton himself, and Robert Helpmann). And they are in a completely different ballet.
By the time Ashton created his next cross-dressing role, the Widow Simone in La fille mal gardée, a decade later, he'd learnt to incorporate the two sides of his talent, and the comedy there is wonderfully interwoven with the romance. Here the two are constantly pulling each other apart, almost like the Stepsisters fighting over their cloak: "It's my turn - No, it's my turn," the two styles constantly shout at each other, and at the audience, fighting for primacy.
Gary Avis and Philip Mosley (pictured left, with Christopher Saunders) here thankfully turn Ashton and Helpmann's hamming down a notch – in fact, they turn it down several notches – which makes the inherent dissonance less obvious, but that dichotomy is, finally, the heart of the matter: the music and the choreographer are going on different voyages, and although last night's Cinderella was probably performed as well as it can ever be done, it's still a confusingly two-directional journey.
Explore topics
Share this article