Romeo and Juliet, English National Ballet, London Coliseum |

reviews, news & interviews
Romeo and Juliet, English National Ballet, London Coliseum
Romeo and Juliet, English National Ballet, London Coliseum
Nureyev's jam-packed choreography brushes up well in this handsome revival
Some of it has never served the ballet to the best of its abilities, and never will. My 13-year-old guest thought the climactic Act Two fight didn't work – she's not seen the
MacMillan Royal Ballet version
for comparison – without even knowing that the dramatic emphases of Mercutio's should-be playful death, Tybalt's point of expiry and Romeo's flaming to revenge fail to coincide with Prokofiev's unimprovable score cues. She did, at least, find the rest "amazing", though, which inclined me to up my rather more modified rapture. And I did even come away feeling that Nureyev's narrative, across the multiple missed opportunities of the tragedy's later stages, works best.
Ruanne has stressed that this is a company show with more opportunities for all spread across the course of the evening, and company seems to be what the London Festival Ballet does especially well at the moment. Its corps de ballet sequences were crisp and well defined from the first cross-rhythmic stomps of the "Morning Dance";  the banner-waving which replaces the onstage mandolins in Act Two – there were, wonder of wonders, real ones in the pit – looked handsome; and the grace of the rather large wedding retinue which breaks in on the death-like Juliet held the elegiac tone surprisingly well (Nureyev would probably have liked the original divertissement of Prokofiev's long-suppressed first version here, unstaged until Mark Morris and company missed a trick with a very limp show two years ago).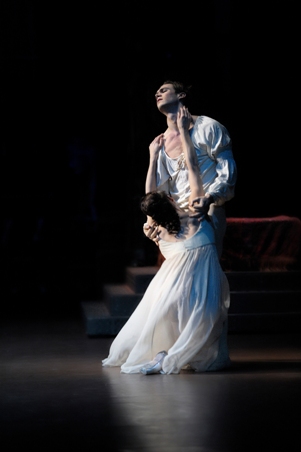 Core casting last night was not as expected. I had wondered whether the advertised Daria Klimentová, a commanding Snow Queen, might not be a shade too much an ice-princess Juliet, and there was certainly a touch of that at first from Sarah McIlroy, emerging not quite obviously from her maiden entourage. Maturing despair rather than girlish charm was her strongest asset - her Romeo was lighter on his feet - and she was the best limp, death-like Juliet in her despairing lover's arms I've seen since Alessandra Ferri. ENB Emerging Dancer-nominee Max Westwell (pictured right with McIlroy in the bedroom scene by Laurent Liotardo), replacing fellow candidate Vadim Muntagirov, made definite, handsome work of the first showy solo Nureyev gives his Romeo - what happened to yearning after Rosaline? – and helped to make the sweet sorrow of extended parting at the end of the balcony scene poignant just when the choreography seemed to have given up on romantic moonshine.
His teamwork with a whole cohort of best buddies showed the ENB company spirit at its best. It was, inevitably, the quirky language of Yat-Sen Chang's buttock-waggling prankster Mercutio that riveted all attention in the early stages; a shame Nureyev so displaces the centre of gravity from his death scene. It's refreshing, after MacMillan's mime comprimarii, to see Capulet parents and Friar Laurence (Michael Coleman, no less) allowed to be part of assorted Pas de trois and Pas de quatres, while Fabian Reimair's Benvolio comes into his own as support for a spinning Romeo in a well-handled extra scene in Mantua.

Ezio Frigerio's spare but elegant Italian city vistas are atmospherically complemented by Tharon Musser's rosy dawn in Act One and crepuscular gloom for Act Three. And Gavin Sutherland's conducting of the ENB orchestra by no means comes second best, as did the over-amplified recording specially made for Matthew Bourne's New Adventures Cinderella, which Ismene Brown found more acceptable than I did. Surely there's never any substitute for a live orchestra, especially one like this where energy levels generally bear the dancing and the narrative aloft. The first fight sequence hung musical fire, but the few brass fluffs were as nothing alongside the more artistic moments of horns and trumpets, the first clarinet sang his heart out and the love music had much of the chiaroscuro poetry it needs. I didn't even mind the cuts and transpositions of the end-game. That its conclusion proved so moving was as much to the credit of Sutherland and his orchestra as it was to the sustained emotion of MacIlroy and Westwell.
Watch Patricia Ruanne, Frédéric Jahn and the dancers comment on the Nureyev Romeo and Juliet
Find Nureyev's choreography in a Paris Opera Ballet production on Amazon