Romuald Hazoumé's Petrol-Fumed Art |

reviews, news & interviews
Romuald Hazoumé's Petrol-Fumed Art
Romuald Hazoumé's Petrol-Fumed Art
African artist's potent transformations of gasoline canisters
Thursday, 29 October 2009
Romuald Hazoumé strolls into the October Gallery in London with the assurance of a man preceded by his reputation, and walks through a room lined with his large colour photographs, plastic masks, symbolic paintings on canvas, and a centrepiece installation featuring a group of four huge musical instruments constructed from cut-up petrol canisters. A strong, stocky 47-year-old wearing a comfortably loose boubou and wide trousers, he has every reason to be confident: this artist from Benin in West Africa, who carries round his neck a huge bunch of jangling, tinkling talismanic pendants which clearly work, is one of Africa's most significant contemporary artists.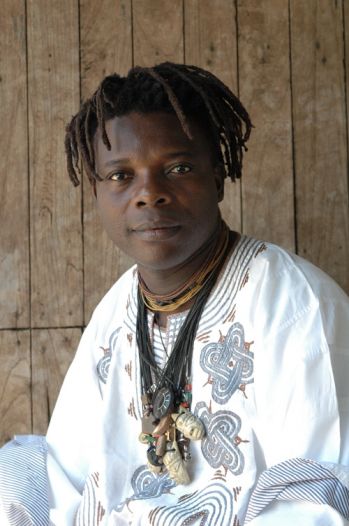 The signature in all of this brilliantly inventive, frequently witty work is plastic canisters of the kind used in the developing world to carry petrol. They are transformed into masks. They feature in photographs of young Benin petrol-carriers. They represent slaves in the sophisticated conceptual installation
La Bouche de Roi
, constructed between 1997 and 2005, bought by the British Museum in 2007, and on a continuous touring schedule (sadly, not to be seen in this show).
The cans are also the building blocks of the installation
Dream
, a life-sized replica of a ship taking economic migrants from Africa to Europe, which won a prestigious prize at
documenta 12
in Germany, the same year.
It was the masks that launched Hazoumé's career, and today they form part of a multimedia collection housed at the Zousou Foundation in his home town of Cotonou, and exhibited in some of the world's major institutions and galleries. The prototypes were masks made for school friends in Porto Novo, his birthplace, inspired by those worn by men during secret initiation ceremonies. The materials then were milk cartons, water bottles, metal, glass – "anything lying around my home, 'found objects'", he says. His first income came from painting portraits of political icons and local personalities, then shifted to wood sculptures. They didn't sell because of their weight "but they looked fantastic in our Botanic Garden," he says fondly. "So I turned to using old fallen trees and based (the pieces) on traditional sculptures." From there, he moved to steel, wood and whatever else he could find.
The turning point in the identity of Hazoumé's work came with the black plastic petrol-can mask he made for a friend's party in the early 1980s. It inspired his first collection, depressingly rejected by the director of the French Cultural Centre who told him to go back to painting, but was described as "gorgeous" by his successor who also said, "I need to show them." As Hazoumé was hanging that first collection, André Magnin, the most significant collector and curator of African art (later for the Pigozzi Collection in Geneva), arrived in town to select works for a Paris exhibition, Magiciens de la Terre, which would tour the world from 1986 to 1989. Magnin bought several of Hazoumé's masks and later included them in the Saatchi Gallery's Out of Africa, and the touring exhibition Afrika Remix which visited the Hayward Gallery and the Pompidou Centre, amongst other international venues. Masks like the ones on show continue to emerge, like characters in a poem or novel, only hairstyles and fashions changing.

To make the masks, Hazoumé mostly uses discarded petrol-cans: the gaping spout and sculpted curves suggesting facial features and the handle making a good nose. Found objects add the details: a scrap of patterned African fabric becomes a head-wrap, a handful of porcupine quills a punky hairdo. For Self-Portrait, 1995, the artist used a yellow canister topped with short, snaky dreadlocks. I ask him if the masks are based on real people, representatives of Benin's Yoruba deities, or just drawn from imagination.


"It's not only imagination," he says. "You can see the character and personality in each one. For instance, when I was in Senegal, a friend of mine was wearing the same kind of fabric I used on a mask here, and a local man called him Sénégauloise. For Porc & Punk, porcupine spines make a punk look, La Mère Cotivet is a typical, very cultured French woman, and Liberté is an old mask based on the Statue of Liberty - my own Freedom statue." Outstanding among the human caricatures is a more conceptual object evoking Duchamp. "The phone mask," enthuses Hazoumé. "Represents the telephones used by political leaders. [See picture right] In power, you have a red phone and when it rings, it is an important call." The black phone marks George Bush's demise: "He has no power any more, so this mask is called Bye Bye."

Mask-making is a dying art in Africa but Hazoumé is committed to maintaining it. "If I don't," he says, banging the table with his fists, "they will disappear. Today, if you want to see the old masks from Africa, you need to go to the British Museum or shops in Paris and London. So I make new ones with the rubbish people send to us from Europe, and I send them back to galleries with my culture inside them. We in Africa are losing our culture and if we lose it, we're dead. We think your culture is better than ours, but our culture is so rich."

Passion ebbs and flows throughout our roaming conversation. One outburst concerns how the European art world still has a colonial attitude towards African art and art education. He is attacking French art academics, but could be speaking more broadly, when he says, disbelievingly: "[They] bring art from Western countries to teach the poor African who doesn't know what is art? We know what is art. We knew that for many years before white people came." Hazoumé makes an exception for André Magnin who, he says, always treated his work as "art, not African art".

Since constructing the first masks, Hazoumé has used petrol canisters to make potent connections between historic and contemporary slavery. Kpayoland is a photographic series documenting young petrol-carriers who ferry gigantic loads of petrol on the backs of bikes and scooters. They carry the fuel in massively inflated canisters that have been heated over flames until they become soft and can be stretched. Both containers and boys are "faceless units within commercial systems, dangerously worked to breaking point before being discarded", in the words of the October Gallery leaflet accompanying the show. "Not everybody knows how to do this well," says Hazoumé, "And a lot of the boys are blown up in explosions. It [petrol-trafficking] is completely illegal and highly dangerous, but everybody knows about it, and 90% of the Benin population uses this petrol."

The large, beautifully printed photographs are deceptively lyrical, exploiting the natural light that is refracted through the red dust floating around the streets and creating soft, muted colours. Beauty created from something tragic and corrupt, I suggest. "I don't want to make it look tragic," he says. The boys occupy the centre of every frame, almost invisible under their bloated cargoes.

Only one, photographed in black and white, is identifiable. His head emerges from between the canisters, like a tank-gunner taking a look at what lies ahead. He stares straight into the camera; it's like watching a condemned man. "He's carrying 540 litres all around him – he's like a bomb," Hazoumé says quietly. "I call him Roulette Béninoise."
Every moment of that day recorded represents another hellish risk along the petrol carriers' journey
We move from the photographs towards a small collection of paintings of symbolic designs made with earth-coloured pigments, and another link is made. These beautiful, abstract patterns are part of the Yoruba divination system called Ifa, and they have a daily significance for the majority of Beninois, who are Yoruba. "Before these boys go out to collect the gasoline," explains Hazoumé, "They go to the babalao [priest], who asks the ifa [oracle] if today is good for them or not. If he says it's not, they stay at home." In spite of their faith in the oracle, many of the hundreds carrying petrol every day to the car-drivers of Benin are killed.

A dark stain of slavery underlies much of Hazoumé's work. He was born in Porto Novo, one of the busiest slave-loading points in the old kingdom of Dahomey, now Benin, where the African prisoners of local tribal wars were delivered to the Europeans by chiefs and kings. Slavery is the background to La Bouche du Roi (The Mouth of the King), his most famous and complex work. It is a poignant and magnificent memorial, a comment on the slaving industry and the blurred trading relationships between slavers – both European and African – and those who endured the Middle Passage. The title refers to the river mouth in Porto Novo, where ships were loaded.




To construct La Bouche du Roi (pictured above) Hazoumé used 340 black gasoline-canister masks to represent the human cargo on the Liverpool-owned slaver ship Brookes. In 1778 the Brookes infamously broke the limit of 454 Africans per ship. It carried 609 adult males and uncounted women and children; 19 died at sea. He recreates the arrangement of human bodies on the deck according to the 1789 illustration used as propaganda by the Abolitionists. Unlike the slavers, for whom their cargo was anonymous and dehumanized, Hazoumé gives every mask-person an identity - physical, cultural or spiritual, decorating them with feathers, beads, talismanic dolls. A large black can represents the King of Benin, a yellow one the subsequent European ruler of the territory and positioned nearby are empty bottles of gin brewed in the slave port of Liverpool, and cowrie shells representing the pre-colonial currency of West Africa, both symbols of the slave-trade's economy. If Hazoumé never created another work, La Bouche de Roi would be his legacy, a potent representation of the African holocaust.

The finale of my walkabout conversation with Romuald Hazoumé brought us face-to-face with his latest installation, Made in Porto-Novo (MIP), which gives the exhibition its name [pictured right]. Four instruments as tall as each of us – saxophone, trumpet, traditional twin drums and double bass – are mounted on a plinth. Pieces of plastic are cut into shape as accurately as a sewing pattern and stapled together, and I suggest to Hazoumé that he's a recycling artist.


I don't get to finish the sentence before he interjects, shouting, "No, I hate this word! Recycling is to take something and use it to make another thing, like shoes from tyres. And if you call me 'a Green artist', that means you don't understand my work. I am an artist using 'found objects'."  But in some ways, he concedes, he is "very green". "When I go fishing, I take the empty plastic water bottles home, and if a fisherman asks me for one, I warn him, 'Only if you don't put it on the beach.'" In his work, though, he is sparing, "I have no compromise. But I only use what I need."

The plastic band MIP lends a lightness to the exhibition. Like most works in the show, the instruments are made from petrol canisters and their texture is as hard and dry as a lizard's skin or worn leather jacket. Every part of the canister has a function: the gaping circular spouts like sound-holes for the sax and trumpet, the handles helping the imaginary roadie carry the gear. Hazoumé says they weren't made to produce sound but to represent the MIP orchestra, but sound does accompany the piece through a recording of a day in the life of a petrol carrier, which closes the loop connecting all the exhibits in the show.

The soundtrack encompasses the early morning trickling of petrol into a car then the car starting up, the courier's revving motorcycle engine, a barking dog, birdsong, feet on the dirt road: "Everything," he says. Working with an engineer, he mixed the recordings into a kind of soundtrack which ricochets around the gallery, producing Eno-like electronic ambience. It's calming but has an underlying sinister current. Every moment of that day recorded represents another hellish risk along the petrol carriers' journey. But the four open-mouthed vocalists whose mask-faces stare up from the plinth below the instruments, pouring inaudible harmonies into the room like an a capella choir, add an almost celestial presence.
Romuald Hazoumé: Made in Porto-Novo, October Gallery, London WC1N 3AL. Until 28 November. Information here.