The Birth of a Nation |

reviews, news & interviews
The Birth of a Nation
The Birth of a Nation
Nate Parker's fearsome fable of slavery and America's great divide
Tuesday, 06 December 2016
DW Griffiths's 1915 silent epic, The Birth of a Nation, became notorious for its pejorative portrayal of black people and its heroic vision of the Ku Klux Klan. For his directorial debut, Nate Parker has appropriated Griffiths's title and whipped it into a molten onslaught against America's history of slavery and racial prejudice.
Arriving in an America outraged – yet again – by police violence and witnessing the rise of Black Lives Matter, Parker's The Birth of a Nation was uncannily timely, and it prompted a studio bidding war when it premiered at Sundance in January this year. It's a dramatisation of the real-life slave rebellion led by Nat Turner in Southampton County, Virginia in 1831, depicting Turner as a visionary preacher pre-ordained to lead his people from their bondage, though his bloody attempt to do so was doomed to failure.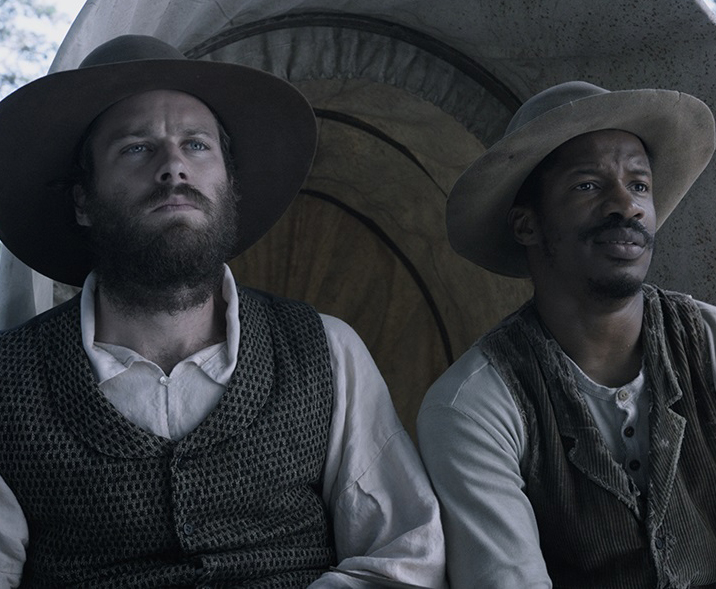 Parker directed, stars and wrote the screenplay (the story is credited to Parker and Jean McGianni Celestin), and he has brought a charismatic energy to the project which often overrides the orthodox nature of the storytelling. As a boy, the young Turner is taught to read by plantation mistress Elizabeth Turner (Penelope Ann Miller), a kindly act somewhat undercut by Elizabeth's view of her slaves as a species positioned somewhere between infanthood and the animal kingdom. "These books are for white folks," she explains patiently. "They're full of things your kind wouldn't understand."
Nonetheless, the lad studies the Bible, finds he has a gift for sermonising, and begins preaching the Word to his fellow slaves. Times are hard in the South, and at the urging of the Reverend Zalthall (Mark Boone Junior), Nat's owner Sam Turner (Armie Hammer, pictured above with Parker) hires Nat out to local plantations, with the aim of placating rebellious urges among the slaves with soothing Scriptural messages.
Sam Turner seems relatively liberal, enjoying a friendly rapport with Nate (they were childhood friends) and rescuing him from the vengeful intentions of a spiteful fellow landowner. However, in Hammer's skilful portrayal, he's gradually revealed as a weak man with a drink problem who's never going to break ranks with his white compatriots and become a civil rights advocate for his negro chattels.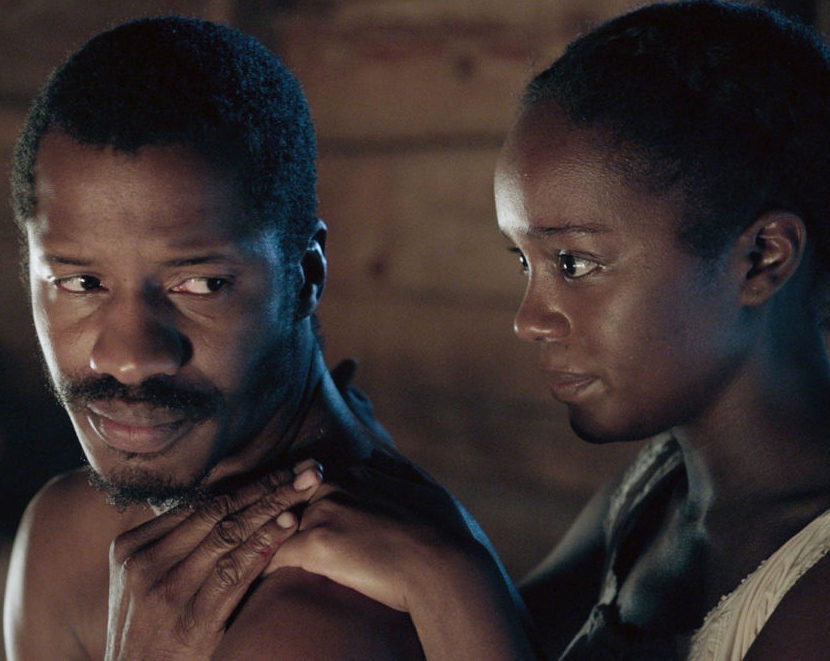 The narrative steadily gathers pace as it arcs towards its inevitable denouement. Nat's early optimism is soured by the appalling sights he sees on his travels (not least a scene where a slave has his teeth knocked out with a chisel before being force-fed). His preaching begins to sound more like a cleverly coded exhortation to fling off the chains of bondage and rise up, and his progress towards rebellion is guided by visionary images (corn spattered with blood, a dramatic total eclipse). A couple of incidents of rape, including an assault by slave-catchers on his wife Cherry (Aja Naomi King, pictured above, depicted as little more than a signifier of idealised love and fidelity), prompt Nat to recall that the Lord could be vengeful as well as merciful. When he's brutally flogged by Sam, for baptising a white man, the rebellious die is cast.
Parker has been accused of excessive self-regard for the Christ-like overtones in his portrayal of Turner, while any positive contribution towards bridging the racial divide has been scuppered by his depiction of the white characters almost exclusively as depraved, misshapen sadists. The Birth of a Nation's apparently glittering commercial prospects in the States were dented by a media storm over the fact that both Parker and Celestin had faced rape allegations in 1999. Nevetheless, if we can judge the art and not the artist, this is vivid and unsettling film-making.
Overleaf: watch the trailer for The Birth of a Nation