Cell 211 |

reviews, news & interviews
Cell 211
Cell 211
Daniel Monzόn's strapping prison drama discovers humanity at the heart of chaos
A mean, muscular and unflinching display of concentrated brutality and shaved-down storytelling, the Spanish thriller Cell 211 is armed with the furious intensity of its caged environment and a chain of events which cascades like dominos over and beyond its prison walls. It's an unlikely candidate for award-season acclaim, but Daniel Monzόn's film cheeringly arrives laden with Goyas - as if Spain's strongest man had triumphed at a beauty pageant.
Relative newcomer Alberto Ammann (pictured below right and left) is Juan Oliver, an eager-beaver trainee prison guard being shown the ropes ahead of his first official day at the Zamora prison complex. To his co-workers' horror, he is injured by an inmate before his induction is even complete and they drag him to a nearby cell for treatment. To make matters immeasurably worse it's not an isolated incident - it's the beginning of a bid by the maximum-security prisoners to seize control of the block.
Events spiral with precision and a terrifying ferocity, as the seditious detainees overthrow their jailors and lock the area down in a matter of moments. When his colleagues flee, Juan - holed-up in the titular Cell 211 - has no choice but to assume the identity of an inmate. Still contending with a head injury, he hurriedly removes the "tells": the visitors' badge, his shoelaces and his coat. When found, he is immediately sent to be sniffed-out by the block's top dog, Malamadre (the magnificently menacing Luis Tosar, pictured above and below right - resembling a bouncer in an Eighties gay bar) and Juan succeeds not only in fooling him but rapidly becomes a trusted associate.
Filmed in a real (albeit disused) prison, Cell 211 is certainly credible and enjoyably anti-establishment. The inexperienced Juan is abandoned to the wolves by his self-interested colleagues and it is on his wits that he first survives, and then thrives. Back in the (supposedly) civilised world his wife is similarly mistreated by the squirming, craven authorities. It's a film that with each damning development aligns the viewer with those inside instead of out.
Although the environment is one of intense aggression, the prisoners are far from mere brutes. Their demands, for instance, are not unreasonable: conjugal visits, an end to solitary confinement and reintegrating the serious offenders into the general population. As Juan helps draw up their list, Malamadre is taken with his penmanship and envious of his education. He is sensitive to the fact that Juan's wife Elena (Marta Etura) is pregnant and, when protestors outside the prison gates are rounded-on by riot police, it is Malamadre who calls the authorities up on their behaviour, saying, "People are getting fucking brutalised out there," and warning, "If you hurt anybody out there, we'll go berserk."
An interesting dimension is the pivotal role played by three ETA (Basque Homeland and Freedom) terrorists, who are interned in the cellblock. Despite the fact that their leader is described by Malamadre as "the big murderer here", due to their political significance their lives are infinitely more valuable than those of the guards. The prisoners have been savvy enough to realise this (the riot is deliberately timed ahead of their relocation) and they are placed centre stage.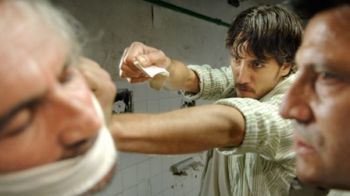 Cell 211 has and will continue to be compared to the recent (superior) prison-based thriller A Prophet (2009), and it also recalls HBO's outstanding prison drama Oz, whose first series concluded on a riot. However, it has as much in common with siege dramas like Assault on Precinct 13 (1976) and films with an undercover protagonist such as Reservoir Dogs (1992) or I.D. (1995). As the situation escalates, Juan begins to lose his grip on his own identity and moral code, and so the law enforcer becomes indistinguishable from the criminal. It's more than a tad pat that Juan's home life is painted as being so rosy, yet it sets things up nicely, illustrating how much he has to live for and, of course, how much he has to lose.
For a film which seems so baldly a bare-knuckle brawler it has surprising political chops and, alongside the jubilant anarchy, a pleasing sprinkling of compassion. Keeping us in riot gear throughout, Cell 211 makes for a furiously entertaining couple of hours. In the spirit of the film, let's end on some devastating, sucker-punch news: Paul Haggis (Crash, The Next Three Days) is currently attached to the US remake. Now surely that's enough to make even the most civilised amongst us want to kick-start a riot.
Watch the trailer for Cell 211