DVD/Blu-ray: Columbus |

reviews, news & interviews
DVD/Blu-ray: Columbus
DVD/Blu-ray: Columbus
Architecture heals solitary souls in an auteur gem
Tuesday, 27 November 2018
The director of this deeply charming debut feature is the Korean-American film critic who writes under the pseudonym Kogonada; one of his principle interests over the years has been the great Japanese director Yasujiro Ozu, and there's something of the same considered emotional restraint of feeling in Columbus, which takes its title from the Indiana location where its slight action is set.
The small Midwestern town turns out to boast – or rather not, since it seems to remain rather little known – a remarkable selection of contemporary architecture, buildings commissioned over the years by enlightened patrons from major industry figures such as IM Pei and Richard Meier, Eero Saarinen and Myron Goldsmith. It looks like something of a paradise of modernism, the sheer pleasure of the shapes all the more striking for the quiet and green location in which they are set.
Subtlety is supreme, as is restraint of pace
If ever you felt that buildings could become characters in a film, that is true in Columbus, where they act almost as a sounding-board for emotions that develop, in the quietest possible way, between its two main protagonists (both have their own connections to architecture). Twenty-something graduate Casey (played beautifully by Haley Lu Richardson) has absorbed the visual experiences that her world offers, and is biding time working as a librarian, reluctant to leave her vulnerable mother, who is recovering from addiction. Any realisation that her world lies beyond the borders of her small town is temporarily soothed by a closeness – but so far, no more – with her fellow librarian Dave (Rory Culkin, sweet, the family allegiances very evident in that face).
Fate brings her together with Jin (John Cho), newly arrived in Columbus after his famous architect father, who was in town to deliver a lecture, collapses with a stroke: they meet (pictured below) between the library where she works, and the guesthouse where he is staying in the room that had been booked for his father (there's something strange in his inhabiting another's space). His only other company is the older man's companion/amanuensis Eleanor (Parker Posey, how good to see her back on screen), but while she will eventually move on, the rituals of Korean society suggest that he should remain with his father almost indefinitely, although their relationship in life had clearly been distant.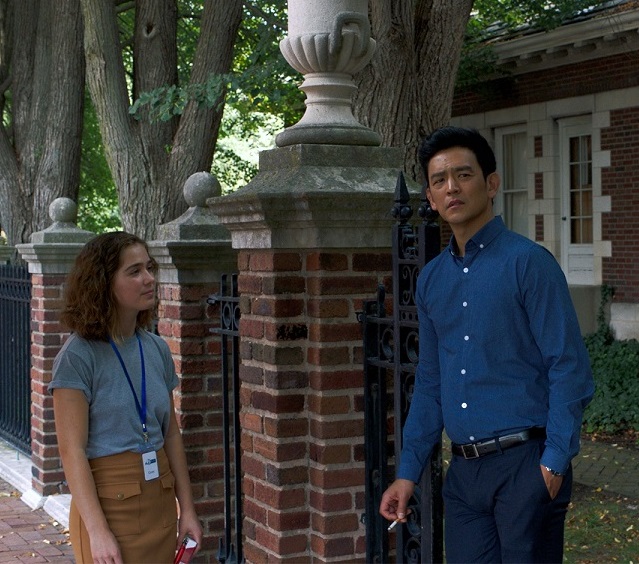 In terms of what happens, that's about it… Casey is also training as a tour guide, so it's natural for her to show Jin around; at first there's a quiet distance between these two loners, both preoccupied by their parental bonds, and any sense of growing intimacy comes slowly. It is principally unspoken: Columbus is a wonderful film for its treatment of silence, the absences and presences of words somehow mirroring the forms that architecture defines in space.
Subtlety is supreme, as is restraint of pace: he proves that what may not keep our attention can nevertheless maintain our interest. Elisha Christian's restrained cinematography is perfect in drawing out the delights of the spatial world through which these characters move, as does the ambient electronica of Nashville band Hammock.
The only extra here is a short booklet interview with the director (taken by Jason Wood), but Kogonada's sparse words convey rather a lot: for instance, when he talks of how Columbus the town offered "magnificent buildings [that] exist within the context of everyday life, made ordinary in their everydayness". Or how, partly in its balance formalism and humanity, he finds Ozu's work helps him in "being modern in this world without losing my soul". An enticing debut, one that stays with you, growing incrementally, after viewing.
Overleaf: watch the trailer for Columbus
rating
Explore topics
Share this article