DVD/Blu-ray: The Rider |

reviews, news & interviews
DVD/Blu-ray: The Rider
DVD/Blu-ray: The Rider
Modern Western tells the true story of a young rodeo star after his career is cut short
A cannily crafted biographical docudrama about the Lakota Sioux broncobuster and horse trainer Brady Jandreau – playing himself as Brady Blackburn – The Rider will resonate with anyone whose dreams have gone up in smoke. Jandreau was 20 when, on April 1, 2016, a horse stomped on his skull, fracturing it in three places, severely damaging two regions of his brain, and penetrating it with bone fragments caked in manure and sand. Defying doctors' orders, he walked out of hospital shortly after having life-saving brain surgery. Six weeks after returning home he began training horses again. The video footage of Jandreau/Blackburn pulling staples out of his head is real.
The Chinese-American filmmaker Chloe Zhao got to know Jandreau when she was making her promising 2015 debut feature Songs My Brothers Taught Me about life on the impoverished Pine Ridge Reservation in South Dakota. Seeking a way to build a new movie around Jandreau, she was inspired by his recovery from his catastrophic accident, only five months after which filming began. Jandreau gives an affectingly low-key performance as the melancholy, laconic Brady Blackburn.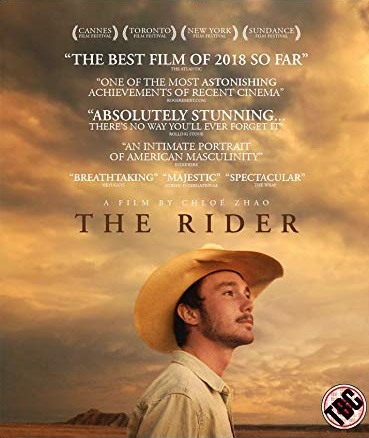 At the heart of The Rider is the sombre recognition that, for many poor young men in the West, not least Native Americans, becoming a rodeo rider is the only way of escaping a hand-to-mouth existence. With a metal plate holding his head together, Brady dare not enter the arena on horseback again though, at one point, temptation proves too much.
Zhao's direction is cool and objective, scarcely lyrical. Jandreau's affectionate, learning-impaired teenage sister Lilly plays herself movingly; their father Tim portrays himself as a gambler, harsh and selfish. Jandreau's childhood friend Lane Scott, a one-time bull-rider who was paralysed in a car accident, also appears. Brady twice visits Lane in his care facility and helps him with rehabilitation exercises, such as rocking on a saddle – haunting scenes that are testament to the human spirit but also indicate Jandreau's comparative good fortune. Correlative to Brady''s recuperation – and perhaps to Lane's – is his tender breaking and training of a volatile wild horse that heartbreakingly comes to grief.
One extra only accompanies The Rider's DVD release – and it's riveting. Jandreau participates, with British psychologist Dr Chloe Paidoussis-Mitchell, in a 45-mimute post-screening on-stage interview that reveals his charisma as a smart, optimistic young cowboy more truthful than Hollywood would ever allow. Happily, he wants to act again.
Overleaf: watch the trailer for The Rider