Entourage |

reviews, news & interviews
Entourage
Entourage
Breezy fantasia of Hollywood success will please existing fans of the HBO series but not win converts
Some people are irritated by Entourage's superficial depiction of Hollywood as a bro fantasy world, but this is like condemning a soufflé for not being a roast chicken. For those like myself who enjoyed Entourage the television series, Entourage the movie will be very much the kind of thing they like, since it is essentially a feature-length version of the long-running HBO/Sky Atlantic show; non-enthusiasts, however, may find it shallow, shambolic, sexist, and smug (if you feel this perfectly describes Top Gear, you probably fall into the latter category).
Like the film iterations of Sex in the City, the movie is primarily a reunion for characters and fans and the similarities don't end there. Both are a celebration of the city as a glamorous arena of infinite possibilities centered around a group of four friends, in this case pretty boy Vincent Chase (Adrian Grenier) and his three homies from Queens (New York's version of Croydon). They come along for the ride as Vincent rises to Hollywood stardom, keeping him grounded when he hits the big time, picking him up from the setbacks, and always having his back as they negotiate life in the fast lane.
The ostensible story is just an armature on which to hang entertaining social comedy and insider jokes
Just as there are no long subway journeys, grim fifth floor walk-ups, or homeless in the New York of SATC, so traffic-clogged freeways, sprawling suburbs, and gangbangers do not trouble Entourage's LA. Instead, both shows take place in a bubble of fabulous residences, super-trendy nightspots, and fashionable neighbourhoods. And just as SATC's girls are drowning in designer shoes and clothes, Entourage's boys have an endless supply of exotic cars and babelicious hotties on tap.
The film's story follows the basic arc of an Entourage season – Vincent strikes off in a new creative direction, a gamble that may pay off or result in ruination. Since fast-talking, mercurial agent Ari Gold – Jeremy Piven (pictured below), far more at home here than as genial Midwesterner (!) Mr Selfridge – is now the head of the studio backing Vincent's expensive directorial debut, his neck is also on the line.
The pressure ramps up when the Texan oil magnate who is largely bankrolling the studio insists on his obnoxious film grad son (The Sixth Sense's Haley Joel Osment, all grown up) having creative oversight. This allows the movie to cock a snoot at those backwards (homophobic, environmentally unsound) rubes in flyover country who actually buy the tickets that keep the whole enterprise afloat.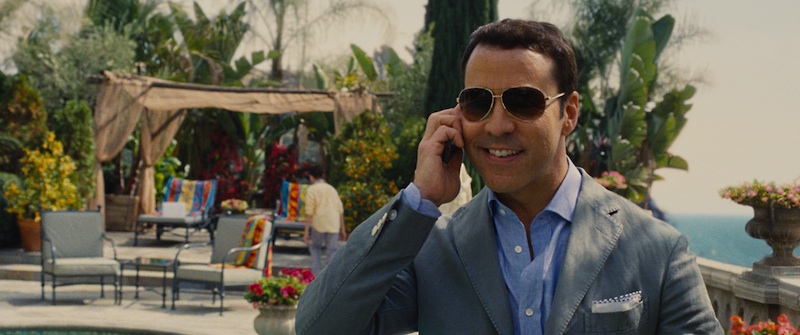 As always, the ostensible story is just an armature on which to hang entertaining social comedy and insider jokes that perfectly capture Hollywood's combination of lethal aggression and laidbackness. The insider-y feel is reinforced by over 30 cameo appearances by various celebrities portraying themselves. Some (like Kelsey Grammer, Pharrell Williams, and Queens-raised Mark Wahlberg, one of the show's originators whose adventures allegedly inspired the series) are more recognisable than others (namely various US sports stars and industry moguls).
But while no one is going to accuse Entourage of being a hard-hitting critique, writer-director Doug Ellin does permit two aspects of harsh reality to intrude. One is a constant awareness of how even power players like Ari and Vincent are a single misjudgment away from failure, and how rapid and unforgiving the fall from grace can be.
The other is the eternal struggle of Vincent's more talented, less cute actor brother, Johnny Drama (a well-judged performance by Kevin Dillon, real-life brother of the very good-looking Matt), forever relegated to having his nose pressed up against the glass of success by a combination of self-sabotage and bad luck. A scene where Drama auditions for a small role captures the endless humiliations heaped upon the 95% of industry hopefuls who, unlike Vincent, never make it into the charmed circle.
Middle-aged women like Mrs Ari (as she's called in the credits) are permitted if perfectly toned and expensively dressed
Also outside the Entourage universe are: old men, unless famous or very rich and powerful, like Ari's boss played by Alan Dale or the actual Warren Buffett (another cameo); fat chicks; and old chicks. Middle-aged women like Mrs Ari (as she's called in the credits) are permitted if perfectly toned and expensively dressed.
This is a man's world, so, as in The Sopranos or True Detective, those babelicious hotties are often found wearing not a lot, either dancing in the background or writhing on a bed. But at least Entourage has a moment where two of them turn the tables, calling one of the boys out on his Hollywood player attitude and asserting their right to be treated as more than just a disposable shag.
And if Vincent's object of desire is one Emily Ratajkowski (apparently famous enough as a Sports Illustrated Swimsuit Issue model and featured dancer in Robin Thicke's controversial Blurred Lines video to portray herself), at least his driver and former go-fer Turtle, now a successful tequila magnate, pines for actual Olympic Judo champion Ronda Rousey, also playing herself, a woman who makes SAS squaddies look like Sarah Jessica Parker.
If you're expecting a penetrating, caustic look at the entertainment industry's many shortcomings, you're going to be disappointed. But if you're prepared to sit back and enjoy the limo ride, Entourage is enjoyable on its own terms as entertaining, breezy escapism.
Overleaf: watch the trailer for Entourage
rating
Explore topics
Share this article