The Other Side of Hope review - Aki Kaurismäki at his tragicomic best |

reviews, news & interviews
The Other Side of Hope review - Aki Kaurismäki at his tragicomic best
The Other Side of Hope review - Aki Kaurismäki at his tragicomic best
The great Finnish director, in possibly his last film, shows familiar humanism alongside dark comedy
It takes real skill to make a film about a desperate Syrian refugee and a dour middle-aged Finn reinventing himself and turn it into the warmest, most life-enhancing film I've seen this year. But Aki Kaurismäki has form, he's been making movies which defy genres – are they absurdist or social realist, tragic or comic? – for 30 years now. His films do well at festivals – The Other Side of Hope won Berlinale's Silver Bear for best director this year – and regularly find their way onto the indie circuit but they never make it in the multiplex: you'll need to be quick to catch this one on a big screen, which is where it belongs.
There's some thematic overlap here with Kaurismäki's most recent film, 2011's Le Havre, which also featured a refugee finding an unexpected ally in France, but the director is back on home turf here and it's a shade darker - there are encounters with Nordic neo-Nazis and chilly officialdom. Khaled (Sherwan Kaji) has been travelling for months since his home in Aleppo was bombed while his family were having lunch; the only other survivor was his sister, Miriam and he's lost her in some hellish border camp.
Finding Miriam is his sole reason to live, and he's been criss-crossing borders searching for her before ending up by mistake on a freighter bound for Finland. Khaled's journey is intercut with the story of Waldemar Wikström (Sakari Kuosmanen) who is also on the run, but from the boredom of marriage and work. There's a lovely deadpan scene where his wife sits in the kitchen, her hair in rollers mimicked visually by the giant cactus on the table, and dumps his discarded wedding ring among the cigarette butts.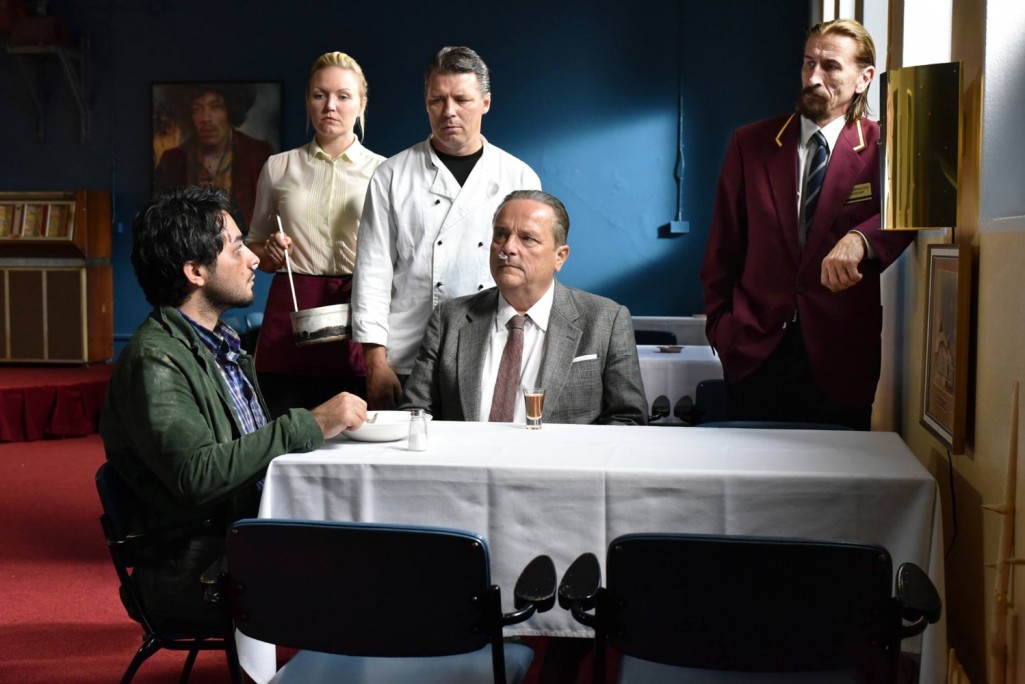 Wikström also jettisons his boring job selling clothes to small outfitters around the country. He flogs off his stock of cellophane-wrapped shirts for a derisory sum and is left with his big old car and a handful of cash. Instead of heading for sunnier climes, he buys a shabby drinkers' dive, the Golden Pint, where fishballs are always dish of the day. The three surly staff haven't had their wages paid in months and regard the new owner with suspicion. It's more than an hour into the film before Khaled and Wikström meet, and then it isn't exactly cute – a fight by the restaurants' bins – but a friendship develops.
Much of the comedy lies in the attempt to reinvent the Golden Pint and bring in more customers with a new menu. Transforming into a sushi restaurant (pictured below) backfires horribly when the cook swiftly runs out of fresh fish and resorts to dolloping lumpy clods of wasabi on rinsed-off pickled herring. Where another director would give you the Japanese diners' disgusted reaction, Kaurismäki just cuts to them walking politely out of the restaurant at the end of the evening, nodding to the staff dressed in their absurd kimonos. Back to the fishballs.
There are many familiar pleasures from the director whose biggest hit was Leningrad Cowboys Go America back in 1989. The Other Side of Hope generously showcases the indigenous bar band circuit of Finland. Who knew that there were still so many hairy Finnish musicians who sound like Dire Straits and sing fabulously miserable songs? And for those mourning Laika, the adorable dog in Le Havre, there is a new dog to provide some winsome comedy at the diner when the health and safety inspectors come to call.
The gently lugubrious humour is matched by superb camerawork (the film is shot on 35mm film by Kaurismäki's longterm cinematographer Timo Salminen). The limited palette and subdued lighting renders every location a glaucous underworld. But this movie isn't all style and poker-faced comic asides, there's a really profound humanism in the way the refugees' stories are told, and a compassion which is all the more impressive for its total lack of sentimentality. Kaurismäki has said that this is his final film; it would be a real shame for him to stop now, but at least he'd be going out on a masterpiece.
Overleaf: watch the official trailer for The Other Side of Hope