Tuscany is Ready for Her Close-Up |

reviews, news & interviews
Tuscany is Ready for Her Close-Up
Tuscany is Ready for Her Close-Up
The chequered film career of a much-loved landscape
As befits a film set in Tuscany, Certified Copy is an international affair. It stars Juliette Binoche as a French gallery owner and William Shimell as an English art historian. Its Iranian director is Abbas Kiarostami. The dialogue is in three languages. It's the latest of la bella Toscana's many starring roles in what's been - let's face it - a chequered sort of film career.
The film is curious and gets curiouser. Shimell's art historian, as he reveals in his opening lecture to a respectful audience, is a kind of prophet in his own land. He is presenting a new book on fakes and copies to a conference in a Tuscan palazzo. Binoche's gallery owner is in the audience, though forced to leave early thanks to an impatient son she's had to bring along. She contrives to slip Shimell her number and soon enough they are out on a hatchback tour of the countryside. When a waitress mistakes them for an item, Binoche plays along only for it to emerge over the course of the day that perhaps after all they are not strangers but a couple creatively rebooting a failing marriage.
Nothing, however, is certain in the world of deceptive appearances that Kiarostami conjures up through dialogue and circumstance. He keeps you guessing to the very last frame. One thing is sure, though: the director did not fall in love with the Italian landscape, which has only a walk-on part. Indeed sometimes it's even dismissively glimpsed through car windows.
It's a strange position for Tuscany to be in. The film was shot in and around the bourgeois locale of Arezzo on the eastern border of the province. Other films to pass through the area include Roberto Benigni's Life is Beautiful (1999). The winner of three Oscars will go down in the film encyclopaedias as the movie that brokered a union between comedy and the concentration camp. In the sandstorm of outrage kicked up by this strange marriage, the film's other incongruity went obscured. This was that rare movie in which the forces of history - in the form of Fascism, then Nazism - come to the land of the picture postcard.
War also visited in the neighbourhood in The English Patient (1996) mainly to admire Piero della Francesca's fresco cycle in San Francesco depicting the Legend of the True Cross (pictured left).
But most filmmakers have preferred to stick to the tourist trail - Florence and the countryside - because Tuscany is cinema's premier fantasy location. Filmmakers go there in the same spirit as someone attending one of those watercolour courses in Chianti, to quiver at the shimmering duet of light and landscape etc etc. It's at least as subject to typecasting, based on its looks, as Pamela Anderson. It is a kind of topographical sex symbol, and you rarely get to see beyond the inviting contours. This must explain why, like a curvaceous starlet, the heyday of its life on film was confined to little more than a decade: the 1990s when the middle classes were renting Chiantishire villas in their droves.
It found itself cast in some fairly ordinary movies. When Michael Hoffman, most recently seen directing The Last Station, descended on the region to make a big-budget version of A Midsummer Night's Dream (1999) starring Kevin Kline, Michelle Pfeiffer, Rupert Everett and Calista Flockhart, it was stereotyping of the most obvious kind to get Tuscany to play the Athenian wood, and you almost felt as if you'd seen the movie already. (In fact it was better leaving it at that.) But that's the history of Tuscany on film for you.
Kenneth Branagh (pictured with Emma Thompson) also visited to film a slightly sterilised Much Ado About Nothing (1993), featuring much suntanned gambolling on verdant hilltops. Although none of his Italian plays is set there, Tuscany is the kneejerk choice to locate Shakespeare's comedies because that quality of enchantment is taken by outsiders to be a kind of indigenous produce, to be harvested like extra virgin olive oil and Brunello di Montalcino. That's why you never see anyone filming the region's implacable winter: Tuscany is a place where things are required to grow - not only flowers and vines, but also love and self-awareness.
The person who takes the rap for all this is EM Forster. His two Italian novels - A Room with a View (1986) and Where Angels Fear to Tread (1991) - reinvented Tuscany as a field of dreams where characters go to moult their own northern inhibition and give rein to inchoate desires. Helena Bonham-Carter, who took the key role in both film versions, proved adept at picking the lock on a character's soul. The sub-Forsterian film which most cravenly bought into this pursuit of sensory abandon is Enchanted April (1991), a thin-blooded concoction Mike Newell made before Four Weddings and a Funeral. Set in the 1920s, it told of an ensemble of desiccated Anglos (including Joan Plowright and Alfred Molina) whose emotions are unblocked by a brief sojourn on the Tuscan coast (which actually looked more like Liguria, but never mind).
Watch Tuscany do its thing in A Room with a View

Much more profound films are not above making the same assumptions. Andrei Tarkovsky's penultimate film, Nostalgia (1983), about a Russian academic researching a book about an expatriate composer, was set in a minuscule spa in the Val d'Orcia called Bagno Vignoni. The village is little more than a vast stone-walled pond rimmed by hotels, and Tarkovksy used its steaming sulphurous waters as a metaphor for the cleansing of the spirit.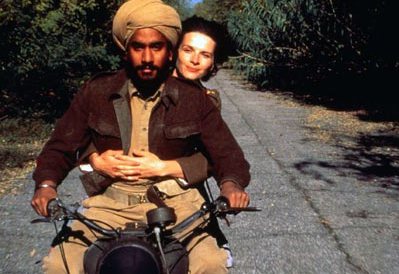 The English Patient, shot by the late Anthony Minghella, a British director with a full complement of Italian blood, also fell under the Tuscan spell. In the Second World War, Juliette Binoche's nurse hops off an Allied convoy to shelter a badly burned Ralph Fiennes in a disused monastery. The region may have been a hive of military activity and pocked with German mines, but it was as if she's stepping into her own private timewarp (Binoche pictured left with Naveen Andrews). In the film's final shot, she climbs onto a truck and drives out of Tuscany with a beatific smile of contentment smeared across her face. Foreigners are always doing that at the end of movies set in Tuscany, just like any other tourist.
The idea that Tuscany is a foreigner's chimerical neverland has taken root so deeply that when Bernardo Bertolucci, an Italian filmmaker, set Stealing Beauty (1996) in the heart of Chianti, he peopled it with ghastly English roués and an American ingénue (Jeremy Irons and Liv Tyler pictured below) and shot it in a replica of the house of two of the region's best-known expats - the artists Matthew Spender and Maro Gorki. You might easily suppose that the stolen beauty of the title is actually Tuscany itself, and that the thieves are the foreign interlopers. But it was too unsophisticated a film for that. It's just another bad movie about Tuscany. When I once interviewed her, I vividly recall Rachel Weisz (who had a topless poolside scene) describing it as Bertolucci's "wank".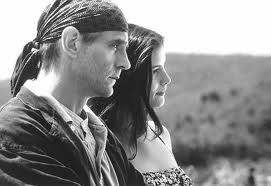 So it's no wonder eyeballs roll and yawns are stifled when Tuscany turns up on screen. It only ever stars in films about people on holiday. The most egregious example is Under The Tuscan Sun (2003), starring Diane Lane and adapted from American academic Frances Mayes's indigestibly smug memoir of setting up home in a rumpled old rural palazzo. It was no doubt this realtor's wish-fulfilment fantasy that put the mockers on Tuscany's film career. After this crap, there was nothing more to say about the place.
Watch the Under the Tuscan Sun trailer



But you get an entirely different view of the place in films where characters abandon Tuscany at the outset. In Queen of Hearts (1989), Jon Amiel's charming debut about a family of Italian immigrants in London, the plot kicks off in the stone towers of San Gimignano. For the two young lovers who elope by leaping into a hay-cart from the summit of one of the towers, their Tuscan home represents the oppression of roots and the dictatorship of tradition.
In Paolo and Vittorio Taviani's Good Morning, Babylon (1986) two unemployed Pisan stonemasons take their skills to Hollywood because there is no more work in their native Tuscany. A foreign filmmaker would have stuck around in Pisa and shot the romanesque masonry. But the Taviani brothers are Tuscan, and no one is that dreamy about their own backyard. Benigni, of course, is another Tuscan - he comes from Prato, just west of Florence. Indeed it's probable that no Tuscan has reached such a wide audience since Michelangelo.
The light which is so seductive for filmmakers has no narrative value without a glimpse of the darkness
Unless it's the most celebrated Tuscan director of all: Franco Zeffirelli. Tea With Mussolini (2000) is set in the same Fascist 1930s as Life is Beautiful. Chronicling the relationship between a Florentine boy and three elderly English ladies, it is Zeffirelli's most autobiographical film, based on his pre-war memories of a set of snobbish but hugely cultured expats. The Scorpioni, as they were called in the film as they were by Florentines at the time, love Italy, and would love it even more if it didn't contain quite so many Italians.
Watch the Tea with Mussolini trailer
The film ticks all sorts of Tuscanophile boxes, played by the formidable trio of Tuscan veterans, Judi Dench, Maggie Smith and Joan Plowwright, in a script co-written by John Mortimer, author of the Tuscan ur-novel, Summer's Lease (another homage to Piero della Francesca, made into a pleasant BBC series in the early 1990s starring Susan Fleetwood and John Gielgud). Smith's wholly fictional character, the widow of a British ambassador, is a devotee of Mussolini and once even takes tea with him, only to be interred along with the rest of the ladies during the war as a foreign national. Their prison is San Gimignano, star of Where Angels Fear to Tread, where they end up sandbagging Ghirlandaio's fresco of Santa Fina (pictured below), and saving the towers from detonation.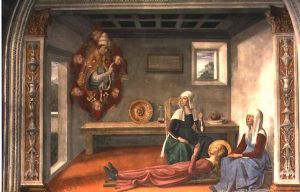 Not everyone likes it. The script is a bit of a mess in places. But Tea With Mussolini is a rare hybrid. Like Stealing Beauty, it acknowledges the Anglo-Saxon weakness for sensory Tuscan pleasures. But like Life is Beautiful and, to a lesser extent, The English Patient, it accepts that the forces of history are as integral to the place as the olive groves, the cypresses and the tempting curves of the hills. The light which is so seductive for filmmakers has no narrative value without a glimpse of the darkness.
As for Certified Copy, it doesn't remotely belong in this continuum. Binoche's rare, intelligent beauty is a sensuous reminder of bygone Tuscan pleasures. Kiarostami, being Iranian, seems to have none of the conventional curiosity about the place. Perhaps for once that's a good thing. If it wants to keep on getting the work, like any easy-on-the-eye young actress, Tuscany has to learn to stretch itself.
Watch the Certified Copy trailer