Elbow, O2 Arena |

reviews, news & interviews
Elbow, O2 Arena
Elbow, O2 Arena
Big arena-filling anthems from the cynicism-shattering Bury band
Is Guy Garvey really as lovely as he seems? I hope so. Last night, on the first of two nights for the Bury band at the O2 Arena, their lead singer, this big bearded bear of a man, came across as clever, funny, confident, warm, positive and inspirational. He can sing a bit, too, possessing a voice of uncommon sweetness and purity and unerring accuracy, slipping effortlessly into falsetto and back when required. Really, unless you happen to be the kind of person who likes to swim through seas of cynicism, what's not to like?
And blowing away cynicism was what this gig was all about: shamelessly, cheesily (arm waving? Tick. Singing along? Tick. Giant mirrrorball? Tick), this was an exercise in making 18,000 people feel better about themselves, about each other and about the world, using big bold and anthemic songs allied with sparkling spectacle to lift the spirits and banish the demons. Nor was this some kind of Panglossian la-la land; Elbow make music that's rooted in real lived experience (something that's inevitably accentuated by the northern-ness of Garvey's delivery, sung as well as spoken), reflecting individual traumas and collective tribulations. But what shines through, always, is the big beating heart of this five-piece band.
They've played big festivals before, but to my knowledge they've never performed in a place the size of the O2, and yet Garvey was entirely undaunted, chatting garrulously, completely at ease. There was nothing here of the frenetic desperate nerviness of other great live bands such as Arcade Fire: the occasion was dignified by a sense of calmness, almost serenity, that was reflected in the rapt attentiveness of the crowd. Garvey was even unfazed when a pair of knickers landed next to him. "That's never happened before," he said, "in 20 years!" before calmly tucking them into his suit-jacket pocket.
Elbow's set of nearly two hours was paced with the confidence of a band who have been together for 20 years, who know how to lay a long, slow-burning fuse, beginning with "The Birds" (from the new album, Build a Rocket Boys!), moving on through the stately big-beat waltz of "The Loneliness of a Tower Crane Driver" and culminating in the glorious explosion of joy that is "One Day Like This". A smaller satellite stage gave Garvey (and for a while the rest of the band) a place to roam and pace, a station from which to survey the audience, while lights and screens added sparkle and colour.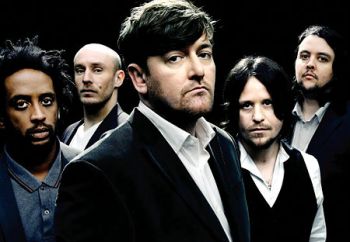 Also, mention should be made of the sound system: I don't know how it was from elsewhere in the arena, but from where I was sitting it was impeccable. I have seen countless gigs in which string sections were employed for what can only have been decorative effect, given that their sawings were almost always entirely inaudible, but here the four string players were strong and, well, stringy. And the rest was marvellously clear, too, from the deep rumble of the bass on "Station Approach" to the gently plucked acoustic guitar on "Weather to Fly".
So, nothing to complain about? Well, in arena gigs the crowd have an important part to play in creating an atmosphere and trying to lift the lid, and here I think they shirked their responsibilities somewhat, being a bit on the passive side. But that's all. And if I've given the impression that this was just the Guy Garvey show, this certainly wasn't the case: the other four members of the band (pictured above) played their parts brilliantly, too: Elbow's music is at times quite tricky and multilayered but they never missed a beat. It's just that Garvey, the force of his personality, the bigness of his heart, is so compellingly watchable.
Watch the video for "Neat Little Rows"
Share this article