Janelle Monáe, The Roundhouse |

reviews, news & interviews
Janelle Monáe, The Roundhouse
Janelle Monáe, The Roundhouse
Can the princess of alternative pop prove more than a stage-school confection?
One way of seeing what an artist is really about is by looking at their audience, and Monáe's confounded easy assessment. Unusually diverse in age range and ethnicity, it also tended towards the sexually ambiguous (without being obviously a "gay crowd") and coolly self-styled: not fashiony as such, nor displaying the look-at-me freakishness you will see in the audience for some acts that court controversy as a defining factor, but definitely people comfortable with their shape, poise and identity and willing to amplify that.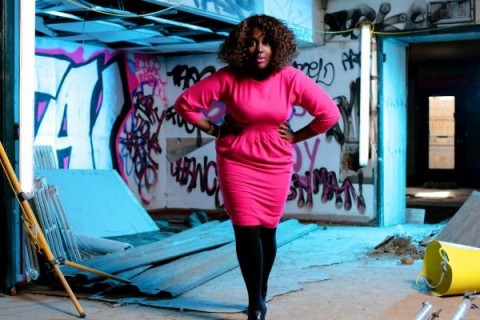 The lead-up was interesting, too. Like much of the crowd, the support act managed to be unorthodox without being overtly alternative: CocknBullKid aka Anita Bley (pictured right) is a colourfully dressed young black girl from east London, singing 1980s-tinged rock-pop songs with stadium-sized ambition. They may not have the greatest songwriting sophistication yet, but there was something robustly engaging about her performance that suggests she could do something very interesting indeed. Following her, in contrast to the usual drone of nothing in particular that gets played between sets at mainstream artists' gigs, came a succession of stunning Afrobeat tunes followed by classics by Earth Wind & Fire, The Jacksons and Stevie Wonder.
It was all very promising. But when the lights went down for the main set, all the stage-school fears came rushing back. A man in a top hat and fake moustache came on to hype up the audience, and a video screen played an introduction to Monáe's sci-fi concept which clearly hadn't been updated recently, referring prominently as it did to returning from the future to "the year 2010". The band came on and struck up a chuntering groove while hooded creatures pranced across the stage, one of whom revealed themselves as Janelle herself, and it all felt a bit arch, a bit like – as theartsdesk's Howard Male so aptly put it – they were performing "at us, not to us".
The sound mix wasn't great either, and for the first couple of songs it was hard to pick out anything about Monáe's performance, beyond the fact that she was singing very hard; again, this felt like a stage-school show rather than anything we could engage with. But song by song, the facade fell away, and it became more and more apparent that this was a serious singer and performer we were watching, her moves as much about expression of her own clear inner vision as they were about the hyper-conceptualised intertextuality suggested by her interviews and lyrics.
The crux point came with the startling psychedelic rock-out "Mushrooms & Roses". What could have been a cynical act of cool-mining actually seemed very natural, and by the end of the song, Monáe's vocal had broken through any archness or pretence and into raw musicality. From then on in, the set was glorious: "Wondaland" hitting the 1970s utopian trans-racial grandiosity of a song like Minnie Ripperton's "Les fleurs" but with the alien edge of a performer like Kate Bush, David Byrne or even Bowie, and the final salvo of "Cold War" and "Come Alive" showing that the Motown/James Brown affectations of her recordings can really... well... come alive on stage as any hint of over-training was dashed aside and she hollered her heart out. Once it got going it was a magical set, and watching the gathered crowd of unselfconscious misfits drawn into Monáe's android rhetoric was heartening too. Colour me chastened.