Mark Ronson & The Business Intl/ Rose Elinor Dougall, Hackney Empire |

reviews, news & interviews
Mark Ronson & The Business Intl/ Rose Elinor Dougall, Hackney Empire
Mark Ronson & The Business Intl/ Rose Elinor Dougall, Hackney Empire
The perfect venue for the pan-Atlantic producer/hipster's aural revue
Thursday, 30 September 2010
Hackney's Empire is the perfect venue for pan-Atlantic producer/hipster Mark Ronson's vehicle The Business Intl. New album Record Collection is an aural revue – with guests ranging from Eighties idols Boy George and Simon Le Bon through Wu Tang's Ghostface Killah to Andrew Wyatt of Swedish dance-poppers Miike Snow. A former musical hall, it's a fitting showcase for Ronson's portmanteau sensibility. It's as if variety was primed for a comeback at this show, the second of six smallish-venue road-test dates. In support, his Business Intl colleague, Rose Elinor Dougall, trod the boards on the heels of her recent solo album Without Why.
The past week has seen other distractions. Ronson has hogged breakfast TV's sofas and dodged combative Tweets apparently sent by former client Amy Winehouse. Record Collection has received a few pastings. Even the good reviews take a pop at his weedy singing. But it'll all soon be history, like 2007's million-selling, soul-driven covers set Version and the Brit award he received in its wake. Even so, his hair has turned white. Pressure? Or given the all-original Record Collection's Eighties aura, is it a tribute to Billy Idol, Bros or Theatre of Hate's Kirk Brandon?
Despite an urgency and engagement that are clearly from the right now, nodding back to the past was integral to Rose Elinor Dougall's eight-song opening set. Her four-piece band – with brother Tom on guitar – looked like a mix-and-match version of Nineties shoegazers Slowdive, all bowl-head haircuts and eyebrow-skimming fringes. Behind a keyboard, Dougall initially looked uncomfortable, fiddling with her hair and unsure how to project her empathy with the music. Self-consciousness cast aside after a few songs, she settled into a rhythmic marching on the spot with hands on hips that seemed spontaneous; an organic channelling of the music. Where Without Why echoed Smiths-ish kinetics and almost hymnal melodic arcs, the live experience was less subtle, but equally engaging.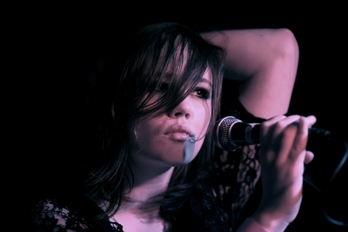 Seen live, Without Why songs like "Stop/Start/Synchro" and "Come Away With Me" were bathed in washes of chorus-treated guitar that evoked a souped-up Cocteau Twins – aptly, a prime Slowdive influence. Dougall's vocals nodded towards a friendlier Siouxsie – another of Slowdive's foundations. This was shoegazing made-over as pop. Nowhere was this more effective than on "Find Me Out", which had the tenderness and melancholia of Joy Division's "Decades". As her set finished, Dougall said, "I think you'll really enjoy the rest of this evening, even though I'm in the band too."
And, after a 40-minute break, there she was stage left on keyboards with Business Intl. Initial impressions were limited to the (expectedly) stylish staging. Stage front, coffin-like metal constructs on pedestals housed the instrumentation. Behind two of these units, a riser was the base for – from left – drums, Ronson's own pedestal unit and another for Alex Greenwald. A bass player was awkwardly sandwiched between the two rows of coffins. The men sported white shoes, red socks, grey suits and black shirts, while the women – Dougall and Brooklyn's MNDR – were in black and grey too. No sloppiness allowed.

Boy, the discipline showed. With few references to the Sixties soul and girl-group grounding that informed Ronson's Amy Winehouse production, this was the Eighties overhauled for now. Reclusive Record Collection contributor D'Angelo didn't show up. Nor did Ghostface Killah. But Spank Rock was on board throughout to bounce about and drive it forward. Beyond biffing some syndrums, prodding some keyboards inside his coffin and contributing (pretty OK) vocals, Ronson wasn't stepping forward to claim the spotlight, even though he did proclaim, "London, make some noise."
Ronson had pitched it perfectly: variety and revue were overhauled
But halfway through he asserted his DJ credentials as the band left the stage. Spank Rock rapped about white girls and their fondness for his member, and the personality-free MNDR exhibited some useless hip-hop vocal stylings that would have been best left in the bars of Brooklyn. This inter-regnum seemed to say that Ronson wanted to be thought of as a cutting-edge DJ as well as the MC of this pop extravaganza.
Thankfully the flow was restored after MNDR parked herself behind the keyboard again for a rousing, irresistible Spank Rock-led version of Record Collection's first single "Bang Bang Bang". As the memory of that lingered, the mostly quiet Ronson introduced "my favourite band, Duran Duran". Simon Le Bon, Nick Rhodes and Andy Taylor trotted onstage, Ronson strapped on a Telecaster and the ensemble whacked out an incredible version of Duran's debut single "Planet Earth". Duran bassist John Taylor then came on for "Girls on Film". Seamless, it fitted the flow perfectly. As Le Bon exited, he quipped, "There's something special next."
It was special. The encore featured Boy George and Alex Greenwald dueting on Record Collection's "Somebody to Love Me". The crowd went bonkers, but the atmosphere didn't abate after Boy George departed. The View's Kyle Falconer then came on to romp through the bouncy "The Bike Song". The fever remained in the air. Ronson had pitched it perfectly: variety and revue were overhauled. Whoever the guests, nothing overshadowed what had come before, momentum was maintained (despite the mid-set DJ spot) and thoughts of Amy Winehouse were banished. Based on last night, there's no reason Ronson shouldn't remain a ringmaster for years to come. This was one of the best, most fun and well-conceived shows I've seen in years, despite the stinky mid-point DJ diversion.
Visit Kieron Tyler's blog
Share this article