New Music CDs Round-Up 10 |

reviews, news & interviews
New Music CDs Round-Up 10
New Music CDs Round-Up 10
Including The-Dream, Sia, Tom Petty, Giggs, David Weiss and Ed Harcourt.
CD of the Month

The-Dream, Love King (Mercury)
by Joe Muggs
The-Dream – Atlanta resident Terius Youngdell Nash – is a gloriously anomalous pop star. At 32 years old, he is only now achieving international prominence, having spent the past decade behind the scenes as a writer-producer until his co-production of Rihanna's global ultra-smash "Umbrella" gave him the industry clout to allow him to emerge from the shadows fully. He occupies a fascinating position, ostensibly making extraordinarily mainstream R&B-pop but also very much beloved of the hippest and most experimental of electronic club musicians.
The reason for his artistic and commercial success and his ability to span audiences, and the appeal of this album, can be summed up in a single word: excess. There is nothing about The-Dream which is not excessive to a mind-boggling degree. The standard subject matter of R&B – sex and consumerism – is amplified in Love King to high camp and beyond, the language of seduction and shopping cranked up until it becomes a surreal litany of brand names, objects and bodies, one almost becoming the other as in the heavily Prince-influenced "Yamaha" in which a girl is compared to a motorcycle. It's not for the prudish, either: if you have an aversion to liberal use of the N-word, the F-word, the MF-word or graphic sexual language ("Panties to the Side" is one song title) then there's not much point trying to persuade you of its merits.
Yet oddly, given all this, it feels neither sleazy nor greedy. This is not the leering Benny Hill sexuality of R&B's previous biggest auteur singer-producer R Kelly but something more genuinely erotic, and the ghetto-fabulous hyper-capitalism is so slick, so damned strange, that its mantra-like recitations of "Louis-Prada-Aramis-Fendi-Valentino" seem a world away from P-Puff-Daddy-Diddy's crass, needy, champagne-toting Gatsby-isms. It genuinely feels like a dream; whether this is some comment on the unreality of the superstar's world of designer outlets and air-conditioned Hummers, or merely a picture painted of it is not clear, but it certainly has a dark heart as the album's desolate centrepiece of sexual suspicion and drowning imagery "The Abyss" suggests.
None of this would be of any interest if the music were not worth attention, though. But it is, and then some. The-Dream's productions are as excessive as his world view: though they may (and this is his genius) sound like standard modern radio pop if you let them drift by in the background, turn them up and they reveal vast unfurling swathes of detail curling around itself in baroque patterns. The digital drum patterns and vocal processing which so inspire young electronic musicians sound as if they were done with military-grade technology, so high definition and unreal are they, while layer upon layer of pianos, strings and synthesisers create virtual reality dramas that one can lose oneself in. From the thumping electro-glam of "Panties to the Side" to the weightlessness created by the ebbing strings and vocal harmonies of "February Love" the musical moods take common themes to previously unexplored extremes and by doing so make them sound entirely new. An entirely bizarre and often brilliant listening experience, Love King is also like a David Lynch movie: a reminder of the intense weirdness that lies at the heart of mainstream culture. Find Love King on Amazon
Watch video of Make-Up Bag below:
New releases
Sia, We Are Born (RCA)
by Russ Coffey
Midway through arguably her third recording career, Sia Furler has finally found her calling – happy, catchy, bright pop music. She may be an unlikely pop star; being in her thirties, self deprecating, and with on stage banter not unlike comedienne Jenny Eclair.  But boy how she can sing! And clearly her stint writing songs for Christina Aguilera has reassured her that she's really got that rare knack of making three minutes of uplifting melody.
Over the last decade Sia has variously tried her hand at R'n' B, alternative rock, chill out, and with the last album got dangerously close to mum rock. However it was with the bonus track, "Buttons", almost completely left off that album, that she stumbled on her forte.  Various talk shows invited her on to play it with the band in kooky glow-in-the-dark outfits. Yes it was retro, but it was also a throwback to everything right about eighties pop. And that's pretty much the mould for her latest, We Are Born.
"The Fight" opens with a guitar riff that reminds you of Prince, the single "Clap your hands" has an infectious Pat Benatar-esque chorus, and "Stop Trying" advances things a few years with a Gwen Stefani vibe. It's nothing if not a polished sound and Sia has assembled an impressive team around her. The album was produced by Greg Kurstin (Britney, Kylie, Lily Allen), and has guitar by the Strokes' Nick Valensi. However this is still is very much Sia's show all the way from the bulk of the songwriting to directing the album art. And although the "child's playpen" look to her live sets and record covers may be construed as a little goofy none of that translates to the actual music. "Bring Night" has all the joyousness of Cyndi Lauper circa 1983, and "Be Good to Me" is the sort of song that gives slow R'n'B  a good name. It also shows off the sheer range of her vocals. However the real success of the album is its ability simply put a smile on your face. Sure, there's nothing profound here but then again there's nothing profound about having a little too much to drink with your friends, and that doesn't stop it being damn good fun.
If Sia's work with Aguilera showed her value as a songwriting gun for hire, We Are Born shows it as a complete recording artist. In fact there's hardly a duff moment on the record. It says something that the weakest moment is the last song, "Oh Father", a Madonna cover. Find We Are Born on Amazon
Watch Video (dodgy video, fun song) of Clap Your Hands, below:
by Joe Muggs
Fancy a bit of serious moral ambiguity as entertainment? Southeast London's Giggs aka Hollowman aka 27-year-old Nathan Thompson is your man: the UK's first serious success as a gangsta rapper, the passion of his following entirely predicated on the "realness" of his narratives of criminal life and affiliations to the notorious Peckham Boys aka Black Gang (his particular chapter of the gang is known as SN1, an abbreviation for "spare no-one"). His breakthrough track "Talking The Hardest" (see video), self-released after serving two years in prison for gun possession, has been a genuine grassroots phenomenon – guaranteed to be heard coming from phones on the back of buses throughout the past two years – and he built up a huge fanbase and self-sufficient legitimate music business of his own before signing to XL, home of the White Stripes, MIA and Dizzee Rascal.
So is his story one of hope, as he claims in interviews – of plotting a route to escape from crime and deprivation, and opening our eyes to a world we'd prefer to ignore (and let's not forget that in his home borough of Southwark 61 per cent of children currently live in poverty)? Or is it suffering-porn, allowing people vicarious thrills through tales of grim areas they would never enter, and glorification of a lifestyle that leads most not to stardom and riches but prison, addiction or death by the age of 25? After all, this is the man who on "Talking the Hardest" suggest those who oppose him will "end up covered in red like a portion of chips", and who includes a song on this album called "Ner Ner" which literally taunts the listener with his success, saying "look what I've got from this greasy [ie criminal] life".
Well here's the problem: it's both. Giggs's rap delivery is deceptively simple – unsyncopated, and uninflected, in a hypnotic and very London baritone voice, it sounds like he is just reciting menacing lists at first – but he has a razor-sharp mind and a real gentleman gangster's charm, and most crucially of all is a master storyteller. Over unusually consistent beats and sinister synth melodies by mostly young and unknown producers from his crew, he spins complex narratives of who he is and how he has come to where he is. From reminiscences of growing up to music industry wranglings, the pressures of fatherhood and relationships to the adrenaline of gunplay, he is a convincing and compelling writer and over the course of an album creates a coherent world, which is no mean achievement in any genre. It's profoundly troubling, even deeply nasty in places, and raises more questions than it answers, both about the environment that created it and the audiences who want to feel they are entering that world. But as a creative work it is a huge achievement. How's that for ambiguity? Find Let Em Ave It on Amazon
Watch video of "Talking The Hardest" below: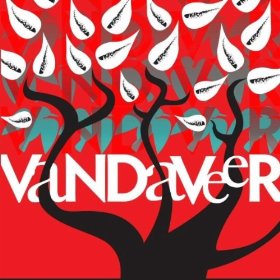 Vandaveer, Divide & Conquer (Bronzerat)
by Howard Male
With just 10 short, sweet songs this second and more fully realised album from Washington singer-songwriter Mark Charles Heidinger (aka Vandaveer) skillfully balances a fairytale whimsy with a taste for philosophical rumination and apocalyptic imagery. Several critics have compared Heidinger to the likes of Fleet Foxes and Bill Callahan, but such comparisons don't take into account the European vaudevillian eccentricity of much of his writing. There's even a touch of the wry Yorkshire chansons of Sixties songwriter Jake Thackray on, for example, the perversely poppy tale of familial abuse that is "Before the Great War." Then there's the cheerfully funereal "The Sound & the Fury" in which mercurial lyrics are talk/whispered in such a way as to produce appealing old-paint-cracks in Heidinger's voice that result in him not overselling the Old Testament imagery (which Nick Cave would have made so much more of a macabre song and dance about.)
Resignation seems to be the default emotion conjured on many of these songs, but perhaps resignation is sometimes the only way to move on. And there's definitely a sense that Heidinger is trying to lay some ghosts to rest here. Most tellingly, in forty minutes of music there's just three seconds of distorted, mildly anarchic lead guitar. Although that's not to say that Divide & Corner isn't an emotional record, it's just that Heidinger seems keen to avoid all the usual histrionics and clichés associated with music that is "saying something".
Saving the best until last, final tune "Beverley Cleary's 115th Dream" is a beautifully understated ballad which won me over simply because it includes the charmingly anachronistic expression "Heavens to Betsy." Overall Divide & Corner  has a graceful simplicity to its piano and guitar-centered  arrangements. Also of note is the prominence given to the backing vocals of Heidinger's sister, Rose Guerin. Her crystalline Country voice adds rose-tinted varnish here, a sprinkle of glitter there, and musical inverted commas wherever they're needed; to add colour to the last few words of a verse, or lift the climax of a chorus just a little more skyward. Essentially, Gueren makes the prettiest of Heidinger's melodies even prettier, but without ever tipping things over into the saccharine. The best complement one can give this record is that I look forward to hearing what the guy does next. Find Divide & Conquer on Amazon
Watch video of Fistful of Swoon video, below:
Johnny Flynn, Been Listening (Transgressive)
by Russ Coffey
There's been so much precocious folk-rock of late, they make it seem easy. Marcus Mumford, Laura Marling, Charlie Fink, they've been everywhere. And now it's the turn of Johnny Flynn, the last of the so-called London nu-folk scene to be getting serious attention. And  you might wonder what exactly for? Because not only is he too good looking for his own good, he also went to school with Lily Allen, and has equal ambitions to be an actor. It may sound suspicious, but let me assure you that not only is he the real deal, with the new album he makes a compelling case for actually being the most original of the lot.
Flynn's last offering A Larum (notably an anagram of Laura M), was pretty enough, but it sounded like what it was – a young man with abundant musical and lyrical talent learning to be a songwriter. But much of Been Listening really doesn't sound like anything you've heard before. If you've heard the first single and album opener "Kentucky Pill" don't be put off. That may sound like an attempt to cash in on the success of Mumford and Sons, but things start to get interesting immediately after. "Lost and Found" conjures up the spirits of Donovan and early John Martyn and transports them to the Pacific Northwest (where the album was recorded) with a haunting image of a radio playing out the lives of disconnected souls.  "Churlish May", like many of the songs, gives as much attention to the arrangement as to the melody, here mixing folk with ska-style brass. Likewise the new single "Barnacle Warship" has a prominent string figure redolent of Ed Alleyne-Johnson's work with his electric five string violin. Both arrangements lift the songs to another level. As indeed does the guest appearance from Laura Marling on the beautiful duet "The Water" where she takes the lead and Flynn provides a gloriously laid back harmony. No doubt that will  prove the album's most downloaded track on iTunes. However the best song is for me is "Amazon Love" with its slow piano, hints of Cat Power, and talk of travelling up a river on the "elegant sails of infinity".
What it all means, literally, is anyone's guess. Flynn's poetic lyrics offer up arresting images but he echews conventional folk narratives in favour of abstraction. But in another sense what it means is that Flynn has successfully navigated his way past the obvious, and charted a path up the startling, odd and beautiful. Find Been Listening on Amazon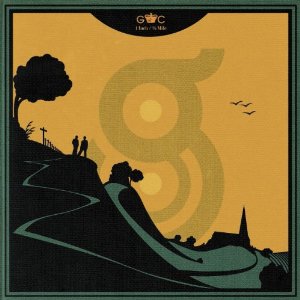 Grasscut, 1 Inch / ½ Mile (Ninja Tune)
by Joe Muggs

Declaration of interest: Grasscut feature one Marcus O'Dair, double bassist and keyboardist but also writer for multiple publications including theartsdesk.com. But there is no room for nepotism here – this album is worth your consideration not because of any classy associations but because it is a vastly accomplished piece of modern psychedelic pop. There has been an increasing movement of people managing to combine proper songwriting with the chirps and clonks of electronica – the delightfully named Tunng, Psapp and Hood spring to mind as comparable practitioners – without it ever quite becoming a genre (despite my best efforts to get "indietronica" off the ground). But neologisms be damned, this is essentially modern-day psychedelia of a very particular kind; the songs are very much in the dreamy style of Syd Barrett and a hundred other lesser-known paisley-shirted and starry-eyed young men of the late 60s, pastoral subject matter and all – while the backing is potentially what those young men might have made if they had Macbooks as well as guitars and cellos. It's hugely detailed, it's warm and friendly, the songs are full of lilting hooks, and as a rapprochement between the unnecessarily divided worlds of electronica and "proper" music it is a complete success. Absolutely lovely, and I am not just saying that. Really. Find 1 Inch / ½ Mile on Amazon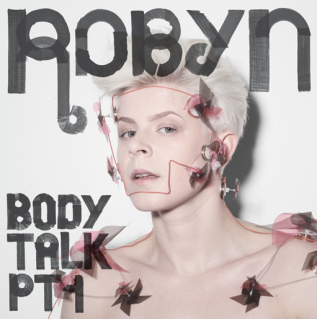 Robyn, Body Talk Pt 1 (Konichiwa/Island)
by Thomas H Green
Elly Jackson of La Roux may currently be the queen of androgyny but Robyn Carlsson was there first. On the cover art for her latest album Carlsson is impassive and sexually ambivalent, pushing her visual image even further. She wasn't always this way. Although she's been having occasional hits since the late Nineties, it was only when she broke away from BMG, a contract she'd had since her teens, that she came into her own. Her career before 2005 ran the gamut from lumpen pop-dance to lame attempts at soul, all of it tinged with a white bread forced grooviness redolent of Ace Of Base.
For her last album, the internationally successful Robyn, Carlsson set up her own label, Konichiwa, and hooked up with fellow Swede Klas Ahlund of punk band Teddybears to nail a set of songs that took in both steely electro sass and a sugary best-selling ballad ("With Every Heartbeat"). Body Talk Part 1 moves things forward. It's even more confident, tougher and contains less filler cheese. There are Spartan 4/4 techno throbs a-plenty -- notably "Fembot" and "Don't Fucking Tell Me What To Do" - but decorated with shiny pop sparkle and Carlsson's sweetly belligerent singing. On "Dancehall Queen" she collaborates with Philadelphia DJ-producer Diplo, rather brilliantly combining Euro-reggae fluff with bassbin-rattling dubstep, and the current single "Dancing On My Own" is a hi-NRG disco monster that will send discos, gay or otherwise, into paroxysms. Even the downtempo moments, the piano ballad "Hang With Me" and a haunted version of traditional Swedish number "Jag Vet En Delig Rosa" (I Know Of A Lovely Rose), are understated rather than schmaltzy.
This punchy album is apparently the first of a set of three which Robyn will be constructing throughout the year. If she can retain this quality threshold and hold her own beside Kelis on their joint forthcoming All Hearts Tour, Robyn will end 2010 as a worthy opponent to the mighty Gaga machine. And that's the tip top of the pop tree right now... Find Body Talk Part 1 on Amazon
Watch video of Dancing on my Own, below:
Tobacco, Maniac Meat (Anticon)
by Thomas H Green
Synthesizers have traditionally been a toy for rock bands at a loose end to fiddle with, or they're associated with dance music, electro-pop and so on. It's not often that they're utilised for a full ballistic assault on listeners' ears, yet they're much better equipped to do this than the now-familiar armada of guitar effects and feedback. Tobacco are here to remedy this situation. Following in the paths of bands such as Suicide and Add N To X they throw down rambunctious electronic cacophony, a jagged analogue thrash. Yet Maniac Meat isn't an avant-garde apocalypse in the vein of, say, Masonna. Somewhere inside the sonic chaos, it's really rather pop, something Beck clearly realises since he lends vocals to a couple of tracks.
Tobacco is Pittsburgh analogue synthesizer fetishist Tom Fec, who's also in the band Black Moth Super Rainbow. His last Tobacco album was full of quirky, off-the-wall investigations into what hip hop might be in his own bizarre alternate universe. The new one is far noisier but also far more fun. It gleefully hurls down a melee of effects that sound like oil tankers rending asunder, buzzsaws, discordant loops, shattering off-key android mega-sirens, the mournful howls of tortured machines retching up their very cybernetic souls. It's not a random uproar, though. The racket is constructed in such a way that melodies flit about in the mayhem and the regular spooked, whispery vocals recall late period Spacemen 3 or, occcasionally, the Velvet Underground, while at other times he comes on like early Gary Numan jacked up on a grocery bag of steroids. There are songs here, then, but never mind that for the moment as there's just as much fun to be had from simply drowning in Tobacco's sheer visceral sonic heft. Find Maniac Meat on Amazon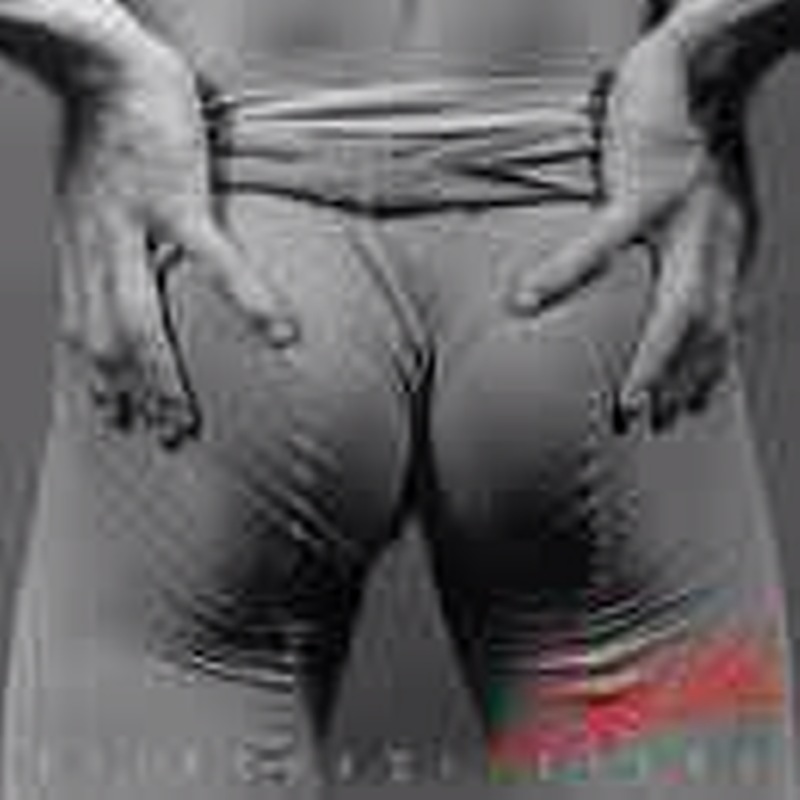 Scissor Sisters, Night Work (Polydor)
by Bruce Dessau
There is something about Scissor Sisters that has always brought a smile to my face. Whether it is the fact that their keyboard player John is the son of ex-Goodie Graeme Garden or frontman Jake Shears' topless, arms-aloft disco joie de vivre, they seem like they are all about fun. Their recent hit single, "Fire With Fire", continued the trend, evoking an old Harry Hill gag –  "my dad used to say fight fire with fire. Which is probably why he was thrown out of the fire brigade."
Night Work is not all giggles though. After the mainstream thrill of their breakthrough days there is a sleazier hue to their third album which suggests that 24/7 partying is a demanding job. In the same way that Saturday Night Fever is actually quite a dark movie remembered for its life-affirming soundtrack, this is quite a dark transgressive album that will be remembered as a hymn to hedonism and living life to the unrepressed full. "What I really want to do tonight is toughen you up" sings Shears on "Harder You Get". The only thing clenched here are the buttocks on the sleeve, shot by the late Robert Mapplethorpe.
It is an indication of the band's strength and confidence that the exultant "Fire With Fire" is far from the best track here. Jake Shears reportedly junked one version of this album after it was recorded and headed for Berlin for a rethink, which may explain the hint of late-seventies Bowie on the title track. Shears also co-opted Madonna's producer Stuart Price to add pop sheen to proceedings. Perhaps a lot of bands should follow his example. The retro-electro here has a buoyancy that takes some beating. The decidedly kinky "Any Which Way" – featuring backing vocals from Kylie Minogue, who guested with them at Glastonbury – is about as busily funky as funky gets. Shears' falsetto is more Bee Gee than Leo Sayer, hitting some particularly effective high notes alongside strings, electronica and probably the occasional kitchen sink too.
Things conclude on a reflective high with "Invisible Light", complete with deadpan oration from Sir Ian McKellen – shades of Vincent Price on "Thriller" – conjuring up the spirit of primetime Pet Shop Boys. Night Work is a little too supermarket MOR in places and you may wonder how Barry Gibb ever sneaked into your thoroughly modern Ipod, but you'll soon be dancing too hard to care. Find Night Work on Amazon
Sarah McLachlan, Laws of Illusion (Arista)
by Adam Sweeting
Can you believe Sarah McLachlan has sold 40 million albums? One therefore assumes that it isn't because the repo men have suddenly come calling that Laws of Illusion is only her first collection of new material since 2003's Afterglow. Sceptics who feel inclined to pigeonhole McLachlan's music as ethereal girly mush will find extra grist for their mill in the news that she has just kicked off the revived Lilith Fair all-women tour for a summer sweep through the US and Canada. But give Laws of Illusion some time, and you'll find plenty of texture and detail bubbling up beneath its seemingly calm surfaces, while its songs gather force with every listen. The artiste claims that the new songs examine themes of "illusions and loss",  much of  this stemming from her separation from drummer-husband Ashwin Sood. Nonetheless, she hits an optimistic note on the album's first single, "Loving You is Easy", where she strikes up a marching, poppy beat weirdly reminiscent of (ulp!) Gilbert O'Sullivan. Elsewhere, McLachlan's favourite speeds are slow to slow-medium (though apparently she thinks it's a fairly up-tempo collection), giving the songs plenty of room to reveal themselves. For instance, "Illusions of Bliss" steadily rolls out its rich melodic carpet via eloquent piano and pointillistically-honed harmonies. "Forgiveness" is a melancholy, hymn-like ballad with country overtones, and while "Heartbreak" feels superficially like easy listening, it packs a formidable emotional wallop within its rolling beat and easy-to-love melody. The one really irritating thing about McLachlan is that horrible little fluttery falsetto up-tick that sometimes creeps into her vocals (terrifying shades of Dolores O'Riordan), but to hear her singing at its finest, check out the massed vocal arrangement of "Bring On the Wonder". Find Laws of Illusion on Amazon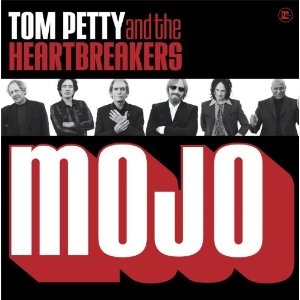 Tom Petty and the Heartbreakers, Mojo (Reprise)
by Adam Sweeting
"Mojo" as in, presumably, the thing they've got back. Certainly Petty's twelfth studio album with the Heartbreakers is a vast improvement on the eleventh, 2002's barely listenable tirade against the music industry, The Last DJ. There has been some turbulence between band and bandleader over the years, but this time a collegiate approach was adopted, with Petty deliberately sitting down to write a bunch of Heartbreaker-friendly songs which they cut just-about-live in their own studio in LA. The songs are mostly variations on the blues, from the brisk, honking opener "Jefferson Jericho Blues" (tarted up with Scott Thurston's raucous harmonica) via the vaguely Booker T-ish "Let Yourself Go" to the snaking, Zeppelin-like riffing of "I Should Have Known It". The group's southern roots show through in "First Flash of Freedom", a sprawling seven-minute piece reminiscent of the Allman Brothers' "In Memory of Elizabeth Reed". "First Flash …" sounds glaringly out of place as the album's second track, but it does offer the instructive lesson that the Heartbreakers' lean, minimal playing works much better in shorter, pithier pieces. Of these, the outstanding specimens are the clipped and crunchy "Running Man's Bible" and, best of the lot, "Candy", where they lock into a perfect JJ Cale groove while Petty does his best po'-Florida-boy turn at the microphone – "Well I don't drink coca cola / But I sure like the ol' moonshine" etc. They don't sound lean and hungry like they used to, but they're maturing in style. Find Mojo on Amazon
Ed Harcourt, Lustre (Piano Wolf Recordings)
by Adam Sweeting
His real name is Edward Henry Richard Harcourt-Smith, but all you need to know is that his fifth album arrives four long years after its predecessor, The Beautiful Lie, and is a bit of a corker. Ed has overcome several pitfalls and setbacks in this career, not least being nominated for the Mercury Prize in 2001 (a frequently career-terminating mishap), but Lustre radiates the feel of an artist who has finally arrived and feels the Power coursing through his veins. In some ways Harcourt is a conventional pop songwriter who might have sounded perfectly at home in 1973 (consider, if you will, the expansive tunefulness and Nilsson-like harmonies in "Haywired"), but there's usually something strange or troubling nibbling away in your peripheral vision. In "So I've Been Told", Ed appears to adopt the persona of a lunatic locked away in "a room without any hooks", but outwardly the song's stately pace and piano and harmonium arrangement have the feel of a conventional Edwardian parlour ballad. In "Lachrymosity", against a droll circling piano figure, Ed bewails his not entirely proletarian origins ("Scourge of the middle class is a penchant for misery"), while in "Heart of a Wolf", he celebrates his curious obsession with wolves with harsh megaphone vocals and some spirited lupine howling from the Langley Sisters. And sometimes his songs are just exquisite. "Church of No Religion" could bring a tear to the eye of a hanging judge, and "Killed by the Morning Sun" is almost too gorgeous for words. Awfully good actually. Find Lustre on Amazon
David Weiss & Point Of Departure, Snuck In (Sunnyside Records)
by Marcus O'Dair
The original Point of Departure was a Blue Note album, released in 1964 and now regarded as a classic of modern jazz. New York trumpeter David Weiss can't have taken much notice at the time – he was born the year of its release – yet, whether by mere coincidence or some overarching cosmic logic, he seems to be carrying that same flame.
While that album's staggeringly innovative take on post-bop informed Weiss' New Jazz Composers Octet (formed in 1996) and the David Weiss Sextet (formed in 2000), it is in this quintet that its influence is felt most explicitly. "Erato", the album's penultimate tune, was actually written by Andrew Hill, who led the Point of Departure sessions; other material comes from POD drummer Tony Williams as well as fellow Blue Note artists both well-known (Herbie Hancock) and more obscure (Charles Moore).
Obviously the group moniker sets one hell of a benchmark, and it's probably true that Snuck In won't go down in history in quite the same fashion as the album that inspired it. That said, there's room in your collection for both – and that, realistically, is perhaps the best Weiss could have aimed for.
There's immaculate technique on display, as Weiss and tenor sax player JD Allen navigate the harmonic changes and complex polyrhythms inherited from the bop tradition. But while that description might imply a certain coldness, happily the record is anything but – this is spirited music, emotionally engaged on a deep level. Just as Hill's album featured experimentalist Eric Dolphy as well as the straighter Kenny Dorham, there are moments on Snuck In that approach the impassioned cries of the jazz avant garde.
The rhythm section of Matt Clohesy and Jamire Williams negotiate these changes of style and mood with aplomb, as tender and delicate on "Erato" as they are hard-hitting and energetic on "Number 4" and the title track. The tightness of the ensemble as a unit is all the more impressive given that this is a live album – and that, despite Weiss' two decades on the New York scene, this particular band has only been in existence since 2006. Glorious. Find Snuck In on Amazon
Compilation of the Month
Various, Palenque Palenque: "Champeta Criolla & Afro Roots in Colombia 1975-91" (Soundway)
by Howard Male
So good they named it twice, and stuck an exclamation mark on the end. Normally I lose patience with intensely repetitive music after a couple of minutes, but not with this stuff. In fact I'm somewhat baffled as to how the Champeta sound of the Caribbean coast of Colombia has got its hooks into me to the degree that it has. Most of the tunes here (dating from 1975 to 1991 but with roots going back to slavery) say more or less all they have to say in the opening two bars, and then repeat themselves for the rest of the track; no versus or choruses as such, just a simple call-and-response hook, an unvarying bass line, and a frenetically busy bank of percussionists, tapping and banging away as if their life depends on it.
But although repetition is the name of the game here, the devil (who we already know has all the best tunes) is in the details. And it's the details here that you get drawn into, before ending up not caring when you reach your destination, or even if there is a destination to be reached. For the reassuring landmarks of choruses, verses, bridges and middle-eights have been abandoned in favour of just the on-going rush of riff and rhythm. Although that's not to say you won't spot all kinds of reassuringly familiar influences in this music created by a bunch of DJs and musicians from the sound systems culture of Barranquilla and Cartagena.
Imported records from all over the world have fed into this sound, so you'll hear scratchy rock n roll guitar, tough, sinuous Afrobeat, Congolese soukous, American jazz and funk, and so on, all bubbling up and then sinking down again, and it's this enthusiastic and organic eclecticism that makes this form so compelling to this newcomer to the style. It's about enjoying the rich mesh of its texture rather its linear structure. Or, to put it another way, you don't following it to see where it's going, you just get lost in the moment, and the moment just keeps on coming, and so the moment becomes everything. If that all sounds a bit Zen Buddhism, then shoot me – but it's the nearest I've come to explaining this music's appeal to me.
There is some relief from the constant repetition, in that solo instruments, such as organ, sax, or synthesiser enter the fray, tangle with the rhythm section for a few bars, and then soar off again into the ether.  On the title track by Son Palenque, a couple of wailing saxes gatecrash the party, and for a moment I'm reminded of the woozy tail-off of Bowie's psychedelic faux-Latin epic "Aladdin Sane." And then there's Aberlado Carbno y su Conjunto's "Quiero a Mi Conte" - the most exciting track I've heard this year - just because it's so darn fluid, edgy and accidentally perfect. But there is a downside to this 21 track compilation, which is the fact that most of these bands only recorded a couple of tunes before disbanding. And there was I thinking I'd come across another bottomless well of great music, as was the case when I first heard dub, ska or Cumbia.  Transcendent yet earthy, chaotic yet tight, frenetic yet sublime, just go and listen to it yourself. Needless to say, you'll either love it or hate it, but I doubt that you'll be indifferent to it. Find Palenque Palenque on Amazon
Stinker of the Month
Eminem, Recovery (Aftermath/Interscope)
by Peter Culshaw
Alas, poor Eminem, I knew him well. Of course, we didn't know if we did at all, his shuffling of identities was part of the fun. For a couple of years there, around the Millenium, Eminem was the brightest star of pop music, brimming with creativity, furious, subversive, sick and funny as hell.  His videos were packed full too – brilliantly in a series of songs like "Guilty Conscience" or "Without Me" (see below) – which had a higher IPM, ideas per minute, than anyone else. Of course, he was a white trash brat, and we loved him for it. But brattishness can turn to whineyness, and this is what we have here, on an epic scale.
Eminem dedicates the album to "anyone who's in a dark place and tryin' to get out, keep your head up…it does get better" – and it's just possible the odd listener will take comfort that his idol has been depressed. But to emulate Eminem's self-obsessed whining is not likely to be a solution for anyone.
His targets are numerous. Critics for one: "Critics never got nothin nice to say, man / You know the one thing I notice about critics man? / Is.. critics never ask me how my day went". Actually, of course, many critics proclaimed him as a Shakespearean level genius. Most were rude about his last album Relapse. But Eminem agrees with them "Fuck my last CD this shit's in my trash" and at several points apologises for a mediocre record. "And to the fans, I'll never let you down again, I'm back/ I promise to never go back on that promise/ in fact, let's be honest, that last Relapse CD was "ehhhh" / Perhaps I ran them accents into the ground". Guess the critics were right, Em?
In some ways, such honest confessions of weakness about his output, his failure at intimate relationships and his addictive character can be admired. As a sociological document about one man's experience of the emptiness at the heart of the American Dream it also has some interest. As an illustration of how a rap star fails to cope with middle-age, it has some value. But as a record, as a piece of music, it's pretty dreadful. Eminem is clumsy in his attempts to double and triple time his words and musically it's almost barren too. The long list of producers add to a sense of lack of coherence – Boi-IDA, Jim Jonsin, DJ Khalil, with usual suspects Mr Porter and Dr Dre. How you miss the bouncy, springing, life-affirming beats of the earlier Dr Dre material.
The single "I'm not afraid" has the only half-decent melody. There are a couple of funny, tasteless lines "Gotta shake that ass like a donkey with Parkinsons" and "I get beserker than a fed up postal worker" and that's it on the entire album. Guest appearances by Rihanna and others don't lift anything. You can't as the poetic phrase goes, polish a turd.
There's some macho, joyless lines like "I'm cockin my head back like "hey lover, come on son. She's on my johnson. She brings my name up constant." There's a wife-beaters apologia " I laid hands on her, I'll never stoop so low again, I guess I don't know my own strength" and there's a whine about his marriage "Always in a rush to get back to you I aint heard you yet/Not even once say you appreciate me/ I deserve respect, I've done my best to give you nothing less than perfectness". Right. Wonder what her side of the story is.
So what is the future for Eminem, who was and who knows could still be a real bright spark?
He obsesses on the album about his weight. But the slim Slim Shady isn't happy. Let's have the Fat Shady. Fat, middle-aged, obnoxious and funny. That would work.
Get religion. It's worked for some stars who were stuck cf Slow Train Coming for Dylan.
He mentions Obama, only to complain that Obama is more famous. How about some material about politics - he did, after all, diss George W on an earlier album? A Sarah Palin rap about shooting deers from helicopters in Alaska might be interesting.
While we are at it, the guy has millions. He might be happier if he actually helped someone else in the world. Set up a model town in South America. Help with water shortages or flood victims. Start the Eminem Academy. Anything but boring everyone about how boring it is to pop pills and watch TV.
If fame's such a drag, fake a suicide - grow a beard and move to a remote part of Argentina. The legend would be good for sales, too. Alternatively, shut the fuck up until you have something interesting to say. Find Recovery on Amazon.
Watch video of Without Me, before Eminem lost his sense of humour:
Share this article