Singles & Downloads 4 |

reviews, news & interviews
Singles & Downloads 4
Singles & Downloads 4
Lady Gaga, Goldfrapp, Roll Deep, John Foxx, Detachments, and more.
Lady Gaga featuring Beyoncé, Telephone (Polydor)

Lady Gaga is gradually wending her way to the position Madonna held for 20 years, punching through pop into the wider cultural consciousness, a superpopstar for whom the sky's the limit. Gaga arrived from the same cultural milieu as Madonna, the performance arty New York club scene. However, whereas Madonna very much played up the disco end of things, Gaga, at least visually, screams art attack.
Her latest single arrives with a Jonas Akerlund-directed
video
, a bizarre amalgam of prison exploitation flick and
Thelma & Louise
co-starring the ever-effervescent Beyoncé Knowles. It has already made front pages due to girl-on-girl kissing and it's a sign of the times that many will as likely download the video as the song. Quite apart from the striking visuals, though, "Telephone" is a prime chunk of Gaga electro-disco, a thoroughly contagious chorus welded to an energized rave dynamic that adds up to irresistable pop.
Telephone on Amazon
Cherry
,
The World Waits
(Four:Twenty)
In certain branches of electronic music the name of the game is hypnotic repetition, clean minimalism that slowly reels the listener in, cocooning them in relentless rhythm. Nowhere do they do this more than in techno. However, while such pared back sounds are, perhaps, the easiest dance music to make, they're also the hardest to make well. Where 99% of such music is unremitting and monotonous rather than captivating, Japanese producer Teruyuki Kurihara - AKA Cherry - creates a cuddly groove that gently persuades, an easy going house sound with few component elements, just 12½ minutes of soft beats, a bassline and blurry effects. It would be a shame if Cherry ended up relegated to niche underground club status for "The World Waits" is simply delicious electronica that happens to ride a pulsing 4/4 beat.
"The World Waits" on Beatport.

Detachments
,
H.A.L/Sands Of Time
. (Thisisnotanexit)
Referring to yourselves as a "neo-post-punk electronic resistance force" takes gumption as well as pretension and, at the very least, makes me want to lend an ear. "H.A.L." stand for "Heard A Lie" and the song is one long looping moan about media untruths over skittering stop-start programmed drums, much in the sonic vein of Cabaret Volatire's "Nag Nag Nag". It's as much a moody moment as a song so, just in case listeners wander off muttering, "I take their meaning but that wasn't nearly as meaty as their last single, "Circles"," Detachments save ammo for the b-side, a luscious sliver of hazy dream-pop fronted by the whispery vocals of Heather Martlett from the band Salem.
Detachments MySpace

Baby Monster
,
She Comes Alive
(Bigstereo)
Before the advent of his critically overrated duo Empire Of The Sun, Australian songwriter Luke Steele used to release much lovelier music as The Sleepy Jackson. In the absence of that band there's a gap in the market for lavishly ambitious electronic chamber pop with a genuine sense of longing.  Fortunately Baby Monster arrive to step into the breach, and very sweet and capable they are too. They're a duo from Portland, Oregon, but rather than embracing the Americana-tinged indie which put that city on the musical map, there's not even a smidgeon of rock here. Instead Baby Monster's cute melodies and blissed out warm production come on like MGMT remixed for listening to in a hot bath at the end of a long day.
Baby Monster MySpace.
John Foxx & The Maths
,
Destination/September Town
(Metamatic)
John Foxx takes a very deliberate step back into his own past for a couple of songs that sound as if they were minted in 1980. Foxx was singer for pre-Midge Ure Ultravox and later had solo success with his seminal electro-pop album
Metamatic.
Since then he's worked as an academic and graphic designer (under his real name, Dennis Leigh) but continues to make regular musical forays that range from ambient art installations to forthcoming material with Leftfield's Paul Daley. These latest songs, released to promote a forthcoming show at The Roundhouse in London, are a celebration of old analogue sounds in collaboration with producer and synthesizer archivist extraordinaire, Benge. Both songs are flecked with requisite android moodiness but stand up in their own right rather than sounding like retro pastiches. Anyone who likes the raw, unseasoned flavour of early Gary Numan, Human League, etc,  would do well to check it out.
"Destination/September Town" on Amazon
.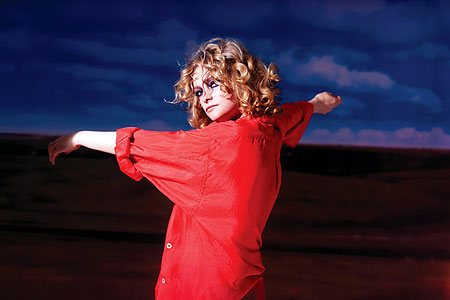 Goldfrapp
,
Rocket
(Mute)
The biggest hits for Alison Goldfrapp and production partner Will Gregory have been sensualised electro-glam numbers such as "Strict Machine" and "Ooh La La". They are, however, an enjoyably wilful pair, as interested in sonic adventuring as commercial success, and their last album was a foray into folktonica. That's now finished. The first single from the new album changes direction again, a return to the dancefloor with their fetishistic sex-edge replaced by bright catchy plastic pop. This isn't a good thing, an interesting experiment, yes, but "Rocket" recalls the cleanest American '80s pop, Hall & Oates or, God help us, Pat Benatar, and the central synth motif is a ringer for Van Halen's "Jump". All in all, probably a world-conquering hit but disappointingly vapid nonetheless.
"Rocket" on Amazon
Ned Coleman
,
Uncovered
(Flying Flowers)
There's a producer from Montreal called Mark Leclair who records under the name Akufen. About a decade ago he made a name for himself within the arcane world of clubland sub-genres by constructing broken, cracked sounding house music. It was as if he'd taken sounds, smashed them, and glued them back together a little bit wrong. Glitch-house was the term briefly and aptly applied and it's the one that springs to mind on hearing Ned Coleman's new EP. Dubby and, on one track, hardly danceable, Coleman keeps the ear fascinated by sprinkling damaged effects across his music, kaput percussion and deconstructed vocals strewn hither and thither, all adding up to hi-fidelity cyber-psychedelia as much as a trip to the disco.
"Uncovered EP" on Amazon.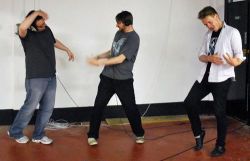 Not Squares
,
Asylum
(Richter Collective)
If the trashy US garage bands of the 1960s, lo-fi riff-heavy outfits such as the 13th Floor Elevators and The Seeds, were transposed to the the present and fed a diet of Gang Of Four records rather than unadulterated Sandoz LSD, "Asylum" and its flipside, "Bi Kan Na", might be the songs they came up with. On the former, curiously named Irish three-piece Not Squares bash out crude bass-heavy indie funk while shouting that they want to live in an asylum and bellowing a whoop-along wordless chorus. For "Bi Kan Na" they find a gnarly noise on their keyboard and shout along to that instead. Catchy, punky and full of youthful fire, I'll bet they're a cracking live proposition too.
"Asylum" on Amazon.
Roll Deep
,
Good Times
(Virgin/Relentless)
Roll Deep's new single unintentionally highlights what a shrewd and likeable pop star Dizzee Rascal is. He started his career as a member of this East London grime collective but cannily moved stylistically sideways into ballistic dance-pop, somehow retaining kudos at the same time as becoming a school disco favourite. Roll Deep, on the other hand, attempt the same trick with the all the grace and style of a British football squad on the pull at a hen-night in Grimsby. "Good Times" is a characterless paean to blank-eyed partying where the glorious freedom of hedonism is reduced to tedious Heat magazine cliché. The
video
, all cleavage and suburban Champagne aspiration, only adds to the heart-sinking drabness. Musically it's nursery rhyme Auto-Tune cheese, lumpen Saturday night high street fare that lacks charm, sex appeal and, indeed, any appeal at all.
Roll Deep MySpace.
Ice Black Birds
,
Ears To The Ground
(Ice Black)
Right at the beginning of their career, the debut single from Brighton band Ice Black Birds bodes well, lending them ones-to-watch status. Built entirely round a Spartan looping riff, the lyrics are yelped with the messy urgency of early Red Hot Chilli Peppers. "Ears To The Ground", however, is no Californian heavy rocker. It's stripped punk-funk is closer to, say, The Futureheads, at least at the beginning of the song. Halfway through everything lurches off in an entirely different direction, entering pure power-pop Buzzcocks territory. The whole concoction reveals a band with serious potential.
"Ears To The Ground" on Amazon.