The Headless Woman |

reviews, news & interviews
The Headless Woman
The Headless Woman
Hitchcock channelled in a briliant and baffling psychothriller from Argentina
Saturday, 20 February 2010
It is set in Northern Argentina, the location of the director's two previous features,
La Ciénaga
(
The Swamp
) and
The Holy Girl
. 
Verónica, Vero for short, is an elegant middle-aged, middle-class woman who, driving home one day, fast, is briefly distracted by her mobile phone. There is a mighty thud. She stops. Takes a moment to collect herself. Looks in the rear-view mirror where a vague shape is visible: it must be a dog, or else a stone on the road. And continues on her way. Before the collision, we'd briefly glimpsed a cluster of urchins playing at the roadside. A small boy is found dead later, not at the scene of the accident, but not all that far away either.
Suspecting concussion, Vero goes to hospital for a brain scan. It is inconclusive. But henceforth nothing in her life appears to make sense. Her husband, her lover and extended family proceed as though nothing were wrong, rolling up the car windows and switching on the air-con (both literally and metaphorically) to shut out the stench of death. Something indefinable is out of kilter.
In one sense Martel is channelling Hitchcock in her theme of a lone woman caught up in a paranoid conspiracy - there's even Hitch's trademark trope, as seen in
Vertigo
and
Marnie
, of the blonde who turns herself into a brunette at a pivotal moment. The camera fetishises Veronica's tangle of yellow curls (see the original poster,
left
), just as Hitchcock kept plunging into Kim Novak's chignon coil in Vertigo. It's a sort of post-modern tribute to the Master.
But attention must be paid: you won't find the answers to this mystery handed out on a plate. Characters appear without being introduced in accordance with the conventions of Screenwriting 101. On occasion their heads are, appropriately, cut off by the frame. The film is shot in CinemaScope, but the director doesn't favour the usual big tableaux. Close-ups dominate and an extremely shallow focus keeps the background at bay, as seen in the still,
top
(which has been cropped slightly from the side for technical reasons).
There are few establishing shots. So off-kilter is the composition of the images that sometimes, as in the still
below
, you're unsure how to decipher them. There is a suite of narrative ruptures and disconnects, as though the film's own very synapses had been damaged in the collision. It's the expression, in formal terms, of Vero's confusion and anxiety.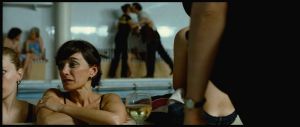 Yet, though apparently told from her viewpoint, the story keeps distant from its main character. Vero is strikingly blank and brittle. While not unkind, she leads a shuttered life in which servants and indigenous people are blurry ghosts at the edges of the frame, scarcely noticed (María Onetto's precise performance treads the fine line between making you involved with her, while not really liking her). Her repression of the accident is, according to Martel in an excellent
long interview in Film Comment magazine
, part and parcel of a greater collective act of national forgetting.
"I see people that still carry the weight of the really bad stuff that they did not denounce back when it happened under the dictatorship," the director said there. "A lot of people decided they didn't want to see, they didn't want to know what was happening. And now the same process is occurring, but it's in relation to poverty." She believes that, far from being an open, unreadable text,
The Headless Woman
is crystal-clear. Many viewers will disagree and it's certain that the film would richly reward a second viewing.
While the subject is entirely rooted in Argentina, its enigmatic and contemplative tone has more in common with Michael Haneke than with recent work to emerge out of Latin America or with Pedro Almodóvar, who co-produced the movie. In Cannes two years ago,
The Headless Woman
was roundly booed and has taken nearly two years to reach Britain, thanks to the good offices of
New Wave Films
, a small distributor whose name is virtually a kitemark for discerning art cinema, But it is playing
on just one screen in London, and at a scattering of regional locations
, and so no time should be wasted in catching it.
The Headless Woman
is on release now.
Subscribe to theartsdesk.com
Thank you for continuing to read our work on theartsdesk.com. For unlimited access to every article in its entirety, including our archive of more than 10,000 pieces, we're asking for £3.95 per month or £30 per year. We feel it's a very good deal, and hope you do too.
To take an annual subscription now simply click here.
And if you're looking for that extra gift for a friend or family member, why not treat them to a theartsdesk.com gift subscription?