Gorillaz, Roundhouse |

reviews, news & interviews
Gorillaz, Roundhouse
Gorillaz, Roundhouse
A concert in a million from the old cartoon band
When you've got two former members of The Clash on guitar and bass, of course, how can you go wrong? As far as I can remember – and I apologise if seeing Gorillaz has monkeyed with my memory – Mick Jones and Paul Simonon have not played live together since around 1982. Chemistry like theirs does not fizzle out easily though. Jones wore smart trousers and a huge I-can't-believe-how-much-fun-this-is grin, while Simonon opted for Breton T-shirt and the insouciant poise that has made him the Coolest Man In Rock since 1977.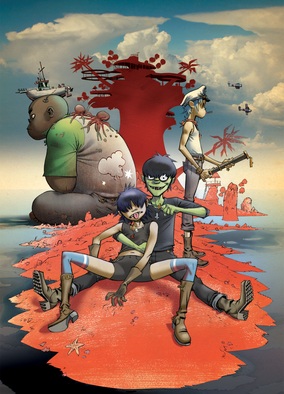 Gorillaz have regularly co-opted a diverse range of cameos on their recordings and one by one they made their way onto the Roundhouse stage. Veteran R&B legend Bobby Womack joined rapper-cum-actor Mos Def for the relentlessly funky "Stylo", before returning alone for the tearjerkingly soulful "Cloud of Unknowing". Shaun Ryder put paid the the rumours that he has settled down to a life of suit-wearing stay-at-home domesticity by popping up and showing off his new teeth on the hit single "Dare".
The recent album, Plastic Beach, is a fine example of musical tourism. It was apt having Jones and Simonon on board, because it frequently evokes their 1980 epic "Sandinista". Onstage, muscular reggae rubbed up against electronica and the most striking cultural mash-up was "White Flag", embellished by musicians from the National Orchestra for Arabic Music and grime vocalists Kano and Bashy. Elsewhere onscreen a whirling dervish segued into Manhattan breakdancers, a visual juxtaposition worthy of Malcolm McLaren.
At times the guests must have been in stacking formation backstage, taking turns while Albarn literally took a back seat on keyboards. Daisy-age rappers De La Soul came and went alongside Gruff Rhys on a full-on rendition of "Superfast Jellyfish". They returned during the encore but it would have been good to have had even more of them. Japanese siren Little Dragon appeared for "Empire Ants" and again towards the end for a spirited, almost torch-song duet with Albarn.
The lasting memory, however, is Simonon's reverberating bass that repeatedly threatened to slip into the refrain from Willie Williams' "Armagideon Time", covered by The Clash on London Calling. I've heard about performances where the rhythm literally punches you in the solar plexus, but in more than 30 years of gig-going I'd never experienced it quite like last night. Eventually I had to move, as the power coming through the speakers was on the cusp of knocking me off my feet.
Could the show have been better? Well, Mark E Smith could have popped in to recreate his "where's north from 'ere?" opening for the Human League-ish "Glitter Freeze". And they could have handed round complimentary champagne and nibbles. But apart from these quibbles this was a concert in a million. Not just musically unforgettable but visually arresting, from Hewlett's Thunderbirds-meets-pop images to Jones, Simonon and others sporting stylish naval headgear. Nautical but nice. Very nice.
Below, Gorillaz' 'Clint Eastwood' promo (youtube):
Share this article