Così Fan Tutte, Glyndebourne Festival Opera |

reviews, news & interviews
Così Fan Tutte, Glyndebourne Festival Opera
Così Fan Tutte, Glyndebourne Festival Opera
A magnetic Fiordiligi at the centre of Mozart's game that is not a game
Cosi fan tutte's arc of human experience is peculiarly effective when heard at Glyndebourne. With the mid-way picnic and wine in the setting sun, how much more aware are you of how easy it is as a day goes by to take leave of one's senses and behave in a very silly way with serious consequences. Most seriously, to discover things about oneself that one did not want to know.
This is what a good production of Cosi does, and it's what Nicholas Hytner's 2006 staging, opening yesterday for a new run this summer, does, growing from a cool start to a troublingly tense finish. In part this is due to a magnetically involving performance by the Fiordiligi, Sally Matthews, a soprano of light, lyrical quality whose initial impact as a shy, reticent blonde in Madonna blue is rapidly overtaken by an intense bloom of her character and voice into a plangency that pierces the heart.
The staging, set by Vicki Mortimer in restrained 18th-century costume within a cool marble rectangular hall framing a clear blue sky (main image above), looks rather more Scandinavian-cool than Mediterranean-tinderbox, Così-lite. At first this was my impression of the ensemble's unemphatic acting too, underlined by Sir Charles Mackerras's delicate, unassertive way with the Orchestra of the Age of Enlightenment, brushing their bows across vibrato-less strings. Mozart operas have standing starts, unlike plays which have big rich backstories for each character, and this plot has to spring all its improbabilities like a series of linked traps that suddenly but inevitably leave all its victims in very real human dilemmas by the end.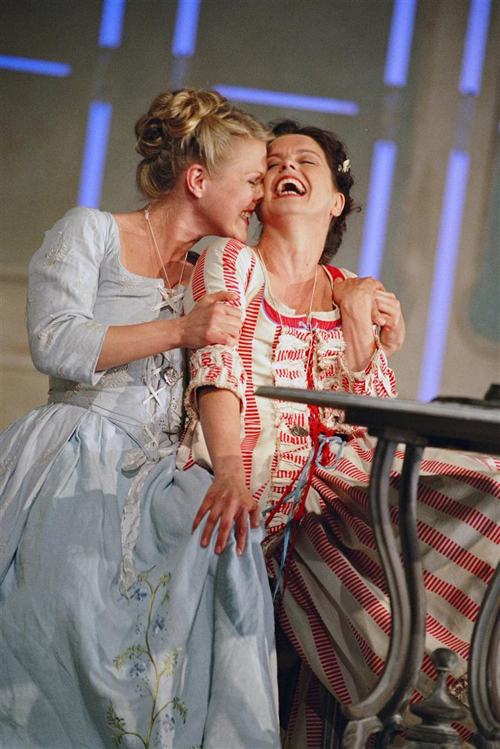 However the pieces fell swiftly into place. As one of the two sisters who are tricked by their boyfriends into showing that they might not always be faithful, Matthews' gentle Fiordiligi is the most gorgeous voice of the cast, but the acting of the others rapidly made for a thoroughly involving dramatic situation. One has to swallow first that the two boyfriends have that splinter of ice in their hearts that lets them be so underhand to the girls they realise they do deeply love (in the end), and also that the girls, who initially seem unshakable in their love for their men, are able within a day to transfer their affections to the exotic passing Lotharios whom the boyfriends disguise themselves as. It is all about sex: the boys' game unearths that women's sexual fantasies aren't always satisfied by being in love, a message a director can take as lightly or as seriously as he wishes.
Hytner's production doesn't wish to trifle with the emotions - he is seriously interested in these, if, sadly, not so much in the game's devising. The pivotal person who sets off this imbroglio is Don Alfonso, who at the start lays a bet with the boys in their gentlemen's club (pictured below) that he can prove all women are basically seducible. Alfonso needs to be at least either a roustabout sensualist and wise-man, or someone rather more sinister, Mephistophelian. Pietro Spagnoli's Alfonso was neither, and not anything else in particular either. A dapper, well-gowned aristocratic figure, he came and went upon the scene as its puppetmaster, yet without making any impact either vocally or dramatically. The weakest link.
Fortunately his partner-in-intrigue, the maid Despina, was given an amusing and spunky performance by Anna Maria Panzarella, ripe in figure, experience and vocal vivacity, and one felt there were two or three husbands buried somewhere behind her determined peasant realism about sex. One of her lines: "You can live without love, but not without lovers."
It's the four lovers, though, where the real complexities lie. Like Shakespeare's lovers in A Midsummer Night's Dream, these ones fall into a collective madness, self-imposed in this case, and Hytner brilliantly spots a way to play it. The two sisters are touchingly close, always holding hands, always sitting together, indivisible in sisterliness, but discovering - to their horror - that they have never realised before how differently they feel and think, until now. To pull off naturalistic behaviour showing emotions fragmenting and loyalties shattering, while singing in intricately woven ensembles, is perhaps even more necessary than to field  the very best voices.
The delicious, dimpled Dorabella of Barbara Senator showed she's a girl of appetite, laced up in yummy candy stripes, always ready to eat and drink, symbolically snacking on life's pleasures, and singing "Smanie implacabili" to equally implacably unmoved servants well familiar with her ways. Senator was coughing a bit and perhaps therefore not in full voice, but she was the star of the stage in acting terms, closely followed by Robert Gleadow's Guglielmo, not the most mellifluous of  baritones, but certainly one of the most handsome and seductive in his florid pirate gear.
Allan Clayton's Ferrando was largely a disappointment, belting out "Un aura amorosa" despite the softest, most caressing orchestral zephyrs conjured by Mackerras - until his transformation in the decisive emotional hinge of the plot, where he and Fiordiligi realise that, even playing tricks, they have truly fallen in love, even while they have always thought it was the other sister/boyfriend that they love. This was the moment when the earth fell away and the unknowability of any heart, no matter how good, was revealed. Matthews' distraught Fiordiligi pulled on her absent lover's army uniform, desperate to run away from all this guilty confusion and reach a reality she could touch. With Paule Constable's ever shifting sunlight now setting, and shadows cast upon the stage, Matthews' voice struck the deepest pit of pain in "Per pietà", and Mozart never seemed so true a guru of wisdom. Thus do we all feel, indeed.
Cosi fan tutte is performed on 27, 30 May, 4, 6, 9, 12, 18, 23, 25, 30 June, 3, 8, 11, 14, 17 July. Returns only
Find the DVD of this Glyndebourne production

Check out what's on at Glyndebourne 2010
Share this article