theartsdesk in Dublin: UNESCO City of Literature and Treasury of Art |

reviews, news & interviews
theartsdesk in Dublin: UNESCO City of Literature and Treasury of Art
theartsdesk in Dublin: UNESCO City of Literature and Treasury of Art
Theatre, politics, whiskey and glorious bridges named after writers
The Celtic Tiger ran rampant through Ireland during the boom years of 1995-2007 when national institutions expanded their collections, galleries popped up and collectors, buyers and artists had a rare time. With literature, the new young Chick Lit writers made their mark, sometimes even outselling the serious contemporaries, and Seamus Heaney rightly got a Nobel Prize. With the crash, prices in Dublin's major art auction houses fell by 50 per cent as the blinged-up property developers froze; if they did buy, they shifted from contemporary to reassuringly Irish "genre paintings" of peasants in rural landscapes and thatched cottages by the sea.
Theatreland was still functioning a month ago, as Ireland held its breath over promised cuts, but the landscape was transformed by the opening of Daniel Liebeskind's fabulous new Grand Canal Theatre, a stunning hull-like shape rising from the new "Quarter" previously abandoned.
Around then, too, Dublin became UNESCO City of Literature and Jane Alger, Divisional Librarian with Dublin City Libraries, who relentlessly pushed the application forward to UNESCO, launched the City of Literature celebrations with readings, talks and walks. Her annual One City, One Book project - where the whole city reads the same book on the same day – was announced to be Joseph O'Connor's poignant love story, Ghost Light, to be read next April. A complex love affair between the Dublin writer John Synge and his lover, the Abbey Theatre actress Molly Allgood, it is set in Dublin and Camden Town and stained with her memories.
A good place to start is the Writers Museum (pictured right) in a beautifully preserved 18th-century mansion once owned by the Jameson whiskey man, which houses 300 years of archival treasures on Irish literature, unfurled in chronological sections and old-fashioned cabinets. The silent absorption of visitors proves it works. A hub still for readings and literary gatherings, it covers writers past and present, from Swift to Synge, Joyce to Yeats, O'Casey and Beckett to O'Connor, Binchey and Toibin, and memorabilia on display includes James Joyce's piano, Brendan Behan's typewriter and Bram Stoker's first edition of Dracula.
The 1916 Uprising is a central theme and represented in a poignant note by James Pearse, about the executions of his comrades while waiting his turn. Copious material covers the post-Independence Literary Revival led by John Synge and W B Yeats, co-founders of the Abbey Theatre. Letters about Synge's love for Molly Allgood, would have been a rich source for O'Connor's book. Anne Enright, author of The Gathering, wrote on a flyer distributed around the city: "In other towns, clever people go out and make money. In Dublin, clever people go home and write their books!"
The story of Yeats continues at the National Library of Ireland where a superbly curated, semi-permanent exhibition, Yeats: The Life and Work of William Butler Yeats, is constructed like a series of installations, and includes a mock-up of his office with fake books on shelves and small screens carrying interviews by other writers. Dominated by students, this space is the richest archive of the writer's working life and personal items donated by his family.
Next door to the Writers Museum, the Hugh Lane Gallery is one of the most interestingly diverse. The permanent residence of Francis Bacon's studio (pictured left), it offers unique insight into the working method and the logic of this seemingly chaotic mind - a polar opposite to the Sean Scully Room's meditative, meticulously mathematical designs. The current exhibition, Passion and Politics, features the early 20th-century American society portraitist, Sir John Lavery, who arrived in Dublin in 1916 with his wife Hazel, and painted the trial of Sir Roger Casement and other celebrity subjects, while entertaining Dublin society like an Irish Scott and Zelda Fitzgerald celebrity couple themselves.
To get a more detached, big picture of Dublin's arts life, I hop on an open-topped tourist bus whose driver unravels an unscripted flow of history back to the Vikings and their recently unearthed boat, through modern times via architecture, Georgian gems, museums, churches, statues punctuated by anecdotes and ad-libs galore. It wasn't just fun, it was informative at a high level and a treat to get such an intelligent overview - literally, as we passed eye-to-eye with the James Joyce Centre, beautiful wrought-iron Georgian balconies, two cathedrals and several churches, and the pit-stop Guinness-tasting before the Irish Museum of Modern Art, IMMA.
I followed it, logically, with a Liffey boat cruise, gliding downstream towards the sea, and again accompanied by an unscripted, articulate guide. We passed riverside town houses, offices, hotels and restaurants, slowed down to absorb details of the glamorous, white stone classical beauty of the Customs House, and winced at the symbolic emptiness of the once dreamland Docklands sites.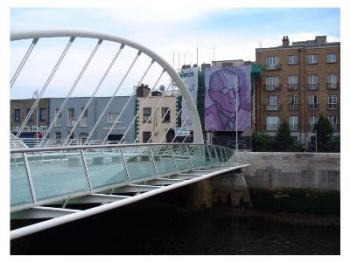 And then there are the bridges. Santiago Calatrava's spiny James Joyce Bridge (pictured right by Paul O'Mahony) is elegant and simple and disgorges traffic onto the road outside No 15 Ushers Island where James Joyce set the house party in his story "The Dead" from The Dubliners in 1914, and his portrait hands. But the greatest attraction is the second Samuel Beckett Bridge, another Calatrava beauty but on a grander scale than before. It resembles a gigantic, elegant Irish harp lolling on its side, the arcing strings catching the Atlantic breeze. Further upstream, we are introduced to Sean O'Casey's bridge positioned near his working-class, dock-side childhood home.
O'Casey takes many bows during my visit, the tough trade unionist creating havoc with middle-class colleagues, but in the spotlight again now through the re-run of his 1924 play The Plough and the Stars, at the Abbey Theatre where it was first performed the same year. A controversial story, it follows both the build-up of tension and the private experiences of the Uprising; it had standing ovations, but on opening night the well-heeled audience had booed his political stance of Irish Nationalism and direct, sexual language, which led the theatre's co-founder, Yeats, to stand up and rail against them for not supporting O'Casey's support for the Republicans.
Dublin is a still-changing and unpredictable city, and the new sight of cranes is a welcome sight. The views from a Liffey Cruise boat reveal development, and our guide describes how the Docklands quarter, which was the triumph of New Dublin, is slowly rebuilding. The recent opening of the new Conference Centre, a fabulous, tipsy-looking cylindrical tower designed by the US-based Irish architect, Kevin Roche, has brought "good feelings", he said. Its prime location, by the river and facing Liebeskind's Grand Canal Theatre, brings two symbolic landmarks in a city needing that presence.
Many of these grand houses carry the subtitle "Burned down by the IRA, 1922", the year of Independence from British rule
Galleries are appearing in former shops and front-rooms away from the city centre, exposing new work and transforming neighbourhoods into the beginnings of a Shoreditch-like art scene. The most significant eclectic and international exhibitions are those at IMMA, Dublin's star piece located in a former 18th-century hospital for English officers. It has benefited hugely on the international front, from the director, Enrique Juncosa, who leaves this year. His current show features a dynamic gift of Post-War American Art from the collection of American art historian Barbara Novak and émigré Irish artist Brian O'Doherty (aka Patrick Ireland). Its rich diversity offers a quirky, personal slice through American art in the Sixties and Seventies, with photographs, watercolours, oils, drawings, sculpture, multiples by Jasper Johns, and an enthralling Duchamp room of Retro Reliefs (1935) where discs spin slowly on a record deck, converting the painted designs on the disc into animated Vorticist paintings.
While photography plays a crucial part at IMMA, the National Photographic Archive (part of the National Library of Ireland) contains around 630,000 images, and is a rich source of Irish history. The current exhibition, Power & Privilege, Photographs of The Big House in Ireland, 1858–1922, is drawn from four major collections of glass negatives, prints and family albums, and they offer fascinating details of family life, working life, entertainment, gardening, fashion, transport.
The Clonbrock Collection owes its survival to Luke Dillon, Lord Clonbrock, and his wife Augusta (pictured above right), who built a processing laboratory and dark room inside a custom-made "Photograph House" in the grounds. The collection's perfectly crisp-toned prints unwittingly demonstrate a gaping class divide - none so explicit as the practice at Lough Key of using a tunnel specifically built to separate boat staff from the guests. Hardly surprising, then, that many of these grand houses carry the subtitle "Burned down by the IRA, 1922", the year of Independence from British rule.
The Cervantes Institute also guarantees surprising and intriguing exhibitions, and the collection of black-and-white photographs taken in Cuba in 1964 by the Colombian photo-journalist, Rodrigo Moya offer a fresh take on what was described as "the reality of the Revolution". It was two years into independence when the financial deal with the Soviet Union was signed, and Cuba was undergoing radical social changes. Moya's work, mostly of portraits, depict anonymous, everyday stories chosen to demonstrate the democracy of communal work and literacy training, the new mixing of black and white populations, and the dissolving of class groupings in the city and countryside.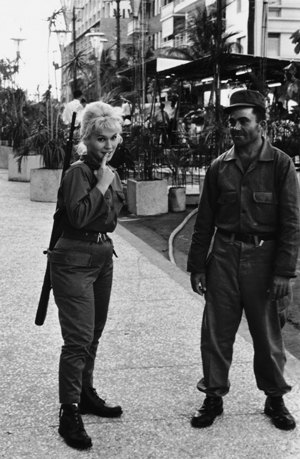 A dynamic series documents an Afro-Cuban rumba (party) with drumming and dancing. What separates these images from the many we've seen from this period, is their lack of sentimentality and Moya's sensitive connection with his subjects. Portraits of the leaders play down their status, and on a stage platform Raul, not Fidel, stands with Che Guevara, Minister of Industry, and today's acting President's glamorous, uniformed and reputedly ruthless wife, Vilma Espín.
Che's cropped portraits taken during a meeting see frozen poses and changing expressions, and reveal an early awareness of his photogenicity. Already Moya was contributing to building the iconography which Korda's world-famous print would clinch. The most irresistible image feels snatched-on-the-wing: two soldiers posed in a street, the dyed blonde in a boiler suit, adopting the perfect Cuban Monroe pose (pictured left), a reminder of how recent it was since the Cubans were linked to American culture, fashion and celebrities. The exhibition highlights similarities between the two islands with their David and Goliath fight for independence, and shared devotion to the written, sung and spoken word - and music.
Explore topics
Share this article