Mad Men: Series 4 Finale, BBC Four |

reviews, news & interviews
Mad Men: Series 4 Finale, BBC Four
Mad Men: Series 4 Finale, BBC Four
Don Draper rides priapically into the sunset as MM turns to soap
Wednesday, 01 December 2010
By the end of this series a lot of folks now know his secret: his ex-wife Betty, his work colleagues Pete and Cooper, paramour Faye Miller. A telltale form for a government security check made on him over a potential US Defense advertising campaign lurks somewhere in Pentagon filing cabinets from several episodes ago, not mentioned again. It's hardly likely that in the ambitious, consumer world of Madison Avenue advertising in the early 1960s such a godlike and envied figure as Don Draper would not have been exposed by now by journalists and fellow admen.
But no, it's the price of success that a series gets Botoxed with increasingly unlikely plot twists. Don has suddenly done two astonishingly untypical things: on losing the all-important Lucky Strike fags contract, the advertising agency facing apocalypse, he wrote an open letter for the New York Times to say the firm would no longer do tobacco campaigns - we had to accept the premise that this was a brilliant PR stroke for the firm (and for series 5).
Last night he also suddenly became engaged in a marriage that has virtually no backstory to it: his secretary, Megan, who stood in when Miss Blankenship so memorably died at her desk (pictured left), and who had made a brazen pass at him in the office in a poorly written previous episode that now looks shoehorned in to prepare for last night. In contrast to the child-phobic Dr Miller, the secretary turned out to have a knack with Don's three children, taught them perfect French nursery rhymes, and had a fourth finger onto which the original Don and Anna Draper ring slipped perfectly.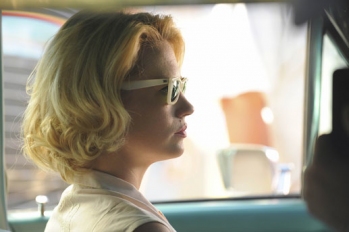 Ex-wife Betty (the wonderful January Jones, pictured right) was having a better plot run, becoming increasingly wired in her ill-fitting marriage to the bland Henry Francis, and acquiring demonic status by firing the children's lifelong nanny Carla for letting spooky little neighbour boy Glen come and say a brief and polite goodbye to daughter Sally. Betty probably remembers in her twisted and self-flagellating way that Glen and Sally have both had uncomfortable episodes of pre-pubescent sexual urges: the boy made a pass at Betty a series ago, while Sally was found exciting herself to Elvis on TV. It's baby American Beauty. Betty and Sally are proving the richest characters of all.
By the end of this madly eventful series, it's not Don who holds the emotional centre stage. The constantly altering list of writers week after week has ensured that it's Jon Hamm, handsome tightlipped actor in slick suit, who we're watching, not Don Draper, enigma man, ulcer man, Teflon man, Madison's Dorian Gray, who sleeps with a different woman without discovery, unwanted pregnancies or sexual diseases in almost every episode. In the past few episodes he was discovering a new healthy lifestyle, swimming, rationing his whiskeys, writing down his thoughts (he still never reads). Last week he turned down a chance to have sex with a wacky old flame now on heroin, but righteously bought her dreadful daub, a plot line that immediately died.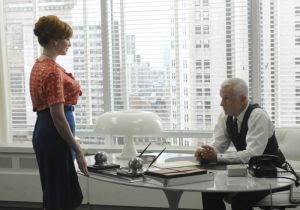 Yet I admit that I remain half-attracted by the way that the fringe characters have acquired more believability for their sketchier, more perturbed lives. Roger Sterling, who always looks as if he has been dragged out of a party of wit and style to go to the office, furtively fixing up meetings with the easily led Joan (the pair pictured left). Joan who last night heroically lied over the phone to her husband out in Vietnam that her epic breasts were swelling further with the advancement of his child in her womb (it is Roger's); and the captivating Elisabeth Moss as awkward, ambitious Peggy, showing a nakedly horrified face when Don announced his marriage.
Series with 13 episodes apiece are intensely demanding of writers, each writing team wanting to pack their episode with impactful stuff. Some action pieces work, like episode 9, The Beautiful Girls, written by Matthew Weiner and Dahvi Waller, where Peggy and Joan's lives seemed to float free and real, where Joan and Roger screwed in a dark street after they got mugged, from sheer relief that they were alive. But episode 7, The Suitcase, written by Weiner solo, was a corker of intimate near-non action, the night of the Cassius Clay/Sonny Liston boxing match, with Don and Peggy locked in an incomprehending, elusive dance of crossed lines on what is also her birthday evening, she a prisoner of her ambition and unconscious love for him, he locked in memories of dead Anna, and the two ending up collapsed with tiredness together on a sofa. Surely the Don + Peggy option remains live for series 5.
Few scenes recently have flared briefly with the smartness of the past: last week Roger left the crisis-torn boardroom irritably with the line, "I gotta go learn some names so I can start firing them"; last night Faye Miller was allowed to taunt newly engaged Don with, "I hope she knows you only like the beginning of things", and Peggy and Joan had a cigarette break and a disrespectful giggle about Don's dick-dominated life, two women uncertainly making their way up the male ladder, both of them secret casualties of their bosses' promiscuity.
Other admen have been manipulated too far in the game in one-episode turnarounds. I was sad when long ago nasty, mediocre little Pete Campbell who so callously impregnated Peggy was turned in a trice into Don's best friend and talented good egg. Roger, the smarmy, irresistible aristocrat of John Slattery's seductive performance, lost ground with the advancement of the English executive Lane (Jared Harris, in a dull part except for his unexpected black Playboy Bunny girlfriend); while I still miss chubby, kindly Sal (Bryan Batt), sweating in his tight suit, loathing himself for being gay.
The attention to detail in presentation by Matthew Weiner and his team never sagged, though the economy in sets implies careful housekeeping. Outside events don't intrude much (which is becoming a demerit), but the wardrobe continues to excel: the men always look razor-cut; Joan's dresses blaze her sumptuous figure confidently in orange, scarlet, turquoise; Peggy was upgraded into chic executive navy box-pleats with flashy little red inserts or elegant white piping; Dr Miller has provided, if nothing else, orthodox Hitchcock-blonde glamour.
The changing songs for the closing credits can now be found in compilation albums. Last night's was "I Got You, Babe", an unexciting choice as Don lay sleeplessly in bed with his saccharine new fiancée. Hate to say it, but I think I left you, babe.
Explore topics
Share this article