theartsdesk in Cairo: Old Bones, New Coffins |

reviews, news & interviews
theartsdesk in Cairo: Old Bones, New Coffins
theartsdesk in Cairo: Old Bones, New Coffins
Egypt's capital has many treasures from its past, but little sign of a flourishing future
The Egyptian Government is investing in the arts, which would normally be a cause for celebration. However, in building the National Museum of Egyptian Civilisation, it feels like the country's cultural budget is being spent on another new display case for its past rather than on encouraging a contemporary arts scene. The NMEC, which was first mooted in 1982 (the year after Sadat was assassinated, if that signifies anything today), will open this year in south-east Cairo, after seven years of construction, nine years since the foundation stone was laid.
It has been designed as a tour d'horizon of Egypt's cultural history, from the royal mummies being moved out of the central Museum of Egyptian Antiquities to Roman, Coptic and Islamic artefacts on a wide range of themes, including writing, the Nile and agriculture. It should be compendious and comprehensive, possibly even allowing tourists to avoid traipsing around any of Cairo's other museums.
This would be a mixed blessing. Personally, I would be happy not to visit the Museum of Egyptian Antiquities in Tahrir Square until they instituted some sort of maximum-capacity rule. The artefacts in the hideous pinky-orange building, which is set in a plaza beyond whose gates is a ring of building sites of luxury hotels, are almost undiscoverable to the undetermined visitor.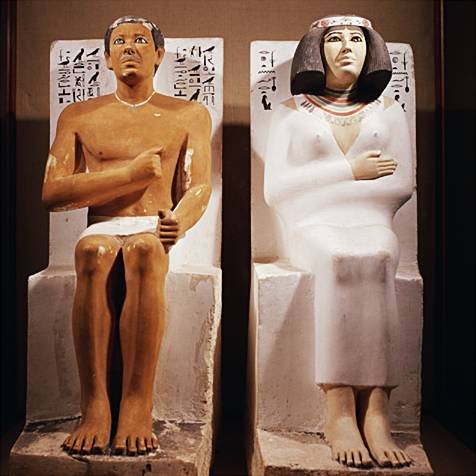 Guides, poking their yellow umbrellas into the air to attract the group's attention or speaking loudly into their mouthpieces which relay their words to their American guests' earpieces (a certain level of faux-sophistication is expected by the laziest tourists), obstruct almost anything worth seeing. The IV Dynasty statues of Prince Rahotep and Princess Nofret (c 2625-2585BC) (pictured right), for example, are domestic royalty, painted limestone figures who look like next-door neighbours from a Fifties American sitcom. (Lucy & Ricky & Rahotep & Nofret, perhaps.) But I had to wait a long time to see them. Tutankhamun's jewels (c 1341–1323BC) on the first floor were even more crowded, their expense an added enticement.
Part of the problem is the number of artefacts on display. Instead of a few carefully selected and appropriately spaced items, there are 44,000 in two floors packed next to and on top of one another, three sarcophagi jammed together, two ancient wooden boats surrounded by vitrines, several tight-faced Akhenatens leering down at you. With so much of significance and beauty on display, you nevertheless feel more like you are at the first day of the Harrods sale, elbows digging into a neighbour so you can grab hold of a treasure. What makes all of this worse is that the pollution inside the museum is not significantly less than outside, meaning that bronchial complaint you pick up when you get out of the plane finds no respite inside the broiling museum.
This crowd mentality did, I concede, work in my favour. Perhaps my favourite thing in the museum is the first-floor room with the portraits from the Faiyum, the realistic depictions buried with mummies dating from Egypt's Roman occupation. These are shocking because they are so vivid and true to life, unlike most "portraits" of that era, which strive to represent virtues or vices through types. Compared to sparkly jewels, these are unpopular, allowing plenty of time to browse and imagine what this man or that woman would have been like, the suggestive wax-painting allowing flights of fancy. (The picture at the top is a portrait from the British Museum – the Egyptian Museum's website does not work.)
The Egyptian Government is spending money here too: several rooms were closed for painting, a somewhat unappealing lavender shade replacing the grim grey. This did not help congestion, but it does imply that the cheap fixtures and fittings, the typewritten object labels which date from the French era, may soon be disappearing. Even the museum's floor plan at the entrance is a hideous Plexiglass mount, like something from a Ford factory in the Sixties. This investment is bringing the museum into the 20th century, which is a start.
One major completed project, opened last August by President Mubarak, is the restored Islamic Museum in the southern district of Old Cairo. Another was the Coptic Museum, reopened, again by President Mubarak, in 2006. The Coptic era was 300-1000AD and represents the legacy of Rome, the rise of Christianity and the rise of Islam, with their cross-currents. The museum dates from 1910 and is set in gardens as a paradise among Old Cairo's churches and synagogues, which are still operating and open to visitors.
Not every museum is as generously funded. The security cameras and alarm system at the Mahmoud Khalil Museum had been out of operation for some time when thieves cut a Van Gogh worth $50 million out of its frame. This was also last August, a week after the Islamic Museum was reopened.
This investment is not nurturing the seeds of a vibrant contemporary arts scene but providing nicer coffins for the bones of Egyptian culture
Despite this, there is clearly money for culture in Egypt, which is a good thing; there are plenty of excavations of ancient artefacts, although claiming that every block of stone that emerges out of the water was part of Cleopatra's palace is hardly healthy for Egypt's archaeological credibility. A more serious problem is that this investment is not nurturing the seeds of a vibrant contemporary arts scene but providing nicer coffins for the bones of Egyptian culture. Those are what tourists come to see, for photo opportunities with the mortal remains and luxury goods of the pharaohs.
There are, reportedly, some very good contemporary art galleries in Cairo – Townhouse is meant to be excellent and innovative – but they are few and not prominent; there were no Egyptian galleries at Frieze last year, for example. Contemporary artists like Ghada Amer, who embroiders outlines of women in pornographic situations, Medhat Shafik, who won the Golden Lion at the Venice Biennale in 1995 (The Silk Road, pictured left), and Mona Marzouk tend to have grown up or spent a lot of time outside Egypt.
The rot extends beyond the visual arts. Cairene theatre is practically non-existent and the opera scene, once of global standing (Aida was written for premiere in the Cairo Opera House), does not provide unmissable dates in any opera lover's diary.
Many Middle Eastern cities have thriving arts scenes. At a party up in the Beverly Hills-ish Cairene suburb of Mokattam, I met a young theatre director from Beirut who was putting on new Lebanese and classic Western plays. Istanbul has plentiful contemporary galleries. So what explains the sluggishness in Cairo's art? Part of it is social conservatism: with nudity frowned on, the possibilities of art suddenly become more limited. Then there is the authoritarian Government, which has no desire to encourage work which is radical or questioning with state funding, like the Arts Council England.
So instead we have a programme of polishing, shuffling and redisplaying the artefacts of a series of cultures which have not existed for centuries. Cairo knows what it is to hold a mirror up to your history, but there is only so long one wants to stare at the reflection.
Share this article