Leonidas Kavakos, Enrico Pace, Wigmore Hall |

reviews, news & interviews
Leonidas Kavakos, Enrico Pace, Wigmore Hall
Leonidas Kavakos, Enrico Pace, Wigmore Hall
A revelatory duo partnership excels in Prokofiev and Schubert
No doubt about it, Leonidas Kavakos is one of the world's top 10 live-wire violinists. But here in London he seems to have sold himself a bit short recently with a less than great concerto repertoire (Korngold, Szymanowski's Second). Korngold furnished a springy intermezzo in last night's blockbuster recital, Szymanowski a ravishing second encore, but I went to hear two giddying masterpieces, Prokofiev's First Violin Sonata and Schubert's Fantasy in C. If unknown quantity Enrico Pace could manage to play Richter to Kavakos's David Oistrakh, it might turn out to be awe-inspiring. He did, so it was.
It says so much for Kavakos's supreme but self-effacing artistry that you could always take his projection, tonal range and intonation for granted, while spellbound by his Italian pianist's watchfulness, his seemingly unerring sense of rhythmic space and underpinning. They chose a rigorous first half. In any other company but the tough Prokofiev sonata, the selection of 10 out of Russian-born Lera Auerbach's 24 Preludes would have been the monumental heart of the programme. Yet coming on the sonata's shattered heels, they simply couldn't hope to go so far in terms of austere memorials, heady melodies and even grating dissonances. In one dimension, at least, Auerbach adds something new, post-Shostakovich and Schnittke-style: the extremes of thunderous low piano register - Pace magisterially resonant in what sounded like fffff - against violin straining into the highest stratosphere, usually in an abyss opened up between bittersweet late-Romantic meditations.
Why, though, is the Prokofiev as dark and, at times, as austere as it is? Note-writer Gerald Larner seemed puzzled that, while it shares the gritty world of the so-called "war" piano sonatas of the 1940s, it was begun before them. Surely the year, 1938, would signify enough in Stalin's Russia. The preludial first movement sounded like none other than a stern epitaph that dissolves not in tears but in the passage most often cited - what Prokofiev described as the "wind in a graveyard" rushing of muted violin against tolling piano bells, returning towards the end of the sonata. Here it had the unique radiance of a benediction after all that severity: Kavakos's wind was a summer one, Pace's tintinnabulation unreally beautiful.
Between the clashes of scherzo and finale, the watery grave of the Andante was another of the duo's exercises in restrained, perfect equilibrium, later to be cannily complemented by Schubert's river flow and the stunning splashes of Szymanowski's "Fountain of Arethusa" from his Mythes, complete with a supernatural double-stopping descent that left us with, as my companion put it, ice down the spine. And for this, as for the end of each movement of the Prokofiev, you could have heard a pin drop in the full house - all the more remarkable as I'm delighted to read it was peopled with the recipients of "free tickets for 8-25-year-olds" from the Cavatina Chamber Music Trust as well as a horde of well-known string players.
Perhaps it might have been better to follow Prokofiev's memorial with the suite from Korngold's pre-Hollywood music to a Max Reinhardt production of Much Ado About Nothing, though that could have seemed too trivial just as the Auerbach was too much along the same lines with lesser genius. Prokofiev could certainly have taught Korngold a thing or two about writing a pretty but original melody for Beatrice's realisation of her love for Benedict in the "Garden Scene". Still, Kavakos and Pace kicked the Mahlerian night-watch march of Dogberry and Verges into action and proved that the flashing Masquerade would have been a worthy encore for any recital.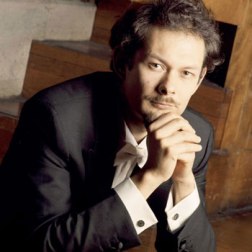 Yet they still had another mountain to climb, Schubert's Fantasy with its head above the clouds in a pure blue sky that Prokofiev's winter reverie never reaches. So a perfect bookend to a concert, and here it was Pace (pictured right) who set the ineffable stakes as high as I've ever heard in any Schubert piano-playing, from the rosy but fleetingly grey-flecked sunrise to the incredible space and heartease with which he introduced the song-theme ("Sei mir gegrüsst") at the heart of the work. Kavakos trod the air provided by his pianist, carolling and soaring in some of the gayest and most elated music ever composed.
Given the child-like jollity of the allegro-finale's main theme, a transcription of the "Danse Russe" from Stravinsky's Petrushka was no anticlimax of a first encore. The two didn't need to set themselves the extra challenge of minute agogic pauses in perfect synchronisation, but that really set the seal on their total accord. The Wigmore may give us duos of equal calibre and different approaches through the rest of the year, but none will surpass this one. And Pace needs to be lured back as soon as possible for a solo programme with at least one great Schubert piano sonata in the mix.
Watch Kavakos and Pace play the first movement of Brahms's Sonata for violin and piano No 3
Share this article