Birmingham Royal Ballet, 2011-12 Season |

reviews, news & interviews
Birmingham Royal Ballet, 2011-12 Season
Birmingham Royal Ballet, 2011-12 Season
Family-favourite storyballets dominate the Midlands company's repertoire
Family-favourite storyballets dominate Birmingham Royal Ballet's 2011-12 season, as the company looks forward to a stringent year. Beauty and Beast, Hobson's Choice and Far From the Madding Crowd, three of director David Bintley's full-lengthers, and the iconic Peter Wright Nutcracker for Christmas aim to be money-spinners for three mixed programmes, culminating in a Bintley creation next summer on an athletic theme to chime with the 2012 Olympics.
Three mixed bills, entitled "Autumn Glory", "Spring Passions" and "Summer Celebrations", field works by classic Royal Ballet choreographers Ninette de Valois, John Cranko and Frederick Ashton on themes ranging from chess to Shakespeare.
Autumn-Winter 2011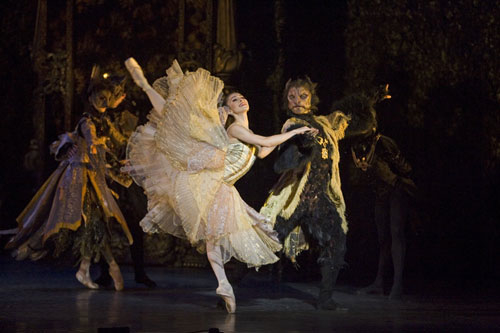 28 Sep-2 Oct, David Bintley's Beauty and the Beast (music Gleen Buhr, designs Philip Prowse), Birmingham Hippodrome. A cruel Prince turned into a beast by magic must win the heart of Belle to be freed in this gothic ballet fairytale, created by Bintley for BRB in 2003.

6-8 Oct, "Autumn Glory": Checkmate/ Symphonic Variations/ Pineapple Poll, Birmingham Hippodrome. De Valois's iconic Checkmate shows a lethal chess-game as a metaphor for war, music by Arthur Bliss. Ashton's Symphonic Variations is a hallowed masterpiece of pure, spring-like dance to César Franck. John Cranko's Pineapple Poll is Gilbert and Sullivan in ballet.
12-15 Oct, La Fille mal gardée, Sunderland Empire. Ashton's evergreen comedy of love.
25-29 Oct, "Autumn Glory": Checkmate/ Symphonic Variations/ Pineapple Poll and Ashton's La Fille mal gardée, Theatre Royal, Plymouth. Two nights of the triple bill, three of Ashton's evergreen comedy of love.
25 Nov-11 Dec, The Nutcracker, Birmingham Hippodrome. The great Peter Wright Christmas ritual returns, with its unmatched scenic effects, and Britain's finest ballet orchestra, the Royal Ballet Sinfonia, providing Tchaikovsky's wonderful score.
Spring 2012
22-25 Feb, Hobson's Choice, Birmingham Hippodrome. Bintley's excellent 1989 ballet version of the tale of true love between a weedy bootmaker and the spinster daughter of a drunken businessman. Music by Paul Reade, who also composed Far From the Madding Crowd, see below.
29 Feb-3 Mar, "Spring Passions": Daphnis and Chloë / The Two Pigeons, Birmingham Hippodrome. Two beautiful Ashton ballets about love: Chloë, a shepherdess kidnapped by a pirate, has to be rescued with the help of the god Pan and of one of the most ecstatic of all ballet scores, by Maurice Ravel. The pigeons' amorous billings and cooings are not entirely replicated by two lovers in a Paris garret torn apart by unfaithfulness, a deliciously French romance set to André Messager music.
Summer 2012
20-23 Jun, Far From the Madding Crowd, Birmingham Hippodrome. Thomas Hardy's great novel about Bathsheba Everdene and her fatal attractiveness to three men was adapted by Bintley into a ballet with music by Paul Reade, who also composed Hobson's Choice.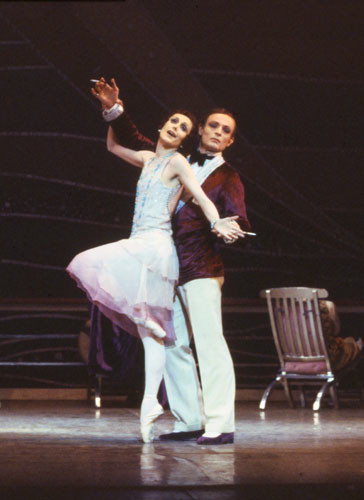 27-30 Jun, "Summer Celebration": The Grand Tour (New production)/ Faster, Higher, Stronger (World Premiere) / The Dream, Birmingham Hippodrome. American Broadway choreographer Joe Layton created a Roaring Twenties revue-style ballet about a star-studded cruise, set to Noel Coward songs (BRB's Marguerite Barbieri and Desmond Kelly pictured left by Leslie E Spatt). Bintley's creation for BRB returns to his musical collaborator on the 2009 E=mc2, Australian composer Matthew Hindson, and will major in athleticism. Ashton's The Dream set to Mendelssohn's delicious music is the loveliest of Midsummer Night's Dream ballets, with warring fairies, confused lovers and a Bottom capering on pointe.
Explore topics
Share this article