Classical CDs Weekly: Berg, Bruckner, Spoliansky |

reviews, news & interviews
Classical CDs Weekly: Berg, Bruckner, Spoliansky
Classical CDs Weekly: Berg, Bruckner, Spoliansky
Seriously rewarding Berg tribute, sublime choral singing, rediscovered cabaret
This weekend's classical highlights comprise an eloquent tribute to a 20th-century master, entertaining cabaret songs from Weimar-era Berlin and some sublime Bruckner choral music recorded by an Edinburgh choir.
Music of Tribute: Alban Berg Ieva Jokubaviciute (piano) plays works by Berg, Scelsi, Apostle, Ali-Zadeh, Finney and Gilboa (Labor Records)
Having already focused on composers as diverse as Villa-Lobos and Scarlatti, the next disc in this series from Labor Records mixes two seminal early works by Berg with pieces composed in tribute. Alban Berg's fusion of Modernism and fin-de-siècle Romanticism has ensured that his works are almost mainstream repertoire. Lithuanian pianist Ieva Jokubaviciute's account of the Op 1 Piano Sonata is excellent; she consoles, assaults and caresses the piece by turns. It's bold, passionate stuff – so expressive, so exciting that Berg's superheated chromaticism rapidly comes to sound completely natural, and it's the final quiet B-minor chord which comes as a surprise. It's only 13 minutes long, so we also get mezzo Marjorie Dix's account of the Op 2 Four Songs, each one more radically dissonant. Yet their lushness and warmth is skilfully projected.
Giacinto Scelsi's A la mémoire d'Alban Berg is an eloquent 12-tone tribute written in 1939. Franghiz Ali-Zadeh's Piano Sonata No 1 closes with a nagging perpetuum mobile figure. Ross Lee Finney's Variations take the opening of Berg's elegiac Violin Concerto as their starting point; Jacob Gilboa's Reflections on Three Chords of Alban Berg make imaginative use of material from the opera Wozzeck. We finish with a four-hand piano transcription of an extract from Lulu made by Berg's pupil, Hans Erich Apostel. Serious, rewarding music for serious times.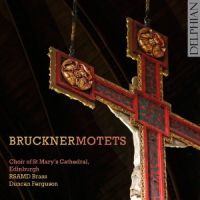 Bruckner: Motets Choir of St Mary's Cathedral, Edinburgh, RSAMD Brass/Duncan Ferguson (Delphian)

Bruckner's devout Catholic faith was the one constant in his often unhappy life, and the short motets collected here show that belief expressed in its most touching form. Their economy is surprising; few exceed five minutes in length but most feel much longer, in a good way. Bruckner's idiosyncratic musical language feels here more archaic, more backward-looking, and his stylistic tics sound more striking when sung by a choir as good as this. Some are a cappella, others accompanied starkly by organ and brass, with special emphasis given to trombones. Listen to Ecce sacredos at full volume and you'll be dazzled, the open fifths resolving onto the most delicious tutti chords. Nothing sounds clumsy – Bruckner knew exactly how this music would sound in a resonant church acoustic. Cadences resolve with painful, ecstatic slowness.

There's not a dud moment here; you will fall in love with the sound of the trombones underpinning the brief Afferentur regi and the blissful heights reached during the three minutes of Locus iste. Duncan Ferguson's singers are beyond reproach; intonation is never less than perfect and the sound made at full stretch is glorious – higher lines piercingly clear thanks to the cathedral's choristers singing the soprano parts. We also get the two Aequale for three trombones, played here with sombre magnificence. Brilliant.
Melinda Hughes: Smoke and Noise
Songs by Mischa Spoliansky and Kiss & Tell
(Nimbus Alliance)
Mischa Spoliansky was born in Russia in 1898 and settled in Berlin in 1914. A child prodigy, he became a cabaret composer in 1920s Berlin, before fleeing Germany in 1933 due to his Jewish roots and settling in London. He then wrote mostly film scores, before dying in London in 1985. On this disc, soprano Melinda Hughes sings a generous selection of Spoliansky songs in witty modern translations. She intersperses them with modern equivalents written by Hughes, Limb and poet Lloyd Evans, who perform as Kiss & Tell Cabaret. Spolianksy's language is less abrasive than that of Eisler or Weill, but these songs can be catchy and charming. "Nowadays the world is rotten/ Honesty has been forgotten/ Fall in love but after kissing/ Check your purse to see what's missing", sings Hughes in "Life's a Swindle". Clear diction means that every syllable tells, and she's a convincing actress, able to sound vampish, bored, seductive and upper class as each song demands.
The best of the Kiss & Tell numbers are "Carbon Footprints in my Jimmy Choos" and "The Smoker's Lament", but they possess an archness missing from some of Spoliansky's more sincere efforts; "Leben ohne lieb" and "Don't be afraid" are bittersweet jewels. Punchy, witty accompaniments turn what could be an academic archaeological exercise into something far more involving.
Melinda Hughes performs "Life's a Swindle"
Explore topics
Share this article