Asian Dub Foundation - Music of Resistance, Brighton Dome |

reviews, news & interviews
Asian Dub Foundation - Music of Resistance, Brighton Dome
Asian Dub Foundation - Music of Resistance, Brighton Dome
Dance-punk rebels rip it up as festival openers
It's been a while since I've spent time with Asian Dub Foundation. In the mid-Nineties, when they first appeared, they were one of the most exciting acts around and I enthused about them in print at every opportunity. They were born of an east-London community music project, mashing up the then-new sounds of drum and bass with agitprop showmanship and anti-racist politics. The result was a visceral live act that fitted as well beside the rising Brit-Asian wave (Talvin Singh, Nitin Sawhney, Badmarsh & Shri, etc) as with punky post-Levellers roots rock.
However, I never felt ADF captured their explosive live presence on record and I drifted away after the millennium, in typical fickle music-journo fashion. I heard reports subsequently of their touring newly composed soundtracks to the films La Haine and The Battle of Algiers and noticed in 2006 when their profile blew up with their dub-punk opera about Colonel Gadaffi, but the opening show of the 2011 Brighton Festival was the first time I'd seen them live in well over a decade.
Proceeedings begin with ADF collaborator Kerieva, clad in a red mini-dress, black tracksuit bottoms and white trainers, accompanied by a cellist, performing five songs that mix her Romany origins with dubby Balkan-flavoured electronics. It's a warm-up, really, enlivened by the juxtaposition of her sensual hip-shaking dancing with harsh images of state police brutality, even Nazi genocide, blown up on the large screen behind her. If that sounds very wrong, it worked in the flesh - dancing is part of the Romany artistic palette and she revelled in it as the music moved her.
This year's Brighton Festival programme and poster features Aung San Suu Kyi (pictured right), the figurehead of Burmese political freedom. In 2010 Brian Eno was an active guest curator but this year Suu Kyi takes a more remote role, for obvious reasons, and is more an overall theme than a personal presence. Consequently many events concern political oppression with particular emphasis on the plight of the Burmese people. After Kerieva concluded her brief set, a short film was shown of Aung San Suu Kyi speaking about freedom and diversity and giving Brighton and its festival her blessing, leading straight into the sound of a flute that introduced Asian Dub Foundation's set.
The first thing I notice is that two of the main characters I recall in the band have disappeared; Dr Das and Master D, the founding bassist and the lead vocalist. Long-term fans will know that they left in 2000 and 2006, respectively, but it took me a moment to realise that the other mainstay, guitarist Steve "Chandrasonic" Savale, is still very much leading from the front.
The eye is also drawn to the incessantly grinning percussionist and dhol drummer Pritphal Rajput, clad in a leather-effect shalwar kameez and topped with long, shiny film-star locks. The music, however, fronted by two MCs, is initially underwhelming, in thrall to Rage Against the Machine and The Prodigy but without the songs or beats to back it up. Until, that is, they reach a song called "Speed of Light" that relaxes into an Indian-flavoured percussive groove. A trio of dhol drummers - Ministry of Dhol - clutching their unwieldy instruments, invade the stage briefly and the screens show Mickey Mouse nicking a car. Things are looking up.
The crowd is a curious mix indeed. It is partially made up of people who have bought tickets simply because it's the big opening night of the Brighton Festival. Indeed, the man next to me has never heard of the band but wanted to see what it was all about. He didn't look very impressed with the whole Rage Against the Machine bit. The rest of the crowd have that dreadlocked-traveller thing going on. All in all, they turn out to be a great audience, initially self-conscious but open and enthused, then vocal, and eventually uproarious.
Chandrasonic informs us, "A few years ago I wrote this song in frustration because the only riot happening was in IKEA," and they hammer into "Burning Fence" which convincingly marries hip hop, chanty pop choruses and dub basslines, then explodes into drum and bass. It's a cracker, and Kerieva, along with two Chinese violinists, appears to lead the band into "This Land is Not For Sale". It's shouty and features dervish flute, the madcap energy of Gogol Bordello filtered though the angry electronic punch of Fun-Da-Mental. At some level it's all a bit Nineties - no dubstep here, even where it would fit nicely - but it has a real zest that's refreshing. The song finishes with a blistering tabla wind-down that leaves the hall screaming for more.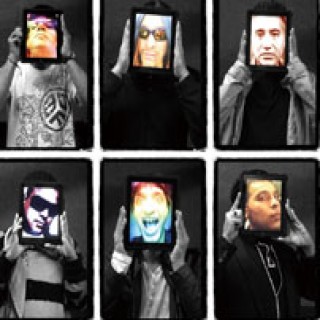 The band return for an encore of "Fortress Europe" which hauls out the RATM template again for another rehashing but, with its furious commentary on European policies towards immigrants, it's hard not to be swept along. They end with "Rebel Warrior" which is a full-blown rebel party starter, all wah-wah guitar and funky drummer beats. It initially sounds disconcertingly like long-lost and not much missed Brit-hopper Credit to the Nation, but it jams and builds and becomes just great fun, a euphoric musical mêlée. They've whipped the place into a frenzy and just to increase the doolally factor they bring the Ministry of Dhol drummers back on to perform a synchronised tattoo with Pritphal Rajput that's enlivening, original and a brilliant closer.
I was glad I reacquainted myself with ADF. They have changed, bloomed from the drum-and-bass-centric band I knew. In fact, they could do with changing a bit more. However, when they didn't fall into slightly dated rap-metal cliché, they really had something going. I can only hope they are the same on record. Their new album is called A History of Now. I must locate a copy...
Watch the video for "Burning Fence" by Asian Dub Foundation
Share this article