A Delicate Balance, Almeida Theatre |

reviews, news & interviews
A Delicate Balance, Almeida Theatre
A Delicate Balance, Almeida Theatre
Albee's long night's journey into day thrills anew with a dream cast
Serenity hangs by a fraying thread in the thrilling Almeida Theatre revival of A Delicate Balance, Edward Albee's 1966 Pulitzer Prize-winner about remembrance, fear, and somehow facing a new day. This particular playhouse has long been associated with Albee, from its (overrated) Who's Afraid of Virginia Woolf? through to various UK and even world premieres. But James Macdonald's production of the play that follows Virginia Woolf in the Albee canon stands a league apart, perhaps in sympathy with the work itself. The audience last night laughed plenty, sometimes (if truth be told) strangely, and yet by the end gave way to the voluble stillness that bespeaks a playgoing public stunned into silence.
That's about the right response for an amazing achievement that anatomises not just a particular swathe of America at its most well heeled but folds all manner of existential, political and moral critiques into a long night's journey into day - two nights, actually - by which point virtually every person on view has been to his or her own private hell and back. Or, in some cases, made a display of that infernal descent, under the theory that bitterness and rancour are more satisfying when shared.
Certainly, a first glimpse of the well-coiffed, pearl-wearing Agnes doesn't prepare you for the aspish, barbed, sometimes deeply profound observations that will pass her lips during the three hours (two intervals) traversed by the play. But scarcely has the brilliant Penelope Wilton (pictured below) taken occupancy of the chair of honour on Laura Hopkins's plushly appointed yet deliberately funereal set before she informs us that her character Agnes is struggling to maintain her sanity. Which makes it doubly ironic that by play's end this putative madwoman seems the most composed, resilient person on the book-lined battlefield that Agnes's home with husband Tobias (Tim Pigott-Smith) has become. (Note, too, the way in which Guy Hoare's expert lighting lends proceedings the qualities of a protracted surveillance as the play proceeds: the headlights outside feel in context more like searchlights.)
Each of the six characters suffers a breakdown of sorts, Agnes's less overt if only because it co-exists with such preternatural cool. The same could never be said of drunken sister Claire (Imelda Staunton), who has clearly - Clairely? - shone a torch for her "sweet" brother-in-law all the while lashing out in a manner befitting the Strindberg play (Miss Julie) to which she pays briefly mocking homage. (This being Albee, Shakespeare and Beckett get a look-in, as well.) As for Tobias, don't be fooled by the apparently milquetoast affect of Pigott-Smith early on; his collapse is arguably the most brutal of all, leaving one to surmise that the banter about Agnes being the man of the family may be no joke.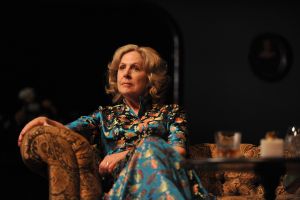 Devotees of ...Virginia Woolf? - and who isn't? - will recognise variations on previously established themes, from the power play of the central couple (hypothetical gender reversals included) through to the catalytic arrival of guests and the importance to the narrative of a dead son, who lives on to haunt perhaps the most articulate collective meltdown that the American theatre knows. (Only Albee could get theatrical mileage out of the difference between "a alcoholic" and "an alcoholic".)
But whereas George and Martha in the earlier play are visited by the younger Nick and Honey, the guests here are Tobias and Agnes's contemporaries, Harry (Ian McElhinney) and Edna (Diana Hardcastle, terrific), great friends who have come to escape what they call "the terror" only to spread foreboding in their wake. Nor does their invasion of sorts sit well with the hosts' child-woman of a daughter, Julia (a feral Lucy Cohu), a much-divorced hysteric given over frequently to tears. Her mother, we are informed, does not cry.
Bleak stuff? Bracingly so, but caustically funny, too, as befits the self-awareness of a sextet who are at least as cruel to and about themselves as they are to one another. The most obvious laughs fall to Claire, which in turn explains why the role has gone in past revivals to the likes of Elaine Stritch and Maggie Smith, who can make of this often supine truth-teller a showy "turn". Remarking of her preamble to more drink to come that "it's only the first I'm not supposed to have", Staunton, to be sure, locates the performer in Claire: the wit in search of an audience, no matter how scabrous. But the portrayal is enriched by flashes of panic that show Claire, too, sliding toward the abyss, not least come the twilit truce of the third act in which she appears, hair down, looking ravaged to a degree Stritch and Smith never allowed: the bulldog now placed in her pen.
The acting throughout is fearless, as if in purposeful counterpoint to the prevailing leitmotif of fear. Hardcastle, for one, moves memorably from a shivering wreck washed up on her friends' doorstep to a wannabe Agnes (the women even have the same hair): just one reason, perhaps, why she and Harry eventually depart, since any hive only allows a single queen bee. That truism, for all Agnes's avowed alarm, leads to her bravely voiced embrace of a new day, Wilton's half-smile fully capable - we have learned by then - of spasms of rage.
Indeed, it's hard to take much succour (to use Claire's chosen word) from this particular morning, any more than we do from that with which ...Virginia Woolf? concludes. After all, as Tobias asks, is dawn not just another word for "very late at night"? In which case, as this supremely empathic, deeply felt production of Albee's great and scalding play reminds us, "day" may be little more than a euphemism for night but with the light turned on.