Dragons' Den, BBC Two |

reviews, news & interviews
Dragons' Den, BBC Two
Dragons' Den, BBC Two
New Dragon Hilary Devey fights her corner in the Den
Power-dressed like a Barbara Taylor Bradford heroine, or possibly the new landlady of the Rover's Return, Miss Devey (that's De-Vay) began by beguiling us with a display of down-to-earth motherliness, as she calmed the panic attack being suffered by Georgette Hewitt, would-be internet entrepreneuse. Trying to get the Dragons fired up about her children's gift site, The Present Club, poor Georgette could barely remember her name, let alone rattle off financial statistics or explain how many suppliers she had. "You're doing OK, tell us," soothed Hilary (pictured below). Compare and contrast with Peter Jones's curt, "Georgette, your presentation was appalling!"
On the other hand, it was Hilary who dropped out of the bidding, while Jones popped up with an investment offer, namely 60 grand for 30 per cent of Georgette's business. She'd only proposed to sell 20 per cent, but after her horror-display, getting any offers at all was miraculous (and made it pretty obvious that the Dragons do a lot of unseen due diligence before parting with any loot). And, in time-honoured fashion, once one Dragon had made a bid, other Dragons began to fret about what they might be missing. Georgette eventually walked away with a partnership deal from Peter and Theo Paphitis.
If there's one thing a Dragon can't abide, it's vagueness about statistics and a reluctance to give a straight answer. You'd think, by now, that all the contestants would have cottoned on to the idea that they ought to know what their business is worth, how many customers they have and what their profit is likely to be at the end of the current financial year - in fact, I'd be surprised if the producers don't send them guidelines to that effect - and yet they don't.
Our big beasts were especially irked by a chap called Alan, who was punting his "Miruji health and wellbeing" system. He bigged this up as the solution to the nation's obesity epidemic, though quite how "massage and audio mind-coaching" could make those pounds melt away was never explained.
Theo had a go in Alan's massage chair to the accompaniment of a dreamy female voice trying to hypnotise him into believing that he was lying on a beach while staying in a seven-star hotel, but as soon as he took the headphones off the spell was broken. Did Alan have any proof that his techniques made anybody lose weight, he demanded? Alan dithered, waffled, wriggled and evaded before admitting to an empurpled Theo (pictured below) that the answer was no.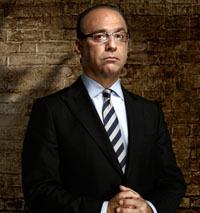 By the time Ms Devey came to question him, Alan was beginning to do a convincing impersonation of a conman with no clothes on. She'd heard enough. "Forget the Miruji Experience, we're on planet Earth in Dragons' Den!" she roared. "I'm not amused, I'm angry. I'm OUT!!!" Afterwards, Alan confided to Evan that at first he'd thought it was going quite well, but obviously it hadn't been really.
After brief encounters with a woman trying to sell a neoprene sleeve which keeps brass instruments warm and an aspiring human cannonball from Chile, the night's big success turned out to be Chris Hopkins, who is exploiting a government subsidy scheme to sell solar panels to home-owners. All the Dragons except grouchy Jones loved this - ah, the aphrodisiac effect of taxpayers' money - and got locked in a furious catfight about who could invest the most the fastest. Surly Scotsman Duncan Bannatyne dropped out in a huff when Hopkins tried to play off the Dragons against each other, but he still ended up with a sweet little joint investment from Theo and Deborah Meaden.
Just one other thing, Dragons - how would you feel about investing £20 million for a five per cent stake in a fabulous arts website? Go on!
Explore topics
Share this article