BBC Proms: Les Talens Lyriques/ BBC Philharmonic, Noseda |

reviews, news & interviews
BBC Proms: Les Talens Lyriques/ BBC Philharmonic, Noseda
BBC Proms: Les Talens Lyriques/ BBC Philharmonic, Noseda
Whether intimate or epic, two Proms share the same articulate communication
According to Classic FM's managing director Darren Henley there are many people who find the term "chamber music" offputting, if not downright intimidating. Perhaps the best explanation of the genre comes from a musicologist who has termed it "the music of friends". It's a lovely description and one that, for the very best ensembles, can extend beyond the confines of quartets or duos to even the largest of symphony orchestras.
While yesterday's Proms Chamber Music concert from Christophe Rousset and Les Talens Lyriques was chamber music at its authentic best, so also yesterday evening's concert from Noseda and the BBC Philharmonic, despite marshalling rather larger forces, also brought the amicable, dialogue-driven virtues of the genre to the fore.
The scope of the Royal Albert Hall doesn't give the main Proms concerts much of an opportunity to showcase smaller ensembles (though their Late Night Proms do offer some chamber gems), but thankfully there are the Monday lunchtime concerts at Cadogan Hall devoted solely to this repertoire. The hall is a natural home for early music; a few weeks ago Mahan Esfahani dispatched Bach's Goldberg Variations here and this week it was the turn of fellow harpsichordist Christophe Rousset and his ensemble Les Talens Lyriques to explore the rather more expansive early repertoire of the French Baroque.
While the likes of Handel, Telemann and Corelli have flourished in the current revival of interest in Baroque music, for some reason we've been far slower in the UK to embrace the poised charms of the French composers – Lully, Rameau, Charpentier and Couperin. Championing their homegrown repertoire with articulate urgency, Les Talens Lyriques appeared here in miniature form. Rousset was joined by just two violins, two flutes and viola da gamba for a programme that encompassed everything from operatic tragedy to ornate courtly dances.
Presenter Catherine Bott warned her audience: "Prepare to be ravished and seduced." It was a seduction that began with masterful subtlety in Couperin's "La Piémontoise" suite from Les nations. Despite paying stylistic homage to Corelli, the atmosphere here is unmistakably French, gliding from Sarabande to Rondeau with demure grace. The understated ensemble communication of Les Talens Lyriques doesn't court the gestural explicitness of other groups, and was at its finest here in the duet passages for flutes (velvet-rich and with the same slight husk) and the corner-of-the-eye interplay between Rousset and gamba player Isabelle Saint-Yves. Rameau's Pièces de clavecin en concerts offered Rousset a more virtuosic role, and his glossy passagework was punctuated by interjections from Virginie Descharmes's violin and Saint-Yves's gamba – all wit and lightness of touch.
The arrival of soprano Eugénie Warnier upped the dramatic stakes with operatic scena "Ah, Rinaldo! Dove sei?" from Lully's Les amours déguisés and Montéclair's cantata Morte di Lucretia. While producing a beautifully rounded (if occasionally shallow) tone, Warnier's copy-bound performance seemed a little restricted by unfamiliarity, and her embittered sorceress was altogether too innocent to carry off Lully's musical characterisation.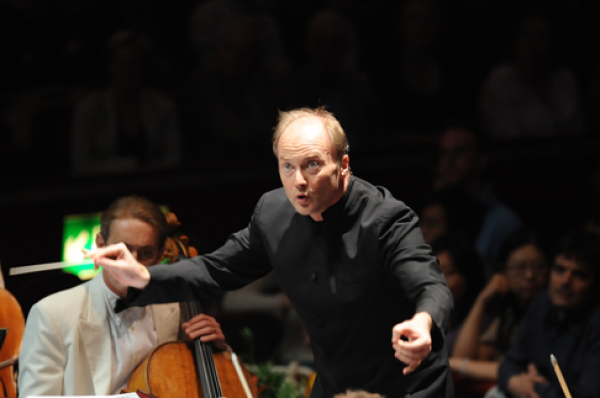 Prolonging lunchtime's French theme, the evening concert saw Gianandrea Noseda (pictured right) and the BBC Philharmonic joined by Stephen Hough for Saint-Saëns's Piano Concerto No 5 (whose "Egyptian" subtitle prompted Hough to re-emerge during final applause sporting a fez). It was in this playful spirit that the whole concerto was delivered, with Hough setting the tone in the throwaway wit of the piano's opening sortie. It's not a concerto that ever takes itself very seriously; even in the dark middle section of the Allegro animato the overblown pomposity of the horn interjection keeps pathos at bay, while the bravura of the final movement (delivered with impossible fluidity by Hough) is worn with good-humoured lightness.
A physical and animated communicator, Noseda's relationship with the BBC Philharmonic has been a fruitful one. In this, his final concert as their chief conductor, it was perhaps Beethoven's Symphony No 4 that best reflected the particular strengths of this partnership: the barely present wind solos beautifully articulated in the second movement Adagio, the rhythmically charged strings pulsing with the syncopation that underpins the opening movement.
But it was with Liszt's Dante Symphony that Noseda bid an appropriately epic farewell. Sprawling and secular in instrumental colour, it's hard to hear this as the work of a devout Catholic. Releasing his brass from the comparative restraint of the Saint-Saëns, we were summoned down to Hell by their clamorous opening calls – solemnity shortly bettered by the sober chorale interludes from blended wind and brass. The closing glance toward Paradise was aided by the women of the CBSO chorus and Julia Doyle, placed high up in the balcony for their heavenly and carefully tuned Magnificat.
As goodbyes go this was as satisfying a one as could be imagined. In September the Philharmonic will pass into the care of Juanjo Mena, and with a new chief conductor and a new home in Salford we can only wait to hear how the orchestra and its sound will itself develop.
Explore topics
Share this article