theartsdesk at the Sarajevo Film Festival |

reviews, news & interviews
theartsdesk at the Sarajevo Film Festival
theartsdesk at the Sarajevo Film Festival
Angelina Jolie drops in, but the 17th festival is more about Balkan film
The origins of the festival embody this tension. It began in 1995, in the midst of the Siege of Sarajevo, one of the many cultural events that the city's population doggedly pursued in order to keep its spirits up. It's often commented that while Serb nationalists bombarded the city with mortar shells, and snipers picked out thousands of civilians attempting to walk their streets during the four-year siege, Bosnian women never went a day without make-up. The film festival was a similar act of resistance, dressed as determined normality.
In that first year, film buffs apparently gathered in a basement to watch Quentin Tarantino's Pulp Fiction. Since 1995, though, the festival has grown to be the biggest in the Balkans, famous for its open-air screenings (see main picture), in which 3,000-strong audiences watch movies surrounded by buildings which still bear the mortar gashes and bullet holes of the siege.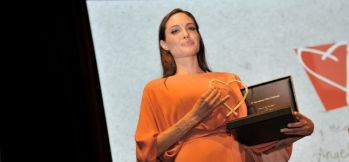 This year's event may, predictably, have only reached the international news wires because of the appearance of Angelina Jolie, who collected an honorary award, but Sarajevo's focus is not Hollywood. Rather, it is a showcase for Balkan films, from Greece and Bulgaria as well as those countries that made up the former Yugoslavia; and to view these is to immerse oneself in the life, politics and culture of a very particular, not to say troubled part of the world. This year, the competition programme was notable for the number of first-time directors, whose films suggest a younger generation who are disaffected, struggling with means and identity in countries that have similar problems.
Avé (pictured below left), by the Bulgarian Konstantin Bojanov, involves two teenagers who encounter each other while hitching out of the capital Sofia into the countryside. The boy, Kamen, is going to the funeral of a friend who has just committed suicide, and would rather be alone. The eponymous Avé has different ideas, clinging to his side. To gall him further, with every ride she invents a new identity for the pair, some of which don't go down well with their drivers.
One of the prize-winners here in Sarajevo, this is a subtle and affecting film, about damaged kids (Avé's stories conceal a real life that is far from happy) whose road trip is of course highly metaphorical, and is a journey that doesn't end with the film. The pessimism of their situation is lightened, a tad at least, by the spirit of the kids themselves; the vibrant and imaginative Avé is a character we should see again.
As the title suggests, A Trip is another road movie, this time from Slovenia, as three twentysomethings, old school friends, reunite for a nostalgic camping trip to the coast. Strapping soldier Gregor, who has returned from duty in Afghanistan, gay misanthrope Andrej and Gregor's unrequited love Zira are an improbable trio, and it's not long before a rum collection of secrets and lies puts paid to their vacation. While the confrontations are too calculated, what strikes one about the film is the dearth of opportunity for three intelligent young people. As Zira is told, in no uncertain terms, when she speaks of her dream of studying abroad, "In this country, we all know that that's another name for sex tourism."
The Croatian Spots (pictured right) is a secular "dark night of the soul" on the streets of Zagreb, in which two young women – a drug addict and a rape victim – become unlikely companions, one trying to escape a crime, the other come to terms with what has just happened to her, the pair buffeted from one crisis and challenge to another. Director Aldo Tardozzi juggles the preposterous with the grittily real, as his heroines encounter mad cabbies, corrupt chemists, cynical doctors and, most despairingly, a rapist boyfriend, while learning that a gulf in personality and experience doesn't make their problems any different.
'Many of the documentaries continued to reflect on the past, and on the open wound that is the Balkan conflict'
Sarajevo's excellent panorama programme featured White, White World (pictured below left), by the more experienced Serbian director Oleg Novkovic. His broader gaze takes in three generations of morose burghers from the well-known Serbian mining town of Bor, whose highs and lows seem to chime with the country's own; currently it is economically depressed and polluted. This is a remarkably downbeat film, with a toxic display of smoking and a mighty heave of Greek tragedy in its final act, focusing on a husband-killing ex-con, her addict daughter and the local stud they both love. It's powerfully acted and cleverly directed, with a Brechtian touch as the characters break out into plangent song. "What do you have in store for me?" croons a loser as he addresses the world outside his window. "A load of shit, that's what." Novkovic feels like a heavyweight.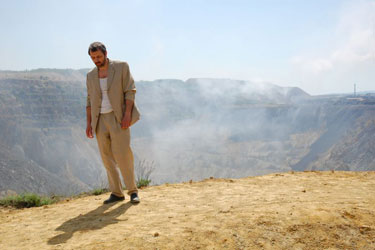 While the features looked at the here and now, many of the documentaries continued to reflect on the past, and on the open wound that is the Balkan conflict. Cinema Komunisto is a fascinating look at former Yugoslav cinema from the period of Tito's republic, through which we see, suggests the Serbian director Mila Turajilic, "the history of a country that no longer exists, except in movies".
Turajilic relates the efforts after the Second World War to develop a "film city" in Belgrade, a local industry which would defy the dual cultural oppressors of Soviet propaganda and Tarzan movies. Unfortunately, that meant a lot of Tito's own propaganda, grandiose war films extolling his victories during the war, and what one charming Bosnian acquaintance described to me as "partisan pulp".
Eventually, inevitably, the country's cinema chiefs got into bed with Hollywood anyway – none other than Richard Burton starring as Tito in the war film Sutjeska, Yul Brynner and Orson Welles heading an international cast of the equally full-blooded The Battle of Neretva. The President himself was a hardcore film buff, with his own personal projectionist providing a new film for him to watch every night, who regularly held court at the glamorous Pula Film Festival in Croatia, his personal favourites (leaked by said projectionist) invariably winning the prizes.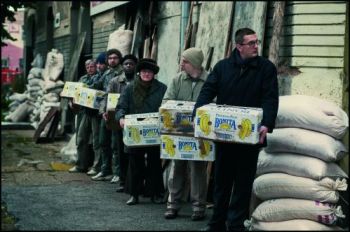 One can't help feeling that Cinema Komunisto is a little rose-tinted about its era and its dominating presence. At the same time it does remind us, without needing to say a word, of the role Tito played in propping up this shaky house of cards. In 1991 the Pula Festival was cancelled, we're told, "as a plea to the people of Yugoslavia to hold back from violence". That the plea was, of course, unheeded is the reason we have The Love of Books – A Sarajevo Story. (pictured above). This is actually directed by a Briton, Sam Hobkinson, whose documentary captures the hell of the siege by focusing on a small and surprising band of heroes – librarians.
As the Serb nationalists set out to destroy Bosnia's cultural heritage with their shells, targeting and destroying numerous buildings that included the National Library, the head of the Gazi Husrev-beg Library – one of Bosnia's most important collections of Islamic manuscripts – decided to take action. Time and again he and his colleagues carried the thousands of books to new locations in the city, hauling them in boxes across the sniper-patrolled streets.
"Saving books," he tells us now, "is the same as saving people." And that pretty much sums up the spirit here, of the people and of a rather fine film festival.
Share this article