BBC Proms: Ott, Royal Stockholm Philharmonic Orchestra, Oramo |

reviews, news & interviews
BBC Proms: Ott, Royal Stockholm Philharmonic Orchestra, Oramo
BBC Proms: Ott, Royal Stockholm Philharmonic Orchestra, Oramo
Northern lights: two electric symphonies and a prodigy plays Grieg
The electricity emitted at this Prom couldn't be all down to Oramo's mauve waistcoat. With these players and this music he obviously felt comfortably at home, as he did earlier in Sibelius's Symphony No 6. In both cases, he drove forward the symphonies' complex, sometimes allusive arguments as if their four movements formed a single span. He took particular, indeed breathtaking, care over those moments of transition within and without when textures are often thin and the world seems to turn on a coin. Speeds in Nielsen's outer movements were faster than the composer's allegro marking; the swirling energy of the opening knocked my socks off. Yet you never thought Oramo was desperate to catch a plane; nothing was rushed.
At the same time, Oramo (pictured below) didn't bludgeon us with the symphony's battles between unquenchable life and the forces of destruction. The finesse of the Stockholm players helped see to that; whether the sounds came from juddering strings or the second movement's bucolic winds, they steered clear of the brash, and were always exquisitely voiced.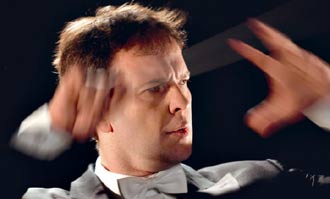 Similar persuasiveness, and considerable warmth, radiated from the Sibelius. The Sixth is the Sibelius symphony most conductors pass over, yet Oramo proved there was nothing to fear. Sensuous strings led the way into a wondrous journey of discovery, with motifs, textures, keys and colours constantly mutating, constantly surprising. Could British players and a British conductor ever penetrate and mould this symphony as convincingly as these Scandinavian forces did? I doubt it.
Accompanying Grieg's Piano Concerto, the Norwegian component in the concert's Scandinavian tour, Oramo's orchestra sounded more ordinary, though the strings' quiet succulence shimmered in the Adagio. Still, the orchestra wasn't the audience's focus. Eyes and ears were trained on the effusively regarded soloist, Alice Sara Ott. Born in Munich, of German-Japanese parentage, she took her first piano lesson at the age of four, won her first piano competition aged 14, and signed with Deutsche Grammophon aged 19. After her Proms debut last night aged 23, I can't think what else life has to offer, except possibly an appearance on Desert Island Discs.
She played Grieg's horse chestnut with a fresh, clean attack and a poetic ease that lifted her above the pretty piano dolls who can't reach beyond technical brilliance. Ott has plenty of that, of course; but she wields her expertise with imagination and a freedom of spirit, something also apparent in her regular decision to play barefoot. Splinters must be a hazard, but she's an artist who clearly likes to feel physically loose. There was certainly flexibility in her playing, with heroic attack when needed, though she convinced more when underplaying, with the nonchalant fingers semi-detached, or when magic was spun from the finale's arpeggios or the slow movement's dream murmurs.
Showier virtuosity came with her encore of Liszt's tinkling whatsit, La campanella, articulated with the lightest and brightest of touches: you could almost see the fairy dust sprinkled over the keys. But once Oramo returned after the interval with the Nielsen, Ott's star became obliterated. On second thoughts, I definitely wouldn't invite Oramo to tea. It's just too dangerous.
Share this article