The Pass |

reviews, news & interviews
The Pass
The Pass
Russell Tovey is man of the match in screen transfer of vibrant, poignant Royal Court drama about gay footballers
John Donnelly's play The Pass scored a slate of five-star reviews when it ran at the Royal Court early last year – theartsdesk called it "scorching" – and plaudits for Russell Tovey's central performance were practically stellar ("a star performance from onetime History Boys student that this actor's career to this point has in no way suggested," we raved). For those who missed that sell-out, small-stage, seven-week run, Ben A Williams' film adaptation delivers all the impact of that experience, in an independent British production that manages the transfer from stage to screen more than gamely. And Tovey remains quite remarkable.
Williams keeps the play's strict three-act structure intact, never tempted to open the story out with fill-in cinematic context: its action is claustrophobically limited to the the original's three hotel rooms, now visited at five-year intervals. Retaining the limited size of these spaces becomes a new asset as, particularly in the first episode, Tovey practically bounces off the edges of the screen, so vibrant is his performance, while close-ups bring us right into what's going on inside his head.
Their allegiances of friendship will be tested
That opening brings home the nuance of Donnelly's title, introducing the work's twin themes, football and sexuality. Tovey's Jason, peroxide-blonde in an engagingly naive way, and Arinze Kene's Ade are both 19, professional footballers playing as substitutes but about to get their potential break in a Champion's League match. They are sharing a hotel room (it's Bucharest, but location isn't important), relaxing, joshing one another around (main picture), almost jumping up and down on the beds like kids: they're old, close pals, who have been leading the same intense sporting life of youth training for a decade. What lies beyond that world features little here: of their backgrounds we learn only that Jason's father is a builder, more prosperous (so he's a bit "different", posh even, in these circumstances), while Nigerian Ade's dad is a preacher, a factor that has Jason ribbing his friend, but affectionately – he's a joker, albeit one who never finally reveals himself.
Their allegiances of friendship will be tested. Talking about tactics for the match the next day, the issue of one kind of pass comes up – whether either of the players will feed the other the ball at the right moment, or stick in there with a solo chance that just might bring fame. Then there's the other pass: they're both naked except for their Y-fronts, they're both buff, and the familiarity of physical banter easily shades into something else. We don't see quite what, or how it ends, only a kind of nervous foreplay that sits uneasily somewhere between japery, provocation, and something more serious.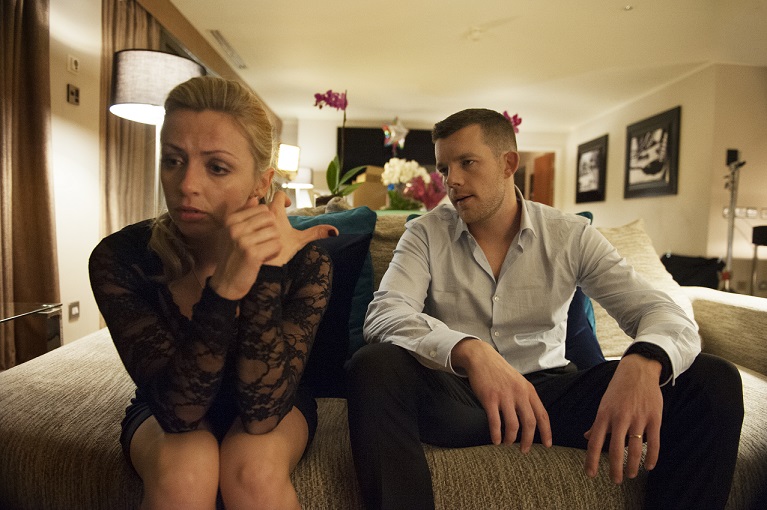 Just how serious becomes apparent as Jason's fate unfolds. This premier football world is one in which being gay and becoming a star are anathema: we remember all too well the only first-class player who revealed his homosexuality, or very possibly, was forced to do so by the threat of tabloid exposure – Justin Fashanu, whose subsequent career, life and death surely remain a doleful object lesson to anyone potentially in the same position. The next time we see Jason, he's made the big time, holding court now in a flashy penthouse suite to Lindsay (Lisa McGrillis, pictured with Tovey, above), a club dancer whom he's picked up (though we learn he's married by now, with children). He's still as jocularly, wordily in control as ever, however much it looks suspiciously like a tabloid sting. But the permutations of deceit here are multi-layered: at least Jason is controlling them, as something he said in the opening scene gains a new, chilling significance.
At least Jason is still on a roll, master of his own universe. By the final time we encounter him, that's going, the third luxury hotel room now more like an enclosure: there's an exercise bike, but his routine is driven by booze and painkillers (it's only a matter of time before a knee goes: then it will all be over). He's divorced, and has imperiously summoned Ade. They haven't met since the opening scene: Ade never got his break, but he has come out – and he's got a boyfriend – and is working as a plumber, a life very different from all the glory and rewards that have come to his erstwhile mate. It's a very bruising encounter, not only for what their reunion brings, but for how Jason ropes in the hotel bellboy, who's in awe to this sporting hero, to involve him in a perverse, vindictive ritual of humiliation (Nico Mirallegro, pictured below, left, plays that supporting role, youthfully naïve, more The Village than Rillington Place). Jason's game, still so manipulative and deceitful, would be brilliant – if it wasn't tragic now. What is a man, if he gain the whole world, and lose himself? Tovey captures all that, and more.
Arinze Kene as Ade is the only one not from the original Royal Court production, but he more than keeps up with play. He's got cheek bones that give his face a particular quality, and there's a moment at the peak of that first scene when he catches something remarkable indeed – a single glance of pure, gut-wrenching sadness that comes almost out of nowhere, but somehow colours the film. The Pass is Ben Williams' feature debut, and he gets the most out of such visual chances, allowing us to dwell on moments in a way that theatre can't (and a certain theatrical staginess sometimes remains). It's there in some of Tovey's expressions, Chris O'Driscoll's camera lingering on something for a moment in a way that makes it resonate.
Full and final kudos must go to producer Duncan Kenworthy too, for pushing The Pass so adroitly down its independent British route rather than into the studio system (you never know how easily that can wreck a project until it's already happened). Tovey's five-star performance brings the film a deserved fourth one of its own, and it can only be hoped that one of its lasting achievements may be to influence broader public attitudes, even in just the smallest way, to its subject for the better.
Overleaf: watch the trailer for The Pass
rating
Explore topics
Share this article