Elle review - sexual violence, black humour and satire |

reviews, news & interviews
Elle review - sexual violence, black humour and satire
Elle review - sexual violence, black humour and satire
Isabelle Huppert dazzles in Paul Verhoeven's genre-defying drama
As Elle's director Paul Verhoeven put it, "we realised that no American actress would ever take on such an immoral movie." However, Isabelle Huppert didn't hesitate, and has delivered a performance of such force and boldness that even the disarming Oscar-winner Emma Stone might secretly admit that perhaps the wrong woman won on the night.
But it has to be admitted that Elle (adapted by screenwriter David Birke from Philippe Djian's novel "Oh...") could never be mistaken for a Hollywood production. A perplexing but electrifying mixture of sexual violence, black humour and social satire, it might be considered misogynist or voyeuristic or merely in dubious taste, were it not for Huppert's commanding presence, allied with a batch of supporting performers who mesh smoothly together like a finely-tuned theatrical company.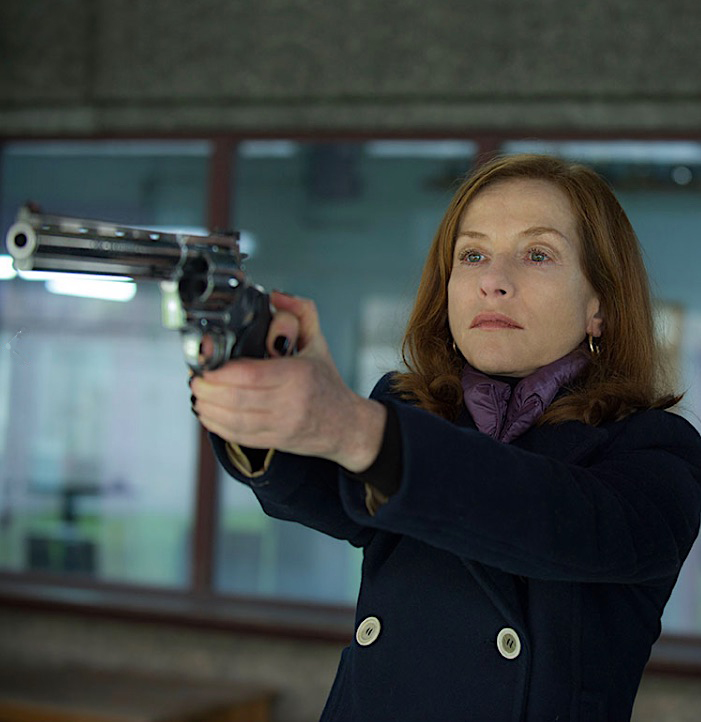 From the opening, Elle defies you to pin it down to a single genre. Neither Verhoeven – a brazen button-pusher who made Basic Instinct and Showgirls, let's not forget – nor his star are in a mood to take prisoners. We hear, but don't see, Huppert's character Michèle Leblanc being attacked and raped by an intruder in her home in the Paris suburbs (Michèle gets a gun, pictured left). Then we see her tidying up the wreckage of her living-room, despite the blood running down her thigh, and getting on with her life as though nothing has happened – no cops and no trauma counselling. Though she does buy some CS spray and learns to fire a pistol.
She refuses to play the victim. It seems her private persona is as controlled and inscrutable as the professional face she presents to her employees at the tacky but lucrative computer games company she runs with her close friend Anna (Anne Consigny). Though the team of 20-something designers and programmers who create lurid sex-and-monsters romps regard Anna and Michèle as a pair of old squares, Michèle is happy to spell out with extreme bluntness where their work is falling short and who's running the company. She demands more on-screen death, sex and titillation.
While Michèle's mystery attacker – we see him in increasingly startling flashbacks, dressed in a black outfit with a balaclava helmet – keeps up a campaign of creepy and obscene harassment, Verhoeven assembles a picture of the rest of her life, through which she moves with an aura of cool, ironic authority. She knows what she wants, takes it and leaves it. She has a casually friendly relationship with estranged husband Richard (Charles Berling), but like most of the men she knows he's ineffectual and slightly ludicrous ("their flailing vulnerability is endearing," as Huppert herself commented). She's having an affair with Robert (Christian Berkel), but her emotional investment in it is zero. She impatiently does her best to put up with her son Vincent (Jonas Bloquet), a gormless under-achiever shackled to a hysterical tantrum-throwing girlfriend (Alice Isaaz). When the latter has her baby, Vincent ludicrously can't bring himself to accept that the child is black, unlike its supposed parents.
The only man who truly piques Michèle's sexual interest is Patrick (Laurent Lafitte, pictured right with Huppert), a handsome, successful banker, who has moved into the house opposite hers with his wife Rebecca (Virginie Efira). In several raucous dinner and party scenes, Verhoeven makes plenty of space for his excellent cast to cut loose with abandon, and when Michèle throws a Christmas party she seizes the opportunity to flirt outrageously with Patrick. Meanwhile, much macabre comedy is extracted from Michèle's toxic relationship with her mother Irène (Judith Magre), a grotesque plastic surgery junkie with a weakness for gold-digging gigolos.
Storm clouds gather, however, when Michèle finds herself drawn into a potentially fatal cat-and-mouse game with her attacker. As events gather pace towards an explosive climax, her motivations become darker and knottier. Is she planning an elaborate revenge, or does she genuinely relish being beaten and violated? Perhaps the fact that her father was a notorious serial-killer from the 1970s has left her with catastrophic psychological damage… or perhaps there's more of her father in her than she can bear to acknowledge. Verhoeven isn't going to spell it out, and Michèle will only live in the present and refuses to dwell on the past. We have to form our own judgments. Isn't that the way it should be?
Overleaf: watch the trailer for Elle