theartsdesk Q&A: Horn-player Alec Frank-Gemmill |

reviews, news & interviews
theartsdesk Q&A: Horn-player Alec Frank-Gemmill
theartsdesk Q&A: Horn-player Alec Frank-Gemmill
Four horns, four pianos, one CD; an original among musicians tells us why, and more
Traditional musical formats rarely suit the individual talent, but the highly-motivated player always finds a way. I first got to talk to Alec Frank-Gemmill in the very sociable surroundings of the Pärnu Festival in Estonia, a gathering most musicians describe as the highlight of their year, with the phenomenal Estonian Festival Orchestra brought together by Paavo Järvi as its core. Frank-Gemmill's secure base is the Scottish Chamber Orchestra, another army of unusual generals. His solo engagements take him to extraordinary places, and thanks to the long-term support of the Borletti-Buitoni Trust, an organisation whose roster of young musicians reads like a musical who's who, he's just been able to record a horn and piano recital with a difference.
The subtitle of the disc, reviewed today on theartsdesk by fellow horn-player Graham Rickson, tells of its idiosyncrasy: "Music for horns and pianos of the 19th century". In other words two natural, two valve horns, and pianos by Lagrassa, Streicher, Blüthner and Bechstein. It's a captivating CD, unusually amenable for a recital to listening through at a single sitting; I've already played it four times. And it justifies the unique possibilities of the recorded format. Frank-Gemmill has also made individual commentaries on each of the pieces, which punctuate the interview. He told me about the motivation, and the larger question of orchestral versus solo work, on his lunch break from work as a professor at the Guildhall School of Music and Drama.

DAVID NICE A normal horn and piano disc could be monotonous, but your idea of varying the horns and varying the pianos too – that must have taken a lot of thought and work.
ALEC FRANK-GEMMILL Well, there's so many CDs out there. I could see the point – I'm interested in hearing other horn players and their interpretations, but there aren't that many differences between players of any instrument these days, and if you aim to do something different for the sake of it, that could be quite cheap. But to do this is actually providing some historical context, and was just a means for me to do something new. So it is hopefully in some way original and worth doing.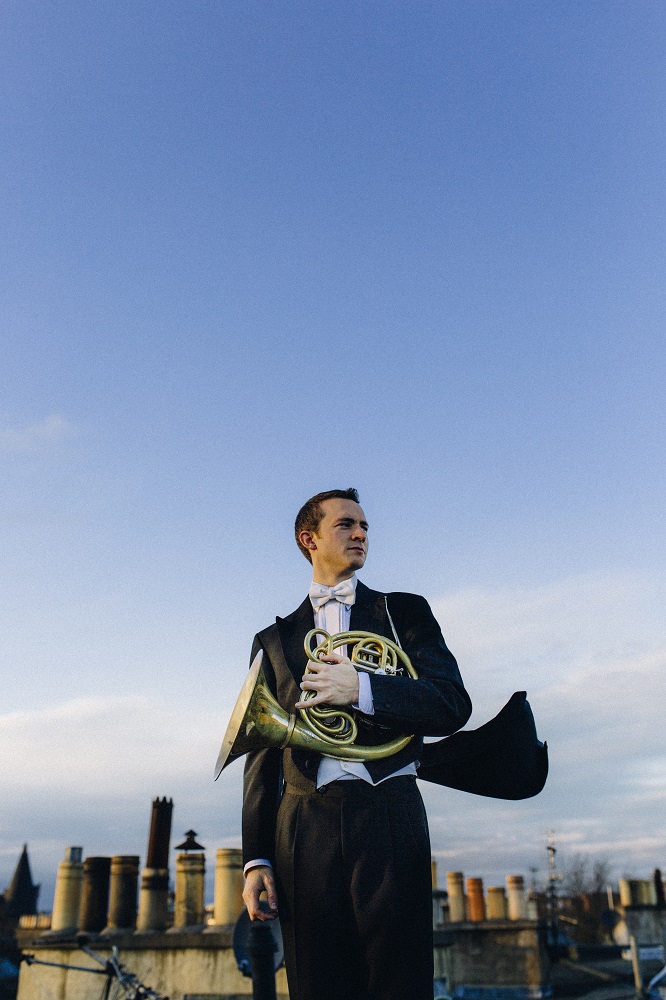 I think actually – well, not in the case of all the pieces, not the later ones like [Glazunov's] Rêverie – with the other ones you could find on the internet each individual track [done authentically] and shove them together, however you wouldn't get the same person playing, so you wouldn't really be able to compare the sounds. Also my interpretations were based in part on what the horn wanted to do. That was part of the inspiration – I'm trying to make a distinction, not to do something definitive or claim it's the right way, but just for me to present it, so if this horn wants to play the piece like that and it's a horn I know the composer would have recognised, then that immediately inspires me to do something in a particular way, rather than – say, if I'd been born 30 years earlier, I might fall into the trap of saying, this is how it went then. And these 19th century horns are so different to each other – even a horn made in Paris in 1820 to the same design as one made in Berlin, that could change the sound utterly, so it's sort of a nod to authentic ideas. I'm not suggesting that this is the definitive recording, but I'm suggesting that it is something which could maybe enlighten us about how it might have sounded, so to that degree it is historical.
...And how you can actually physically play, because if you've got weak and strong notes on the natural horn, it dictates the tempo...
Absolutely. For me, that was a joy. But I'm sure if I'd come to the disc as a different sort of player who already likes his particular tempos, it would have felt like a hindrance. So for me it was lovely, it gave the pieces some new reasons to be done. Especially on disc, because then you can sit down from beginning to end and hear the different sounds.
And it makes a fine programme, too.
Yes, it was nice because I could choose all the best pieces from the 19th century, rather than just thinking, oh, this has been done a million times. [Schumann's] Adagio and Allegro, someone has played it on a modern Vienna horn, and I think there's a recording somewhere on an old Vienna horn. They are very similar instruments, but rather like horns made now instead of in 1905, they are bigger and more orchestral and fatter and less intimate. That Beethoven Horn Sonata, quite a few people have recorded that now on natural horn.
Do they get the flourishes as well as you do at the end of the first movement, those fantastic arpeggios?
Well you know, that bit on natural horn just works – I didn't have to practice. That's lovely because it doesn't just feel like an easy piece with a couple of hard bars, it feels like a nice piece and you're just working on how to phrase it. [Below: the first of four films in which Frank-Gemmill introduces the different 19th century horns on the disc]
Do you have a particular favourite sound amongst all those?
I think it's totally subjective – it's clouded by what I found a struggle and what came easily. Probably my favourite thing is the Rossini [Prelude, Theme and Variations], because I never liked the piece before this disc, and I find it really attractive now played on the natural horn. But maybe with a bit more distance, the Rêverie sounds so right on that horn with an old fashioned, almost proto-Hollywoodesque sort of warmth but also a bit of clunkiness – ahh, it was so nice to play that piece like that!
The essence of the horn to me is the warm, rounded Brahms sound – how do you feel about that now?
I touch very briefly on that in the notes [in the CD booklet, excellent] when I talk about Franz Strauss, because we now have the view of what the horn is, and these pieces might give a slightly different perspective; but I agree, that's why we all took up the horn, and I think that's the universally appealing, romantic, deep sound, and Brahms understood that immediately. But what's interesting about Brahms is that he often preferred the natural horn because it got closer to that, and probably in the 19th century – I've only just thought of this since you said that – maybe the whole development was about finding the esence of what the horn is in the romantic era. And now you can buy horns that are much harder to miss notes on. I think I could play on those because I've got my own job and I could just decide what technology I wanted, but I wouldn't let any of my students play them. Because it's not what the horn is – some of the beauty of it is to do with the struggle. The natural horn is of course much harder than the modern horn, but then when you do manage, it's that much more beautiful as well. Actually, that's bad advice, better not think that [big laugh].
When you were studying, was there a particular sound you were aiming for, or you were told to aim for by your teacher?
I could be swayed a bit more easily at the time. And like a lot of people I took up the horn because of Dennis Brain, and that sound – you couldn't really be employed making the kind of sound he made. Well, you could as a soloist, I suppose, but you would be out on the lunatic fringe. Which might be quite nice. Then my problem, or my luck, is that I feel inspired by different orchestras and different players in different repertoire, so I don't have any idol for every single piece, and maybe half my problem but half my success has been searching to the n-th degree for a particular way of playing a particular composer with a particular sound.
But that's the ideal, isn't it, it's about the music and not about the player...
Exactly. But some of my teachers were astonishing. Anyway, I love listening to the Vienna Phil playing Mahler, I love listening to the LSO playing Mahler, then probably hearing the Scottish Chamber Orchestra in a Mozart symphony
There are lots of orchestras doing brilliant things all the time but I have my particular tastes. It's funny because sometimes orchestras ring you up and offer you work, or even offer you a concerto, and they don't say we'd like this concerto, or this patch of work is this composer, and you think, I don't know if I want to do this, because what if it's my least favourite Shostakovich symphony with nothing to do in it, or what if it's Mahler Nine, that seems crazy to me. At some point you've got to earn money, but I'd quite like to earn money and pick and choose my favourite music.
Next page: on future options, the music not the player, and more on the choices of horns and pianos
You pick and choose the bands you play with now, don't you?
To a certain extent. You have to specialise, and it wouldn't have been appropriate for me to attempt to play Mahler 5 with a big symphony orchestra in the week I was recording all these funny instruments in Cologne, it's not compatible. And I specialised because I thought there was still something to be said there. Maybe when I need to have an easier life, or rather go back to a more standard career path, or just enjoy being given whatever's going, I will.
Because just even logistically, let alone in terms of practising with these horns this project was absolutely crazy. We went to Holland to two different cities to find the instruments and then got them sent to Cologne, and then they needed someone there to tune them almost every minute of the day, and then one of them was beyond the capabilities of this specialist tuner, so we had to have a different specialist tuner for the later one, and then Alasdair [Beatson, the pianist] had to learn to play on four pianos he'd never come across before, a few days before in Holland. Then it's one thing to play four different horns, and another to play them back to back because they all blow in a slightly different way, and the intonation of each has little idiosyncrasies, and when you finally start your muscle memory kicks in and you're relaxed, then it's the next session and you're playing a different one. So I don't think that's sustainable for me to do something that crazy all the time, but for the sake of the recording I wanted to do something ambitious.
And to add to the genuine value of the discography.
Well, that's quite ambitious, isn't it. I wouldn't like to be quoted on that, but I try to do something worthwhile, I'll at least let myself say that.
The fact that you go into making sure the pianos are different too, that adds to the higher level.
Absolutely. But they're crucial to the sound, too. We discussed – I mean, I don't believe in authenticity per se, but those pianos work so much better with those horns. It's a bit of give and take, because you develop your own interpretation based on both instruments. You don't have a eureka moment. We didn't go round trying out different pianos and saying, yes, it works on this one, it's a more flexible thing.
But Alasdair Beatson had to try them out first...
Yes, there are certain ones that suit him. There are plenty of fortepianos from around 1800, and there are quite a few pianos from about 1899 to 1910 which are similar to modern grands and still sound beautiful, you can find them even if they're not in very good nick. But to find really brilliant instruments from about 1810 to 1890 is really hard.
Alexander Melnikov's recorded Brahms on a mid-19th century piano [an 1875 Bösendorfer], it does sound distinctive.
He's done some great stuff. The Brahms Trios – some people are playing them at such a high level on the horn, and those pianos are so beautiful. So that's already begun. But it seems quite a messy thing to fiddle around with these instruments. There's so much variation in the technology. But there's also so much variation in the music. It doesn't matter what your philosophy is on music and historical practice, but if you make each composer sound as different as possible from one another, then surely that's a positive. (Pictured below: Beatson and Frank-Gemmill)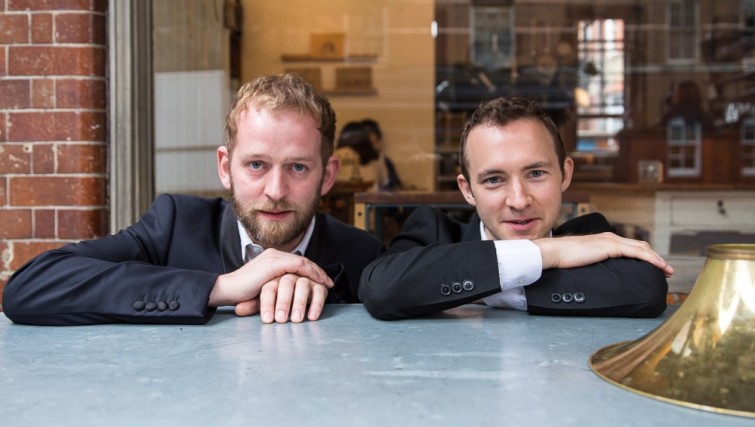 You're always going to make it sound good whatever that means to you, that's fine – that's your stamp that you put upon it, but sometimes I feel with the more conservative orchestras at the moment, it seems to have been the case for the last 30 years, sometimes it just sounds the same. Brahms and Shostakovich are utterly different, yet those two are played the same way. Arguably Shostakovich wanted to sound like Brahms, but I don't think so, and certainly not vice versa. Beethoven's not Brahms, Wagner and Stravinsky aren't Brahms, and actually a lot of Brahms begins to sound like Stravinsky if you're not careful. And all that stuff leaves me very cold, so this kind of fiddling around with my solo work is a sort of antidote.
I'm thinking as we're talking, there used to be "the Karajan sound", and that was very much a conductor's style. You don't have that so much now – someone like Robin Ticciati [chief conductor of the Scottish Chamber Orchestra] is so careful about...
Success with different sounds, yes. I think that's why it's worked so well with the SCO, because he has this broad historical but also general sound palette, and he has never ever said to me, can we make that more standard, never has he tried to normalise the sound, and I respect him so much for that. Because you can be doing an obscure concert somewhere with just a few winds, and suddenly you're doing something absolutely magical. For us anyway it was just a sudden click when it sounded really good. Of course that only means something to us – and the audience, probably...
Even if they don't know exactly what they're hearing, they'll still respond to the freshness of the approach. But I'm thinking there are conductors of the younger generation now, who are much more style-sensitive, and quite often in interviews the answer will come up, "I don't want to make a particular sound, I want to be sensitive to the style of the work I'm conducting right now". Mackerras was always sensitive to different styles.
It's been a funny thing for me, especially when I was on the [BBC] New Generation Artists scheme, there's a lot of emphasis on talking about oneself, and as a horn player just talking about the horn as a thing, and unfortunately perhaps for some people I've always wanted to do something that makes sense to me personally and that's what's interested me about music, and it's probably been set up by joining the SCO because they've always had this interesting historical mish-mash of using old instruments in the brass with new instruments elsewhere, but nevertheless with some Mackerras-informed style. I think people were expecting me to say, yeah, the horn's really good, and I'd like to talk about myself, when I wanted to talk about the music. And that's nice where we can have this sort of interview. But I would hate to turn people off because it's too complicated.
Obviously you cannot actually do a recital like the one on the disc because of the different pianos. Would you do it if it was just a question of changing horns, or would that also be too much of a challenge?
You mean if we were doing it in a museum and it were possible to move to four different parts? I think I'd only do it for a massive amount of cash. Because I'd have to give everything else up. I'd have to have a few intervals, actually. I am doing a tour with Lorenza Borrani the leader of the Chamber Orchestra of Europe and – I think – Melnikov, doing the Brahms Trio which is on the natural horn and then Schumann Adagio and Allegro which is on rotary valve horn, so that's one change. And with SCO I've occasionally changed twice. But often if it's orchestra it might be easy, whereas none of these solo pieces play themselves. So I think one change is my maximum with solo stuff. A cleverly timed interval, too.
It's a little bit more controversial, we get a little bit more money for playing natural horn in the SCO and I think some colleagues wonder why, but I once did a tour with the Siegfried Idyll as the first piece, then a Mozart piano concerto, then Beethoven Six on the natural horn in the second half. And I had to get to the hall every day – I think there were 15 concerts – start playing the natural horn like mad then after 20 minutes, change to the modern horn to play the Siegfried Idyll, so that I was just enough accustomed to the modern horn but not so much that my body couldn't remember the natural horn. And I thought, I ought to be paid much more for doing that.
Don't the fourth to eighth horns in Bruckner get paid more for switching to the Wagner tuba? Have you played the Wagner tuba?
Only once, at university. It's easier than playing old horns, so I have no fear. It's easier, but the expectation is not for you to make such a beautiful sound.
Isn't pitching a problem?
Yes, just because you don't have your hand in the bell, or it's just the shape of those enormous bells, and the pitch is very wide so you can go very wrong.
I remember Chris Larkin when I ran a course linked to the BBC Symphony Orchestra came along with several different instruments, and the difference between the Vienna horn and the others was very striking.
He's got a fantastic collection. If I lay this disc down and someone would like to do a recital like that, I'd love it. I'm just not sure I'm the person to do it just because – most people play just one modern horn, and if you give them another they make a complete mess of it, and those are very similar instruments, and what we're talking about here is hand positioning, mouthpiece, everything changes.
It's an interesting situation for you, because there aren't many horn players who've made a solo career without playing in orchestras.
Almost none. Even the ones that do have all spent at least ten years in an orchestra.
And Dennis Brain was in the Philharmonia.
He worked ridiculously hard.
A solo career wouldn't be nourishing enough, would it?
No. You could teach half the time, especially if you were in Germany with a professorship. For me, I wouldn't find it musically nourishing enough. I love those pieces and I love presenting them in my way, and it was a dream to do this with the old instruments, and hats off to the Borletti Buitoni Trust who put the money up for this, I'm so grateful. They basically sent me an email saying, if we were to give you money, what amazing projects would you do? And I realised, I'd never thought about this before but now I have to. So the guilt went out of it and this was one of the things at the top of the pile. All that said, there are amazing pieces where the horn is involved, just not as a soloist, I couldn't not play them.
Actually, now because I did chamber orchestra and then quite a lot of solo, I might end up doing bigger and bigger stuff, because since being a student or my early freelancing, I haven't done the big symphonies. I'm not really set up for it at the moment but maybe just gradually I'll do that, because I've never played in all the Bruckners or Mahler Six, which seems a real shame – you can't be a horn player and not have done Mahler Six at least once. You can't, can you?
Share this article