Proms at & Prom 56 reviews: Multi-Story Orchestra / BBCSO, Hrůša - the best of all possible worlds |

reviews, news & interviews
Proms at... & Prom 56 reviews: Multi-Story Orchestra / BBCSO, Hrůša - the best of all possible worlds
Proms at... & Prom 56 reviews: Multi-Story Orchestra / BBCSO, Hrůša - the best of all possible worlds
Musical revelation in a Peckham car park launches extraordinary day
There we had it, in one extraordinary Proms day: the brave new world of contemporary classical music for all in a repurposed Peckham car park followed by the consolidation of the old order in all-Czech programming of remarkable originality and daring in the evening. You can't ask much more of an art-form thato many are claming dead in the water or not worth wide media coverage than those two sides of the same coin.
Jakub Hrůša's variations on a Hussite chorale with substantial chorus-based interludes, managing to squeeze in the five leading Czech composers, was always going to be a Proms highlight, the one I'd earmarked from the start as unmissable. What turned out to be more surprising was the earlier event in the revelatory context of Bold Tendencies' amazing set-up on four floors of a previously disused multi-storey car park, built in 1983.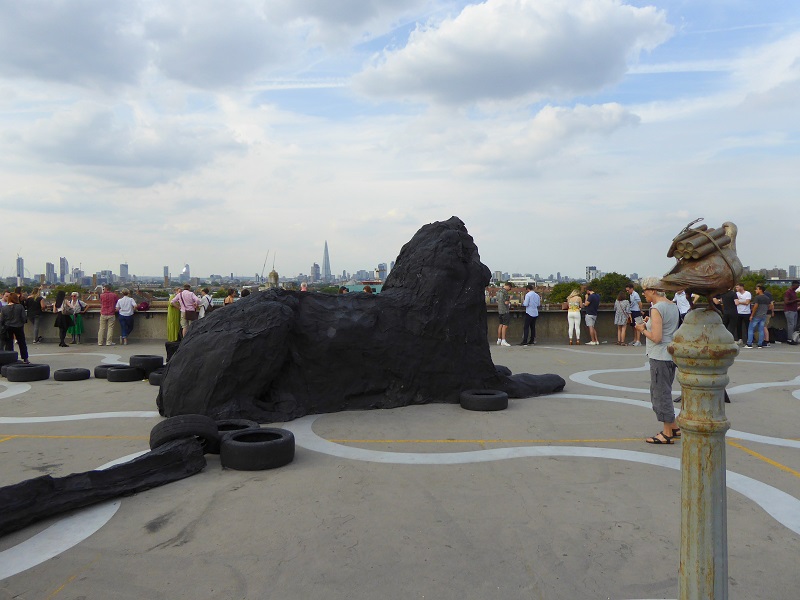 You emerge on to a roof terrace with unobstructed views across to the entire city skyline. Standing guard over it all are the four Trafalgar Square lions in fragile black cinefoil (one pictured right), a recent installation by Polish-born artist Ewa Axelrad called Let's Go. Yes, let's go. (They do not move). There are giant wigs installed on four lamp-posts by Isaac Olvera, with a different real-life story to tell about Natasha Fuentes Lemus, and a splendid bar and eatery at the other end. Passing a successful homage to Derek Jarman's Dungeness garden, you descend a level to the concert space.
It works, both acoustically and visually: with views still open to other side, you never forget you're in a high place, which helped with the levitational aspects of John Adams' Harmonielehre – all 40 minutes of it, a layered and, in its middle movement "The Anfortas [sic] Wound", thorny symphony that nearly everybody in the packed audience stayed to hear through to the end. Adams has surely never had such an audience of all ages and ethnic backgrounds; I wish he and his co-visionary Peter Sellars, leading apostle of the arts for everybody, could have been there to witness it. What a splendid job Christopher Stark and the Multi-Story (no "e", get it?) Orchestra made of this shimmering, always dynamic and journeying epic.
The machine-age dimensions harmonised well, too, with the atmospheric chunter of trains entering and leaving Peckham Rye station. One came into play as chilling epilogue to a wholly effective community piece by MSO co-founder Kate Whitley, I am I say, involving one hundred local schoolchildren to voice a plea for environmental care. Two-thirds of the text was by Sabrina Mahfouz; the children had created the last, perhaps even the most moving wordwise. Singing the unison lines from memory, the kids had a breather in the intensified passages for committed soprano Ruby Hughes and bass-baritone Michael Sumuel, but returned for the apogee of their joint creation. There was a delectable preface, too, in the shape of Granville Bantock's arrangement of Bach's famous Chorale Prelude on "Wachet auf", violins rich and suave in lower register. Sheer joy, as well as a bit of necessary disquiet for our troubled world, from start to finish, and there was no compulsion to hurry away afterwards.
The voices kicking off the evening Prom were very much those of grown professionals, the men of the BBC Singers, sounding so authentic in the 15th-century Hussite choral "Ktož jsú boží bojovníci" ("You Who Are Warriors of God", pictured left in a manuscript) that I had to check there weren't Czechs in there too (there weren't. And a Czech friend who tuned in from Prague assured me that this was the best singing of his language he'd heard from a non-native choir).
Following last weekend's Reformation Day into Czech territory, the chant then resonated through three of the five main works on the programme. Smetana set the trend in the Bible of Czech musical nationalism, Má vlast (My Country), a speciality of Jakub Hrůša (pictured below) which he's recorded successfully with his Bamberg Symphony Orchestra – they open next year's Prague Spring Festival with it – and is performing with the Philharmonia in the autumn. The chant kicked off, in exactly the same minor key,the Hussite portrait of the cycle's fifth number, "Tábor", and battled it out in the finale on Blaník hill, resounding in a victory to crown the whole of Má vlast.
What's most fascinating both here, in Dvořák's indebted Hussite Overture and in Josef Suk's Prague, is the vein of an almost fantastical lyricism for contrast. Smetana has a pastoral idyll wonderfully taken by the BBC Symphony Orchestra winds, Dvořák can't help a touch of supernatural moonshine at the heart of his national celebration, and Suk co-opts a gorgeous love-theme from his incidental music to a play also engaged in the four winsome movements of Pohádka (A Fairy-Tale). You often feel with this ever so slightly lesser Czech composer that it's all struggling to consummation, but Prague eventually delivers with an apotheosis that at last brought in the Royal Albert Hall organ for the ending a second night running (Respighi's The Pines of Rome being the predecessor). All three works could ramble in lesser hands, but Hrůša's muscular drive, allied to utter focus and a care for colour which echoes that of his late, lamented teacher Jiří Bělohlávek, kept it all wondrously alive.
Though this Prom was planned before Bělohlávek's untimely death, the BBCSO players were in effect commemorating his work with them. It was hard not to remember him through tears in the fervent originality of the big chorus in the second part of Janáček's The Adventures of Mr Brouček – oh, how we wanted more – and impossible to avoid meeting his spirit in the rigorous heartbreak of the evening's deepest homage, Martinů's Field Mass. Composed in 1939 when Martinů realised from his Paris home that he might not see his country again – pushed onwards to American exile, he never returned to live in the homeland – its unorthodox ensemble of selective wind, brass, harmonium, piano and lavish but carefully-deployed percussion alongside the baritone soloist and male voice choir was geared to performance on the battlefield by the Free Czechoslovak Army. Surprising that it should work so well in the Albert Hall – I first heard it here, encountering Martinů for the first time, in 1982 – but there was an uncommon dedication from all concerned, especially from the BBC Symphony's superb resident pianist Liz Burley who glittered and churned in some of the work's most unearthly moments.
As always with later Martinů, though, there's a core of simple but deep humanity. Here it went deepest in the chorus's sudden explosion of harmony – significantly at the point Jiří Mucha's text evokes images of the soldiers' "distant homeland". The last few minutes form one the 20th century's great, ambiguous musical epilogues, as a tattoo of drums fades away, leaving the chorus alone on a final "Amen". It would have been riches enough if the concert had ended here, or even after the celebration of Smetana's conclusion; but I'm glad it went on to introduce us to even more of Czech music's inexhaustible riches.
Listen to Proms at...Bold Tendencies Multi-Storey Car Park on the BBC iPlayer here and the Czech evening programme here
Next page: watch a short profile of Kate Whitley including footage of I am I say
Kate Whitley profile with scene of I am I say being performed in the multi-storey car park
rating
Explore topics
Share this article