Victoria and Abdul review - Judi Dench's Queen Victoria retread battles creaky script |

reviews, news & interviews
Victoria and Abdul review - Judi Dench's Queen Victoria retread battles creaky script
Victoria and Abdul review - Judi Dench's Queen Victoria retread battles creaky script
Little-known slice of history is briefly charming and then a chore
Friday, 15 September 2017
The charm quickly palls in Victoria and Abdul, a watery sequel of sorts to Mrs Brown that salvages what lustre it can from its octogenarian star, the indefatigable Judi Dench. Illuminating a little-known friendship between Queen Victoria in her waning years and the Indian servant, Abdul Karim (Ali Fazal), whom she invited into her inner sanctum, the busy Stephen Frears and his screenwriter Lee Hall could use considerably more of the incisiveness and wit that made Frears's similarly royalty-minded The Queen soar.
Instead, we get a characteristically deft character portrait from Dench, marked out by an utter lack of vanity, that is compromised by the faintly risible approach of a screenplay that treads with a heavy step indeed.
Is it because the movie has an understandable eye on the overseas market that the Brits on view all wander about saying "top hole" and "bloody hell" at every opportunity, even as Karim is given a sidekick (Adeel Akhtar) whose attempted levity mostly makes one cringe? (At least Akhtar's ever-sceptical Mohammed knows a good mango when he sees one.) Few would dispute the plea for tolerance and acceptance implicit in every frame – a monarch befriending a Muslim: imagine! – but greater rigour all round might have added a spine which Dench alone supplies.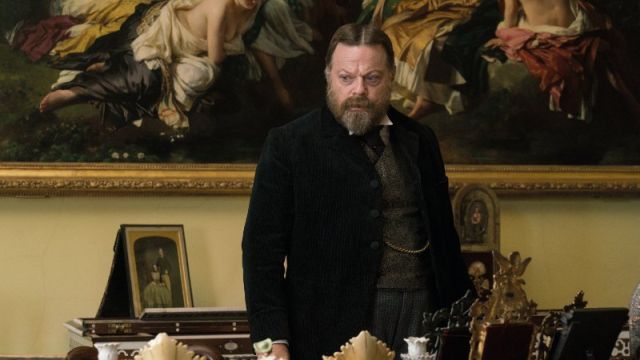 Britain's most beloved senior actress became a movie star, of course, on the back of Mrs Brown, which launched an Oscar-friendly film career. This Victoria redux finds the queen older and starchier and in need of the easy warmth and amity proffered by Abdul, a 24-year-old (and married) clerk who in 1887 gets dispatched from Agra to Britain to present Victoria with a newly-minuted mohur, or ceremonial gold coin.
The two lock eyes at a formal banquet and something is kickstarted deep within the heavily cloaked royal, who is given lines like "we're all prisoners, Mr Karim", lest we fail to appreciate that presiding over an empire isn't necessarily great fun. So while her family and retinue bitch and moan about how this isn't the done thing (Olivia Williams's Baroness Churchill dismisses Abdul as "the brown John Brown"), Victoria makes of Abdul her munshi, or secretary-cum-teacher. Before you know it, the two are walking arm-in-arm and old Vic is proving a dab hand at Urdu, leaving her son and heir, Bertie (Eddie Izzard, pictured above), to furrow his brow with such intensity that you wonder whether Izzard's face might seize up altogether.
One senses beneath it all the rebuke to Brexit-era Britain that courses through the depiction here of high society at its most straitened and blinkered, Victoria an expansive-looking visionary engulfed at home by bigots. As anticipated, Dench does brilliantly by her big set piece late-on, in which she defends her sanity while cataloguing the various other qualities and infirmities that she may or may not possess. (Were this a play, the moment would generate spontaneous applause.)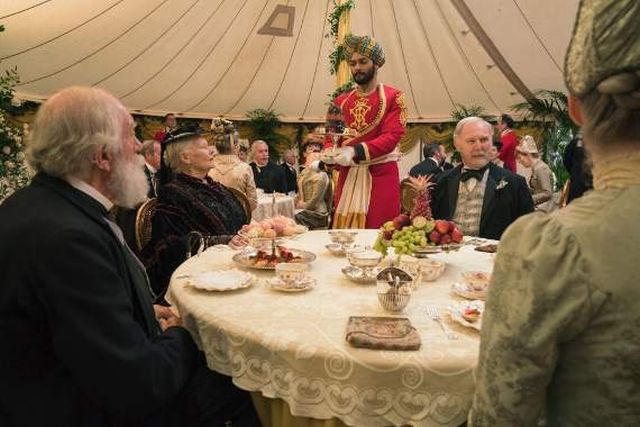 Elsewhere, the movie seems determined to be a sort of de facto "This is Your Life" for its star, who gets to revisit not just the queens she has assayed over time, Elizabeth 1 and Cleopatra included, but is given a jolly Room with a View-style jaunt to Florence. While there, she and Abdul encounter Simon Callow, no less, having a high old time as Puccini, and Dame J does her best to trill a phrase or two from Gilbert & Sullivan.
In casting terms, no one besides Dench gets much of a look-in, the sweet-faced Fazal, a Bollywood star at home, functioning mainly as an enabler for his senior colleague and not much else. The English supporting cast includes such notables as Michael Gambon, whom it is always nice to see onscreen given that he no longer works on stage, playing a tetchy Prime Minister, not to mention the late and much-missed Tim Pigott-Smith as Henry Ponsonby, the queen's private secretary (the two men pictured above). But the movie such as it is belongs to Dench, who at this point in her storied career deserves better, and when Frears's camera homes in on the queen breathing her last, one is reminded anew of the gifts of an actress whose talent, happily, remains timeless.
Overleaf: watch the trailer for Victoria and Abdul