Mary Stuart, Duke of York's Theatre review - superb teamwork from Juliet Stevenson and Lia Williams in Schiller's thriller |

reviews, news & interviews
Mary Stuart, Duke of York's Theatre review - superb teamwork from Juliet Stevenson and Lia Williams in Schiller's thriller
Mary Stuart, Duke of York's Theatre review - superb teamwork from Juliet Stevenson and Lia Williams in Schiller's thriller
Robert Icke's production reaches the West End with Juliet Stevenson and Lia Williams tossing a coin to see who plays which queen
Casting decisions do not usually make gripping theatre. But in Robert Icke's version of Friedrich Schiller's 1800 political thriller, newly transferred from the Almeida to the West End, settling the question of which of two actresses will play the title role and which her nemesis, Elizabeth I, is an edge-of-the-seat moment night after night. Heads or tails? Before the entire assembled cast, the spin of a coin (a sovereign, of course) decides it. And with the result shown on screens that flank the stage, the audience is the first to know.
At Wednesday's matinée, Lia Williams loses the call (pictured below), and in a blink the supporting cast have dropped to one knee in reverence to her opposite, Juliet Stevenson. The removal of Williams from the stage – brutally stripped of her jacket and shoes – follows swiftly. At the point the play begins, Mary has already spent 19 years as a prisoner, incarcerated at bleak Fotheringay Castle for fear that she will lead a Catholic revolt and usurp the English throne.
That silver sovereign isn't just a useful way of keeping the production fresh and the cast on its toes. It's also a metaphor for Schiller's treatment of these two remarkable figures from history. Despite their obvious differences – Catholic/Protestant, four-times-married/virgin queen – the play reveals them to be two sides of the same coin.
Icke's production amplifies this by giving them identical mannish haircuts and velvet trouser suits. Both have to fight to hold their own in a man's world. Both are passionate, intelligent, acutely aware of the random accidents of birth that placed them at opposite poles on the political spectrum, yet which also made them kin. One is imprisoned by high walls, the other by royal status, "a prison cell with jewels". Thanks to the alternating casting, they conceivably are, in Mary's words, "sister queens" who intimately know each other's minds.
Yet, as an account of events as they happened, Schiller's text is unlikely to help anyone pass their History GCSE. Not only does he use speculative gossip as a key engine of the plot (the Earl of Leicester's romantic entanglement with both queens, no less), but he imagines a major event that certainly did not happen. Yet so brilliantly does he dramatise the fanciful face-to-face encounter between the two women that a poetic truth emerges.
The same might be said of the added tissues of fiction in Icke's production, which is very much a "version" rather than a translation. In the moments before her execution, as Mary prepares to meet her maker, she receives the last rites from a secretly ordained priest – here played a woman. Icke clearly wanted to contrast the warm, female support around the doomed but radiantly resigned Mary with the chilly male courtiers who leave Elizabeth high and dry to bear the guilt of regicide. A female priest is surely no more unlikely a sight on a London stage than an Afro-Caribbean courtier, yet interestingly it triggered what sounded like barely stifled disbelief around the stalls.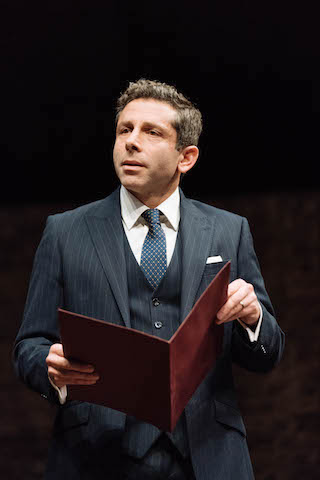 Elsewhere, too, Icke finds contemporary resonance in spades. Just because a thing is popular, does that make it right? This is the crux of Elizabeth's dilemma. The duplicity and back-stabbing among Elizabeth's courtiers are pretty familiar too. Icke has one of them describe another's actions as "flip-flopping" to drive home the point.
While it's easy to laud the female leads in this production – Stevenson and Williams are equally affecting in their steel and vulnerability – it's harder to love the supporting men (roughly half of them new to this transfer). Trussing them in tight-fitting, single-buttoned suits gives them a physical awkardness that is almost certainly intended. In Elizabeth's day, of course, they would have vied with each other to sport the most flamboyant cuff or ruff. Instead, that rivalry shows itself in oily manners and a nervy awareness, every time each of them opens his mouth in Elizabeth's presence, that it could either make or break him.
Elliot Levey (new to the cast, pictured above) is superb as Elizabeth's advisor-in-chief Lord Burleigh, a man who cloaks his hatred of Catholics in seeming reasonableness, and whose cocky "I know more than I'm telling" rise of the eyebrow on every exit becomes increasingly chilling. John Light grows convincingly frantic as his own multiply double-crossing plots begin to ensnare him, while by contrast Michael Byrne's ancient Yorkshireman Lord Talbot is a lone voice of genuine kindness in Elizabeth's ear.
Hildegard Bechtler's bare set has transferred well, its doubled curve of brick castle wall looking suitably permanent and stark at the Duke of York's – you almost feel its winter chill. Yet the extravagant closing sight of Gloriana in her pomp is just as savage. This is a piece of theatre that lets no one off lightly. Even Paul Arditti's sound design, a persistent low hum of tone clusters, seems designed to make you ultimately want to howl.
Mary Stuart at the Duke of York's Theatre until 31 March
Overleaf: Robert Icke's dazzling career so far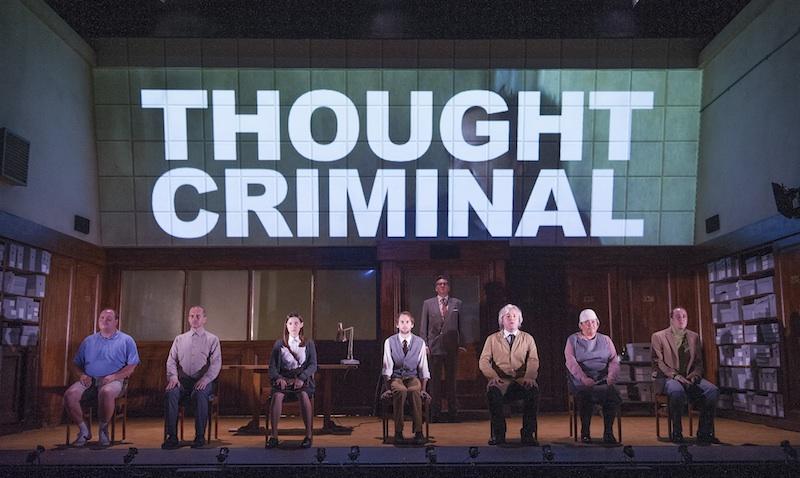 ROBERT ICKE: HIS CAREER SO FAR
Boys. Ella Hickson's new play is fuelled by testosterone but floats on nuance
Mr Burns. A startling vision of a post-apocalyptic world dominated by The Simpsons
1984 (pictured by Tristram Kenton) Headlong's adaptation of George Orwell's novel is a theatrical coup
Uncle Vanya Icke's lengthy revival/reappraisal is largely a knockout
Oresteia. Lia Williams stands firm on the bones of Aeschylus in uncertain makeover
The Red Barn. David Hare's latest is a superb adaptation of a Simenon thriller
Hamlet. Dislocatingly fresh makeover finds new truths in old words in this captivating production starring Andrew Scott