DVD: Jupiter's Moons |

reviews, news & interviews
DVD: Jupiter's Moons
DVD: Jupiter's Moons
Hungarian sci-fi, philosophical medley proves a rough, rewarding ride
There's a terrific drive to Kornél Mundruczó's Jupiter's Moon, a cinematic powerhouse of both technique and ideas. The maverick Hungarian director's film, which premiered in last year's Cannes competition, may occasionally bewilder – such is the spectrum of subjects upon which it touches – but rarely fails to impress.
The energy of its opening takes us right into the frantic disorder of Europe's refugee crisis, as an attempted border crossing – a rush from a crowded lorry onto boats – is intercepted by troops. A single figure flees, only to be felled by gunfire, before rising into the sky in a whirl of levitation: in a moment Mundruczó has stepped away from realism into its magical variety. His young hero is Aryan (Zsombor Jéger, doleful, soulful), a Syrian refugee separated in the confusion from his father, whose bewildered negotiation of the new world that he has entered, one that will prove far from kind, provides the film's sometimes surreal journey.
The youth's new ability has not passed unnoticed. He's pursued by the same security forces that failed to apprehend him, while falling into the care of refugee camp doctor Stern (played by Merab Ninidze, the Georgian actor last seen in the BBC's McMafia, as pale as ever, pictured below with Jéger). The latter, with his own murky associations and a past to expiate, becomes something of a father-figure, though his motives – to hawk these miraculous talents around ailing patients, refreshing them with some new, transcendent wonder – are initially mercenary. But a closer bond gradually establishes itself between these two lost souls, despite the hesitant English that is their only means of communication (it's a somewhat "Europudding" combination not enhanced by some haphazard doubling).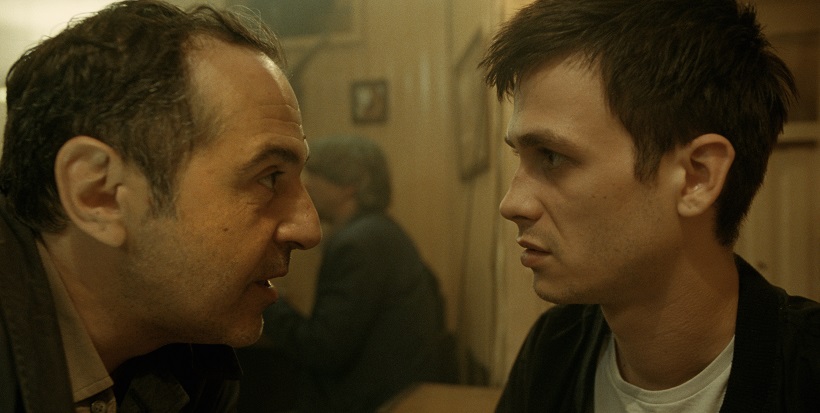 Mundruczó and his co-writer Kata Wéber dial up the mystical element as the levitation scenes – they may not have quite the same angelic connotations as Wim Wenders' Wings of Desire, but they're not far off, either – bring religion into the equation, with Aryan (son of a carpenter, no less) pitched as a contemporary Christ figure. The world he has possibly come to redeem is sorely in need of said treatment, including a presentation of contemporary Hungary's political extremism (as incisive as it was in Mundruczó's previous film, the canine-themed White God), plus a plot cross-strand (ultimately rather extraneous) involving terrorism.
Technically it's all extremely accomplished, from the levitation elements – what a long way a little CGI can go – to a terrific single-take car chase through the streets of Budapest, and a shape-shifting interior scene that surely riffs on Christoper Nolan's Inception, all the product of outstanding cinematography from Marcell Rév. But all such invention on big visual elements would be nothing if the director didn't convey the micro-mood of his world so well: its theme colour is a sickly nocturnal yellow, Mundruczó's characters pallid and clearly still dealing with the traumas of the 20th century as well as the issues that the new one has brought. It's a potent and somehow very European cocktail – the title's allusion is to a planetary moon, apparently a cradle of possible new life forms, that is named after our continent – from a director who is never afraid to set his sights as high as his characters fly.
Overleaf: watch the trailer for Jupiter's Moons