10 Questions for Musician Malcolm Middleton |

reviews, news & interviews
10 Questions for Musician Malcolm Middleton
10 Questions for Musician Malcolm Middleton
The Scottish songwriter talks music, books, musicals, Brighton and much else
Malcolm Middleton (b.1973) is a Scottish singer-songwriter whose music has a devoted fanbase. Instead of the faux-vulnerable, non-specific, sub-Jeff Buckley flannel touted by many of his contemporaries and younger peers, Middleton's work is grounded in the physical grit of the everyday, boasting a social realism underpinned by mordant humour and, often, heartbreaking emotion.
Middleton first came to the attention of music fans as a member of pithy indie observational duo Arab Strap with Aidan Moffat. By the time they wound down in 2006, he had already launched a solo career defined by literate, downbeat indie/acoustic songs. He released five albums in this vein then changed musical direction, swerving into the more abstract, experimental Human Don't Be Angry project. In 2014 he made the foul-mouthed, funny Music and Words album with the artist David Shrigley, and in 2016, after a seven-year break, he released a new solo album, Summer of '13, only this time bedded in his own brand of off-kilter electro-pop.
Shrigley is guest director of this year's Brighton Festival and has invited Malcolm Middleton, one of Britain's most talented but undersung songsmiths, to perform a rare solo set on Thursday 24 May. To celebrate this coup, theartsdesk caught up with him, snowed in at home in Anstruther, Fife. His first words were these: "As long as there are no questions about music we'll be fine."
Listen to "The Ballad of Fuck All" by Malcolm Middleton
THOMAS H GREEN: Are you and David Shrigley friends?
MALCOLM MIDDLETON: We did the album in 2014 but we've been mates for longer. He did the artwork for my album A Brighter Beat in 2007 (pictured below right) so we've known each other since then. I originally got in touch with him because I liked one of his photographs and wanted to use it for an album cover. I emailed him and he came round. The plan was to do a new piece for the album cover and we tried a few things but I wasn't really into them so we went with the balloon image.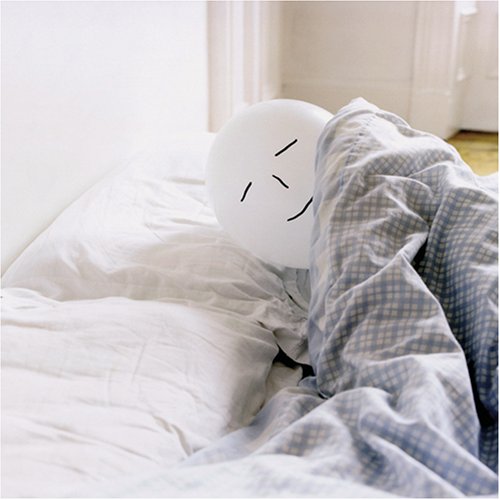 What are your plans for the Brighton Festival show?
It won't be anything unique. I don't do unique. He's asked me to come down and play an acoustic show of my songs.
I thought you'd knocked acoustic shows on the head?
Did I say that? I probably did. I think that was back in 2009-10. I got a bit sick of it so I did some Human Don't Be Angry stuff and the David Shrigley record, then I did my half-electronic album a couple of years ago, so I certainly knocked it on the head for a while, but in the last year I've been picking up the guitar a bit more and enjoying it. Saying that, I'm just going into the studio to record a new album which is song-based, but apart from this Shrigley thing in Brighton I'm not really into the idea of playing the songs live too much. Sitting on stage with an acoustic guitar doesn't really thrill me. Even though I've done the record I'm not too much into doing live stuff.
But on a practical level isn't that how you earn money?
Not really. It can be. I like writing songs and recording them but I don't like performing them. I'm trying to think of other ways to do music that isn't sitting with my guitar on stage.
I recently bought a 2004 7" single of yours, "Ryanair Song/7" Cigarette", that isn't on any album. How did that come about?
I have fond memories of that. A guy called René over in Amsterdam had this label, Nowhere Fast Records, and he wanted something original after my first album came out. They were songs that were quite throwaway and "Ryanair Song" was quite funny and youthful, even though I wasn't that young. They sound raw because they were recorded in my house… badly.
What is your impression of Brighton?
There isn't anything much I can say, on the record. The first time I went was in '96-'97 when we [Arab Strap] supported Gorky's Zygotic Mynci, or maybe it was Mogwai, Last summer Arab Strap played there and we had a day off so we went down the beach; however, we'd come straight from Scotland and weren't dressed for sun, sitting there in black jeans and black shirts.
Listen to "Solemn Thirsty" by Malcolm Middleton
What book are you currently reading?
Oh God, do I have to say? I'm reading a book called How to Stop Time by Matt Haig. My wife gave me it. It's a Sunday Times bestseller which I wouldn't normally pick up because it's got an introduction by Richard & Judy but I'm enjoying it as throwaway pulp. It's kind of a thriller about a guy who doesn't age very quickly.
For your last solo album. Summer of '13, you worked with the electronic artist Miaoux Miaoux and it was a much more synth-led work than anything you'd done before. Will we be seeing more of that?
I hope not. There are a couple of songs on my new solo album that are electronic things but I'm trying to stay away from it. It's always hard talking about your previous release because you need 10 years to go back to it and warm to it. Right now I'm not that keen on it but at the time I remember thinking it was good, just before I released it. After that, it involved me learning how to play keyboards for about three months, fiddling about with leads and stuff, which I didn't enjoy, so I've knocked all that on the head.
How would you feel about a jukebox musical being made from your songs?
I'm not sure that's possible. The songs don't have that vibe where they could be played at family fun days. I don't have a repertoire of happy songs so people sometimes book me but then look at me as if to say, "Why are you playing these songs?" while I just think, these are the songs that I write. I can't imagine there being any need for a musical or it being that popular. You think of a musical being something to go and see and enjoy and I don't think my songs are about enjoyment. Maybe some of the songs… maybe you could look into that and come back to me…
Finally, when you look at the drawing of you on the album Waxing Gibbous (pictured above left), do you like it?
No, no, but, also I can't not like it, it's of its time. It's better than the first version which looked a bit more like Frank Bruno. I like it, it's funny. I showed my son it and he didn't even know it was me, didn't recognise it. I like the way the art was done but its certainly not an iconic cover.
Overleaf: Watch Malcolm Middleton perform "Autumn" live