Under the Wire review - risking everything to tell the world the truth |

reviews, news & interviews
Under the Wire review - risking everything to tell the world the truth
Under the Wire review - risking everything to tell the world the truth
A brave woman died for believing she could make a difference
Wednesday, 05 September 2018
She was "the most important war correspondent of her generation", says Sean Ryan, her editor at The Sunday Times. And her colleague Paul Conroy describes her as "a complete and utter one-off – exceptionally driven, with a real sense of purpose". These tributes are for Marie Colvin, who was killed by President Assad's forces on February 22 2012.
Conroy was on assignment with her when she died. He was badly wounded in the attack, but escaped from Syria to write the book which forms the basis for Under the Wire. Speaking directly to camera, he tells the gripping story of their illegal entry into the country to cover the siege of Homs. His account of events over the following days is so vivid that you feel as if you were there with him, experiencing all the excitement, fear, noise and confusion.
She felt she had betrayed the people of Homs by agreeing to leave
Most foreign correspondents considered the war in Syria too dangerous to cover; but Colvin and Conroy (main picture) had other ideas. Denied a visa, they smuggled themselves over the border from Lebanon. "Being a war correspondent is about what people are going through," Colvin had said, and she was determined to report on the carnage being wreaked on the hapless civilians trapped in Homs by the Syrian army.
Director Chris Martin has recreated their perilous journey from Beirut. After several nights of "being passed from one shadow to another", it ended with a hike through a mile-long storm drain. This was the only way into Baba Amr, a poor suburb of Homs where 28,000 civilians were being subjected to constant bombardment. "It wasn't war, it was slaughter," recalls Conroy. "It was impossible to go out in the street because it was raining shells and missiles. And Assad's snipers were on all the tall buildings."
They managed to visit "the Widow's Basement", a dank cellar where dozens of women and children had taken refuge from the bombs. We see Colvin interviewing them for an article that featured with Conroy's photographs on the front page of The Sunday Times on February 19. By then the journalists had already left – forced to go by rumours that a ground offensive was imminent. When the rumour proved false, Colvin was distraught. She felt she had betrayed the people of Homs by agreeing to leave (pictured below: Colvin taking notes in a bombed house in Homs).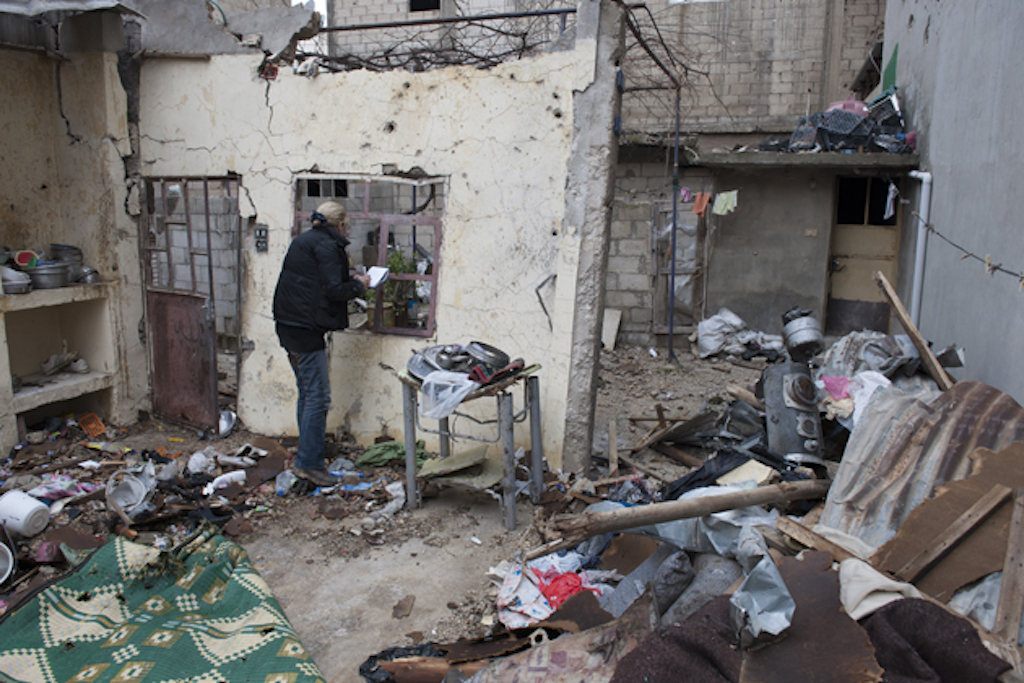 Flashback to 1999 in East Timor, where foreign correspondents were advised to quit a UN compound, when it was surrounded by murderous militiamen. Colvin refused to go and her presence deterred the attack long enough for the 1,000 refugees inside to be rescued. Afterwards she summed up what she learned from the experience: "I thought that journalism can make a difference. It is not in vain."
She had a reputation for falling out with colleagues who were less driven than herself and so were reluctant to take as many risks. Even the loss of an eye from shrapnel in Sri Lanka failed to dampen her sense of purpose. She simply covered the socket with an eyepatch and carried on, wearing it like a badge of honour. And for parties, she sported a black patch decorated with rhinestones. One photographer described her as "scarier than the war they were covering". But Conroy was a former soldier, used to combat, and during a stint in Libya reporting on the Siege of Misrata in 2011, the pair formed a deep bond of mutual respect.
Without an exit stratagem, their chances of escaping the hell hole were not good
Unknown to their editor, they decided to return to Homs, even though Conroy had "a bad feeling" about the possible outcome. He was right, of course. Without an exit stratagem, their chances of escaping the hell hole were not good especially as, according to Conroy, conditions there were "the worst we'd ever seen".
Back in Baba Amr, we see them at a makeshift medical centre where Dr Mohammed "works miracles" without any drugs or anaesthetic. He can only watch helplessly, though, as a baby dies from shrapnel wounds. 'I felt rage," recalls Conroy, "and I knew that, for Marie, this was her story and she was going to go for it whatever the cost. She decided to do as many broadcasts as possible as a plea to the world." In that final broadcast the newscaster asks her: "Why is it important to see these images... Why is it important for you to be there?" She replies: "I feel very strongly that they should be shown. That's the reality. That little baby probably will move more people to think 'Why is no-one stopping this murder that is happening every day?' Every civilian house on this street has been hit. There are no military targets here... the Syrian army is simply shelling a city of cold, starving civilians."
The next day the shelling resumed at 5am; the building where the journalists were staying was hit. Colvin and French photographer Rémi Ochlik were both killed and the French correspondent Edith Bouvier was badly wounded. As he watches the footage, Conroy murmurs: "May God bless your soul, dear Marie. My life will never be the same again."
Shrapnel had also torn a hole the size of a fist in his thigh (pictured above: Conroy recaling his ordeal). He was taken to the medical centre and operated on with only cigarettes to dull the pain. The building, meanwhile, took 10 direct hits. Assad, it seems, was determined to finish them off. They put out an SOS on social media, which was answered by a ceasefire and the arrival of a Syrian Red Crescent ambulance (not the Red Cross that they were hoping for). And prompted by a whispered warning from the accompanying medic, they declined to leave in the regime's vehicle.
On the fourth night, a convoy of cars took them on a mad dash through deserted streets to the storm drain. They came under heavy fire and 20 Syrians were killed helping their escape. A motorbike drove Conroy along the tunnel to a wall of mud that blocked the way. "Tell the world," said the biker as he shoved him towards a small opening at the top. Dragging himself up, Conroy got impaled on a metal spike. "I thought I was going to die, but I had Marie on my shoulder and the people of Baba Amr who sacrificed everything to get me to that point. So I just ripped the staples out and all the flesh and muscle, and fell into a pool of water and some guys carried me on a piece of plastic to the end of the tunnel."
Next he had to crawl across a field to a waiting van. "It was snatching life from the jaws of death," he recalls. "That's where my life began again, in the back of that van. I wanted to tell Marie's and Rémi's story. And those beautiful people who were being slaughtered, I wanted to tell their story. To this very day I carry the weight and responsibility of what I promised. And I'm still doing it; its never going to stop."
One of the most moving moments of this dramatic documentary is watching Conroy's reaction as he sees, for the first time, a film on YouTube of the residents of Homs braving the bullets to demonstrate their thanks to the fallen journalists. Placards reading "We Will Not Forget You" are held high alongside others bearing the names of Marie Colvin and Rémi Ochlik.
The saddest aspect of this story is that Colvin's determination to tell the world what she had seen cost her her life, yet no-one responded to her plea by coming to the aid of the people of Homs. Her bravery and commitment were in vain. This time journalism did not make a difference.
Overfleaf: watch the trailer for Under the Wire
rating
Explore topics
Share this article