What's Love Got to Do With It? review - Jemima Khan's feelgood romcom |

reviews, news & interviews
What's Love Got to Do With It? review - Jemima Khan's feelgood romcom
What's Love Got to Do With It? review - Jemima Khan's feelgood romcom
Lively cross-cultural study of love and marriage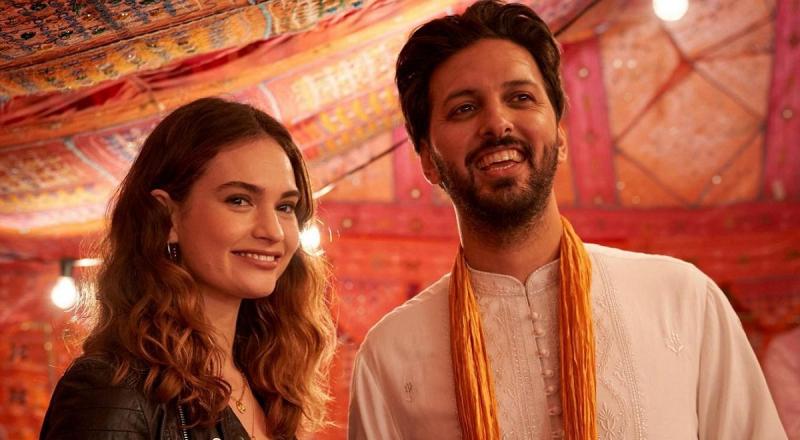 Lily James and Shazad Latif as best friends Zoe and Kazim
Here's a question. A romcom stars a man and woman, friends from childhood, both straight and with no romantic history. He's a Muslim and has decided to pursue an arranged marriage; she has a chaotic love life. What are the odds that they will end up together at the end of the film?
No prizes for guessing correctly. But first-time screenwriter Jemima Khan takes us on a nicely circuitous route to get to that ending, and provides lots of smart one-liners on the way. When Kazim (Shazad Latif) tells Zoe (Lily James) an arranged marriage is now called "assisted marriage", she replies: "Like assisted dying?" It's a line that king of the modern romcom Richard Curtis would have come up with – and it's no coincidence that What's Love Got to Do With It? comes from the same production stable. (There's even a very good in-joke about Love Actually.)
So if we know what the ending will be, what's the big bit in the middle? Kazim, a London doctor of Pakistani Muslim parents, sees that their arranged marriage has been successful so thinks it may be for him too, and before you know it, he's off to Lahore to marry Maymouna (Sajal Ali, who's terrific), a woman he has met only over Zoom. Zoe, a filmmaker, decides to make a documentary about it.
Zoe, meanwhile, goes from one disappointing hook-up to the next, until she meets the nice vet James (Oliver Chris), a meeting set up by her fussing mother, Cath (Emma Thompson).
It's a lively cross-cultural study of Western and Asian views of love and marriage (Khan knows something about this, being a white British woman who was once married to a Pakistani Muslim), and she plays an even hand in examining the compromises of both approaches. She also lands some subtle gags about racism: Kazim says he must go early to the airport to allow time for the "random searches".
Gradually, Khan allows us to see that almost everybody in the film is pretending to some degree; about how happy they are with their life choices, who they really are, or what their motivations might be. But while it has some very 21st century themes, it feels pleasingly old-fashioned.
It's a feelgood movie, directed apace by Shekhar Kapur, that doesn't have any amazing insights but which punctuates the narrative with some good comedy: Zoe's vapid producers Olly and Olly (Ben Ashenden and Alexander Owen), Asim Chaudhry as Mo the Muslim matchmaker, Shabana Azmi and Jeff Mirza as Kazim's overinvested Asian parents, Aisha and Zahid.
These are played largely as clichés, but no less funny for it, while the biggest cliché of all (which is where we came in) works, not least because of the easygoing chemistry between Latif and James.
It's a lively cross-cultural study of Western and Asian views of love and marriage
rating
Explore topics
Share this article