theartsdesk Q&A: Actor Michael Gambon |

reviews, news & interviews
theartsdesk Q&A: Actor Michael Gambon
theartsdesk Q&A: Actor Michael Gambon
The Great Gambon on the greats: Pinter, Olivier, Richardson, Beckett, and himself
Saturday, 25 September 2010
'Did I talk a load of bollocks?' Michael Gambon in Krapp's Last Tape
There's always the risk, when you put a tape machine in front of Michael Gambon (b. 1940), that it won't be recording the truth and nothing but. His taste for mischief-making is legendary, his low boredom threshold a matter of fact. It doesn't take a shrink to come up with an explanation.
Film parts may take come thick and fast these days, not least in the interminable Harry Potter franchise, but Gambon loves a live audience. It may also be that his propping-up-the-bar persona allows him to conceal the secret of his art behind tall-sounding stories.
The facts that seem indisputable are these: that his family moved from Dublin to Camden Town in 1945 when he was five. On the north side of a cobbled lane in Cranleigh Street, the mansion block built between the wars where they lived is still there. As is the Neptune pub opposite, where children, the young altar boy Michael included, milled outside while their parents drank on Sunday nights.
Gambon's entire career was kickstarted by an untruth when he landed his first professional job by fibbing about his CV. In due course he carried spears in the inaugural season of Olivier's National. The bigger roles were a while in coming as he waited out his youth. Like a lot of actors not blessed (or cursed) with matinee idol cheekbones, he was required to hold on for the character roles. No fan of his own physiognomy, once compared to a collapsed paper bag, he has developed the unparallelled skill of inflating and diminishing his bulk as the role demands.
The grandstand performance which announced his coming-of-(middle)-age was as Brecht's Galileo at the National in 1980, when Ralph Richardson famously, and perhaps a little satirically, dubbed him the Great Gambon, like some muscleman in leopard-fur leotard. The subsequent career scarcely needs rehearsing. On television there have been signature roles from The Singing Detective and Maigret to last year's Mr Woodhouse in Emma (pictured below). On film his meaty leads have stretched, via Professor Dumbledore, from The Cook, The Thief, His Wife and Her Lover to Gosford Park.

But it is his stage work that places him among the genuine greats. His Shakespeare roles span from Othello in his twenties, Lear and Mark Antony at the RSC when he was in his thirties to Falstaff at the National in his sixties. There have been reams and reams of Ayckbourn performances; Eddie Carbone in A View From The Bridge; Tom Driberg, the flamboyant MP in Tom and Clem. And then there has been his work in Pinter and, latterly, Beckett. He was the original Jerry in Betrayal, and was in celebrated West End revivals of The Caretaker and No Man's Land (2008). He has established himself as a great Beckettian instrument in Endgame, Eh Joe (in which he said nothing) and now Krapp's Last Tape, in which he is currently giving another uniquely haunting performance in the West End. He was knighted in 1998.
No actor's answers are more worthy of faithful transcription. You can hear the Great Gambon's inimitable rhythms as he tells his life story to theartsdesk.
JASPER REES: Do you think of yourself as English or Irish?
MICHAEL GAMBON: I suppose I can't get away from it, I'm English, aren't I? All my things are here. I love Dublin but it's too small as a place to live. It's a tiny city.
Could you describe the Camden Town street where you grew up?
On the other side was a row of terraced houses. That's all council estate now. Little Georgian houses, beautiful. Opposite those big flats. They're 1920s or '30s. I'm number 24. I tell you who else lived in those flats: Mike Leigh, and Alison [Steadman], when they first got married. All Irish round there. On the Sunday night every night there were kids outside the pub, parked there while their mum and dad went in. There was fucking 'undreds there. Some strapped in pushchairs, babies in prams, and the older boys looking after them. I was a boss man. 1945. I used to love that area of London. I still do. Those flats are quite trendy now. Very expensive. I lived there because all the Irish come from Dublin to Holyhead on the boat, and the Holyhead train takes them to Euston station, so they get off the train with their suitcases, walk round the corner and you'd find somewhere to live. That's how the whole of Camden Town became Irish. They didn't want to walk very far.
Do you still feel Irish?
No, been here too long. I always had the Dublin accent with my mum and dad. It was a real working-class part of Dublin.
When did you lose your accent?
Down the road at St Aloysius School. It's funny, that. When you're outside you talk like that and you go back into your mum and dad's flat and you're straight into Dublin. It's a bit confusing, that.
Aside from Beckett, and the film version of Dancing At Lughnasa, I can't think of many Irish roles you have played.
No I never have. I've played a few in the theatre. I did this film in Ireland, A Man of No Importance, and I played an Irishman in Nothing Personal, but neither of those films did very well.
Was it instinct that led you to write to the Gate Theatre asking for a job as a young actor?
I suppose I didn't know anything else. I thought if I write there, because I'm Irish they might be nice to me. I must have thought that.
Is Gambon an Irish name?
I think it is. I think it's not uncommon in Wexford. It must be something to do with the Spanish. The Armada. That black Irish look you get, I think that's Spanish. That's what I've been told anyway. My dad was black Irish, very dark with a big hooked nose. He could pass for a Spaniard.
You haven't inherited his colouring.
No, I've got my mum. Pale, and wan, and thinning hair and all that.

You created a highly inventive CV when writing to the Gate. Was there also not the fear that you couldn't do that when applying to an English theatre?
That's right, because they'd know. I remember thinking, if I write to Dublin they won't check up, and they didn't. I remember one of the things in the letter. I said, "I've just played the lead in the West End in George Bernard Shaw's Candida." Terrible lie. The actor playing it, I can't remember who it was, his name was in lights. The thing is they never even questioned it. When I went for an interview, the famous Hilton Edwards directing it, he had my letter in front of him. He didn't even ask me. I was shaking...
When I walked into the rehearsal room with a briefcase and a suit, the whole room shook, tears of laughter. I had no idea what was happening
You went back to Dublin for the interview.
Yeah, I said I was passing through on my way to New York - I'd never been outside Camden Town - to see about a Broadway play. He never even questioned that. But I was writing to walk on with a spear.
Do you think they fell for it?
I don't know. You'd need to be really thick, wouldn't you? I had one line, I think they gave me. "Ho there." And even worse, when I'd finally saved up 19 quid to fly to the interview, for my passing through, I came back on the plane and a month later the job started, so I saved up the next 19 quid and I flew Aer Lingus and over the Irish Sea - we were due to start rehearsing at nine o'clock the next morning, this is the night before - the captain says, "I'm sorry, ladies and gentleman, we can't go to Dublin because I can't land. We've got to go to Cork." So we landed in Cork and I was shitting myself that I'd be late. I said, "I've got to go to Dublin." They said, "We can't go tonight, no way." I had a clip-on bow tie and a suit, and I rang the number I had, which was Micheál Mac Liammóir's home number, at three o'clock in the morning. He picked up the phone and I said, "My name's Michael Gambon, I'm stuck in Cork, my plane has been diverted." He said, "Oh go and fuck off!" So when I got there the next day about 12 o'clock, he's then made an announcement. My character was the second gentleman of Cyprus. He said, "The second gentleman of Cyprus has been delayed in Cork" - they're all pissing themselves laughing - "and he will be three hours late. But he says we're not to worry, that we can carry on." When I walked into the rehearsal room with a briefcase and a suit, the whole room shook, tears of laughter. I had no idea what was happening. I knew fuck all about it.
How much acting had you done before?
I'd been in amateur dramatics. Mucking about. I thought actors had bow ties, suits, but of course they were just wearing jeans. I had seen theatre actors in London with big hats and big coats and I thought that's the way you dress. I must have looked a complete prat.
I had a metal helmet, I had an earplug, and we used to listen to The Archers. No one knew
Good performance?
What? Me in that? No, fucking awful. Completely dreadful. I had to wear tights and a doublet. They said to me, "What size shoes are you?" I said, "13." They said, "No, we haven't got any 13. You'll have to play it with your own shoes." I said, "My own shoes in tights, how can I wear them?" They said, "You'll just have to wear them." So I wore, dressed as a 16th-century bloke, in doublet and red tights, a pair of Hush Puppies. I was lumbered with Othello for years. I was in that one, and then I was in Olivier's. I wasn't even the second gentleman in that. I didn't have any lines at all. I was at the back like that [he mimes holding a spear], standing for an hour. What I used to do - I had a metal helmet, I had an earplug, and we used to listen to The Archers. No one knew. All the line used to listen to The Archers. And then I went and played Othello myself at Birmingham Rep. I was 27. Olivier sent me a telegram on the first night. He said, "Copy me." He said, "Do what I used to do." Olivier used to lower his voice for Othello so I did mine. He used to paint the big negro lips on. You couldn't do it today, you'd get shot. He had the complete negro face. And the hips. I did all that. I copied him exactly. Except I had a pony tail. I played him as an Arab. I stuck a pony tail on with a bell on the end of it. I thought that would be nice. Every time I moved my hair went wild. Quite a good idea really. Oliver used to be terrible. He used to walk along in front of us with his white robe on. You know, those days black guys used to work on the buses. He'd say, "Your fares, please, no standing on the top deck," under his breath, when he was bored on a matinee. And we'd be [suppressing laughter] facing out front.What about your Othello in Scarborough?
It was all right. I got lots of letters of complaint.
You must have been the last white man to play him.
Hugh Quarshie said, "Go ahead and don't worry about it." So I went up there and I did it. I shaved my head. I was totally bald. And then I played him like a very educated Arab, more English than the English. When he realises that she's shagging, he goes berserk, then it all comes off. So it's quite startling. Quite a good idea. We cut it too much.
You played Lear for the RSC in the early 1980s. Will you ever do the part again now that you're closer to the right age?
It would terrify me but I wouldn't say no to it. I did my best but now I think I would know more how to do it. I was far too young. I was asked to do it. If someone asks you to do King Lear at Stratford you don't say no, you just take it. I had a go at it but I liked the end of the play more where Lear is awoken into his new self where he sees the light. But the raging Lear I found very difficult. And the Lear that gives the kingdom, I couldn't understand all that. It went all right. But never really completely fulfilling because you never really feel fucking centred. I felt perfectly centred as Galileo. I felt perfectly centred as Eddie Carbone. I knew who those men were. Of course they're both quite contemporary. Galileo was made contemporary by Howard Brenton. But Shakespeare was something else.
If you were told you would never do another Shakespeare part in your life, would that sadden me?
It would sadden me but it wouldn't really hurt me, because I don't think I've ever had much of a success in Shakespeare. Not properly.
There's a terrible fundamental deep-down lazy streak through the centre of me
Not in Anthony and Cleopatra?
Maybe some nights in that. Maybe some... But it's a lovely part. It's about love and there are bits in it that make you cry, when he talks about the shape of the stars in the sky. A beautiful play, lyrical. If you could just do those bits and not do the battle bits it would be good.
There must be people who are keen for you to do The Tempest.
I get that a lot. Is he a bit like that? Dreamy. Maybe I will. I'd have to really study it.
Richard Eyre wrote his National Theatre diaries that "Gambon is more capable of giving and receiving love onstage than any other actor.'"
t's a nice thing if it's in the script to be able to do that. It was before Skylight? I know what this is. View from the Bridge. He loves the girl but he doesn't know what's going on, he's confused, the character. He's really fancying his own niece and he's fighting it, it's a battle.
As compliments go...
Yes, pretty good. Thank you very much, Richard.
In the next entry in his diary you fall over laughing and roll on the floor and he offers you Falstaff, you accept and then he says, "Of course he won't do it.'"
And I was quite right not to because when I did play it I fucked it up (pictured below, Gambon as Falstaff with John Wood as Justice Shallow).
Why?

I couldn't cope with it. It was too complicated. We rehearsed two plays in the same period, part one and two, and it just overwhelmed me.
Is that why you want to have another go at Falstaff as well as Lear?
I do. They are both such complicated parts. There's a terrible fundamental deep-down lazy streak through the centre of me. I mean, more so Falstaff than Lear. I didn't get to the centre of the person. It got better as the run went on and you play it more but initially I was all at sea. I think Nick Hytner would agree with that. But anyway, c'est la vie. That's gone. We'll wait and see.

At one point you took several years out from theatre and then came back with Volpone.
That's right. I did very well. ... I think I'm probably more at home on the stage than in the cinema. I don't know. You do bits. It's a fast commitment, isn't it? The theatre you rehearse for weeks. You wander round with a book, you don't have to learn the lines till the last day. Then you play the part on Monday, and then Tuesday: "I think he's not like that." There's plenty of room. Cinema is not like that, in my experience.
Do you feel that by the end of a run you've found out who it is you're playing?
If you're lucky. If you're cast right. I've been in plays in quite a long run where I'm not cast right, so you never ever find it, it's all bullshit. Going on the stage every night you play this character who doesn't sit centrally with you. I remember I played Benedick at the National Theatre in the early Eighties. I couldn't play it. But I tried my best and exuded an air of confidence as you do, but I never felt it here. That's a terrible feeling, because everything you do on the stage becomes phoney.
I can't look in a mirror or look in a window because I hate it
How long did you need to get into the role in David Hare's Skylight?
Well, Richard Eyre said to me one day, he thinks that all men want is forgiveness for their misbehaviour with women. And so did David Hare say that to me. I said, "I don't." He said, "No, all men do." I said, "No, I don't." "But they all do." I said, "No no. Why should all men want fucking forgiveness for their behaviour?" He said, "No, all men do." Fuck. I struggled a lot in rehearsals with that part and then Richard said to me one day, "Kick the door in with your first entrance, come in the room, take it over, and don't even look at her. All front, with the inside falling apart." I did that and it worked, it clicked. Then I took it down a bit. You come in in a more dignified way. And that was the key to me for that part. We both grew. That play was relentlessly hard to do, just two people onstage all night, and both Lia [Williams] and I, some nights, we got really pissed off.
Isn't that what you live for, though?
I know. I know. It's even worse when you're away in New York in a city you can't breathe in because the buildings are too tall. You want water, you want fuckin' sea and ocean. I don't know. It gets you down a bit. I got a bit down while doing that.
You co-star Lia Williams has said that you felt you got the play absolutely right only once in the run at the National.
Probably. Not more than half a dozen times.

And how about Broadway?
Yeah, when we settled down. It was a bit of a culture shock to begin with. The theatre was too big. You walked on and you were in a theatre twice as wide as you're used to. Because they're all musical theatres, aren't they? You walk on to this room in Kensal Rise which is a fuckin' palace. She's living in this little tiny room, shivering with this electric fire. Once we got used to that we were all right. Lia saying that was being quite a purist. Most of the nights were all right but I do remember one night when we both fired on six cylinders and we got all the levels of the play, the anger and the love, all right. You have to drive the bus. It's like being a pilot, you're flying this thing, you keep it airborne, accurate, and then she flies it and then you fly it. It's a silly analogy, but it's keeping the thing up.
David Hare told me it was your idea to have Bill Nighy take over in the role. Is that true?
Yeah. In reality... one of the things about acting... I used to have a problem, thinking, for the audience, "Why does she fancy him?' And that hurts. Because you can't do anything about it. You are what you are. Because Richard Eyre cast me and David Hare seemed pleased and the audience clapped, you say, "Oh, then, all right." There's a part of you that the camera looking at yourself doesn't like. And you think, "I don't think I look like this man should look." It got worse in America because America is a place of looks, that feeling inside me, which I never showed to anyone, it's the first time I've ever talked about it. It's just Bill Nighy sets me thinking. But Bill has the qualities that I thought I didn't have. It's an actor's problem, isn't it? You shouldn't really talk about it. One American critic said he couldn't understand why she would like him. It's a constant worry when you're acting, what you look like. The confidence in what you look like, if you have areas of doubt it's problematical, but you just cast it out of your mind.
Are you aware of what you look like?
No. I can't look in a mirror or look in a window because I hate it. I want to look like Bill Nighy, who I'm jealous of. I love Bill. If I looked like Bill I'd look in mirrors and I'd look in shop windows but I don't, I just carry on walking with dark glasses.
I try and compensate for heaviness by speed of movement, by graciousness
Could you describe your face?
It's like a fucking old wet bag. Puffy fucking eyes. But there's nothing you can fucking do about it. Talking like that it seems as though one's seeking someone to say, "No you don't look that bad." It's all right when you play character parts. Volpone, Lear, Coriolanus, it doesn't matter. But when you get in the realm of modern leading man parts there's always a problem.
It's quite hard for you to look like anyone. You didn't really look like Oscar Wilde, for example.
No, I didn't. Although, I don't know. The hair, and he had a face something like mine. And he was a big bloke. I suppose you just have to think, don't you, and hope. I always try and move. I tried to move like Tom Driberg. I don't know how he moved but he was a gay guy, I don't know if that makes any difference, but I try to move quite lightly. What do you do? Get a wig? I hate all that shit. it's nothing to do with acting, is it? Anyone could do that. I hate all that. It's not what the thing is about, is it.
Do you have the same relationship with your bulk as with your face? It's often said of you that you have a strange ability to make yourself look small.
I try and compensate for heaviness by speed of movement, by graciousness. I try and move well. There's a ballet dancer in me somewhere. In fact I got a letter of complaint when I did Eddie Carbone from a drama student. He said, "I came to see View from the Bridge the other night and I don't know why you did a balletic leap," which I used to do across the stage during a scene change. Just to show the audience in a very quick movement that this man is dangerous. You tamper with him at your peril.
Do you exercise?
I try and keep moving and I think that's exercise. I'm not really sporty. I'm not sporty at all. Hands in the pockets. Pocket billiard player, you know.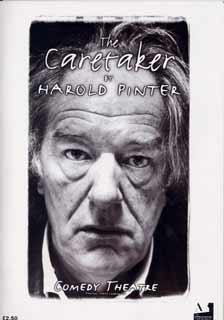 You have been known to be invent a false past in interviews.
I tell you what I did. I was being interviewed by someone from the Birmingham Post about Oscar Wilde. He wasn't a very good journalist. He said, "Did you like playing Oscar Wilde?" I said, "Oh yeah, it was great really." He said, "I hope you don't mind me asking," and he wasn't looking at me, he was writing with his pencil, he said, "Was it difficult playing the part of a homosexual?" The devil gets inside you. "No it's quite easy. It comes to me quite easily. I used to be one." I think I almost made myself laugh. He said, "Oh, really?" And I said, "But I was forced to give it up." I wanted the next question - ask me why. And eventually he said, "May I ask why?" I said, "Well, it made me eyes water." And I went into hysterical laughter, which he didn't. And he wrote all that down.
You have a reputation for mischief-making. Douglas Hodge says that in The Caretaker you would do things like suggest you perform the play in Swahili.
Everything that Douglas Hodge says is a lie. Any man who's directed See How They Run and plays Titus Andronicus for laughs is not to be trusted.
Is the Swahili story true?
He might have thought, because The Caretaker is the greatest play of the 20th century and the tramp says he doesn't know where he's from. You can't believe a word he says. At one point Hodge says to the tramp, "Where were you born, where do you come from?" And he says, "Well, it's difficult to cast your mind back." That's what Pinter's line is. I'm being serious now, and the performance of Donald Pleasance in the play, which I saw in 1960 at the Arts, had such a profound effect upon me I never forgot it. And he spoke in the most strange accent. You didn't know where he was from. At one point Hodge's character says, "You're Welsh, int'ya?" So I was constantly at odds with how this man sounds. And it's very difficult to open a play in the West End not knowing how he sounds. So I basically played him as Irish which is my native accent, mixed in with other things, which Douglas might have misinterpreted as Swahili. But I'm sure the error is on his side.
He says you said one night, 'Let's do it in Swahili.' And you did the first two lines in some kind of click language.
Not true. It's not true. He's a lying bastard. He just misinterpreted my artistic endeavour.

If you were too familiar with Olivier he'd cut your head off
If it's difficult to open in the West End without knowing your accent, you very cunningly got round that problem in Beckett's Eh Joe, in which you didn't say a word. What was the attraction?
Dublin, Beckett, Michael Colgan, Atom Egoyan. Just the general experience of working at the Gate. It's so rich. You know Beckett writes all these instructions. I'm sitting there in Endgame in the West End. "He takes the handkerchief off, blood, puts it on his lap, folds it, puts it in his top pocket." You can't go off it, you're not allowed to. Beckett estate. "Puts his hands back on his lap, joins his fingers together." It's all very accurate stuff. In Beckett's description of this the actor playing the part, written for television in 1966, the actor is completely blank, you're not supposed to do anything. So you just sit there. But you can't really. I don't think Beckett would mind. I think Beckett if he was alive now. Like Harold Pinter said, "Forget all the pauses. Just play the play." I'm sure Beckett now would say, "Forget all the stage directions, just play my play." When we did Endgame the estate came to rehearsals and they loved it (pictured below, Gambon in Endgame with Lee Evans). It's that powerful, the Beckett estate. You're dealing with Jesus Christ. It's a big order. It's one of the most difficult plays I've ever done. It's just magnificent writing. It's like a great big poem, isn't it? A great bit aria, and it's beautiful stuff. And it's extremely funny. I'm always amazed when the audience don't laugh as much as I do when I first read it. We analysed it in rehearsals. This character of Hamm is very funny, he's a bastard but he's cracking jokes all night. If I'd seen me in it I'd have laughed a lot, I think.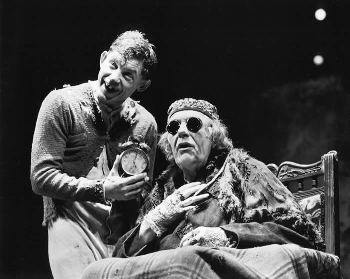 You were more or less blinded in that and were more or less mute in Eh Joe.
So I'm coming down that street of playing blind, mute characters. I'll be known for that. I actually said hello to Beckett once. At the National in the Sixties they did his play called Play with Billie Whitelaw and Robert Stephens. It was a double bill with Philoctetes. I was in Philoctetes and so Beckett was around and so I did say hello to him.
What did he say back?
"Hello." He was a quiet man. I'd love to have spoken to him.
I wonder how he got on with Olivier.
I wouldn't have thought very well. I loved him [Olivier]. Oh yeah, he spoke to me. You were in awe of him. I was in awe of him. I was a walk-on. I always called him Sir. I used to talk to him. If he was in the mood he'd sit in the canteen and tell stories and we'd join in. You had to be careful how far you went. If you were too familiar with him he'd cut your head off. Because I wouldn't speak to him I would always just stay stumm. He said to Tony Hopkins one day, "Tony, where are you from?" And Tony said, "Um, what?" He said, "Where were you born?" "Oh, er, Aberdeen." He said, "Aberdeen? You've got a Welsh accent. Are you Welsh?" "Yes." "Well, how could you be born in Aberdeen?" He said, "I wasn't." "Well, where you born?" He said, "Bridgend." He said, "Oh fuck off" and walked away. You couldn't reply normally to him. He was so famous and so brilliant. That's gone now, of course.
I used to do plays in the West End that ran a year. How can any human being not get bored
Do you get a sense of that now yourself in a big company?
No, I don't behave like that. They might be but I'm never aware of it. But I always try to be one of them immediately. I'm a bit subversive. In a rehearsal room I'm going to immediately bond with everyone I can against the director. So we're all in the corner drinking tea and the director's sitting by himself at his table.
You have a reputation for mischief-making and occasionally this has been attributed to a short attention span.
You never could in Eh Joe or Endgame or The Caretaker. I have got a reputation for getting bored. It's not really fair. I used to do plays in the West End that ran a year. How can any human being not get bored? You can't really at the National in a repertoire play. I didn't in the Shakespeare, I tried my hardest not to get bored. But it's a fun play, Henry IV, and you are free as an actor to have a bit of a jape without destroying the play. But I think I've got that reputation unfairly.
Does that reputation hurt you?
Mm. It does really. I'm quite a serious-minded actor. I am! I am! I've got this reputation because I fuck about off the stage they think I fuck about on. But I don't.
You famously fucked about in the audience when David Hare was giving a talk at the Hay Festival.
Well, this is good. I was sitting there with 1000 people, very serious-minded people, with sandals, beards, obviously schoolteachers, intellectuals from all over the shop in donkey jackets, and there's David Hare up there on the stage being interviewed about his political writing in the theatre and all that. And then it came to question him. "Er, Mr Hare, I teach drama at the University of Southampton and I wondered how the political element of your plays does relate to the 20th-century drama?" I timed it right. Just at the end of this question time I grabbed the mike just as they were packing up and said, "David" - I held it real close so it sounded very deep - I said, "David, in your years in show business, did you ever meet Diana Rigg?" It was brilliant. Brought the house down!
I got up on the stage to join in, idiot that I am. I said, "Well, fuck me," as Maggie Smith gave me my trophy
The story I heard was that he said, "Ah, a question from my great friend?'
No, he didn't. I just took it off the girl. He glanced at me and I could see him thinking, "Oh, fuck." He turned around and he said. "No, Michael, I haven't but you have."
I was told he found it very amusing.
He did afterwards. It was a bit of a shock at the time. just that first couple of seconds. But then afterwards he was fine.
Why did you pick Dame Diana?
The truth of the matter is David went to Australia and gave one of his talks and that was the only question he got from a member of the audience. An Australian saying, "Excuse me, Mr Hare, but do you know Diana Rigg?" He told that to Adrian Gill and Adrian was just telling me before the lecture started so I said it again. So it wasn't original. That takes away from it a bit. That's how it came to me. Purely second-hand.
You won an Evening Standard award for Volpone and you went onstage and said, "Fuck it, I'm off for a piss."
It was that awards where a lot of comedians were onstage all through and they all said "fuck" all through the ceremony, which was televised. They were all saying "fuck", so I got up on the stage to join in, idiot that I am. I said, "Well, fuck me," as Maggie Smith gave me my trophy. "Fuck me" - that brought the house down. I said something which was true. I said, "I've been sitting there for three hours waiting for this, dying for a piss, so I'm having one now." It wasn't really very clever but it brought the house...
Did that pop into your head or were you thinking of being mischievous?
Well, there's real fear because I've never spoken in public except in a play or a film. I've never openly spoken out loud in my own voice to an audience. I don't know how to and I wouldn't know what to say. So the process of getting up from the table and walking up to the stage to receive an award just fills me with fucking sheer horror and fear and shaking. So you get up onto the stage and you say, "Well, fuck me." And then you get a laugh and you think, ah, great laugh.
They wanted boys who could do a bit of carpentry to build the sets. I ended up being there and they asked me to be in plays
There is a part of you that enjoys mischief though, surely?
Yeah, I like causing trouble.
Would you be able to ascribe that to anything?
Inferiority, I suppose.It's the teddy boy in me. I used to be a teddy boy. It's that bit.
Awkward squad?
Feeling slightly inferior and wanting to cause a bit of bother and get the thing wound up, get some action going on in the room rather than get bored stiff. Does that make sense?
How long were you a ted for?
I was a teddy boy when I was about 16 just when it was going out of fashion and I wore quite narrow trousers and striped jacket with those two slits cut in. When I joined the amateur dramatic society I had to have the jacket altered. It became like a sports jacket. I remember thinking, "That's what I'll do." You do go and hang around with slightly posher people in an amateur dramatic society wearing a teddy boy jacket so I had my mum alter it. That's true. She dyed it as well because it was bright blue. It was blue with yellow. It was really garish. And she dyed it in the kitchen sink so that was all right.
What was the show?
I can't remember. It was a left-wing socialist theatre called Unity Theatre which many people will have heard of behind King's Cross station, run by the Communist party. I had no idea what it was. I just turned up. They wanted bit players.
What dragged you in there?
It was round the corner from our flat. I went there with a mate of mine to build some sets because they wanted boys who could do a bit of carpentry to build the sets. I ended up being there and they asked me to be in plays. So I did a couple of plays. I did James Joyce's Bloomsday, a left-wing farce called Take It As Read, The Seagull. I was the bloke who comes in, the servant, Yakov. One line. I had to say, "Shall I put it up here now, sir?" when they're building the stage for Nina's speech. And then I did a play by Marghanita Laski, left-wing writer, called The Offshore Island, about nuclear war, set on a Caribbean island.
Had you done any acting before?
No. Everyone at the Unity Theatre told me about Stephen Moore, who became a mate of mine. They said, "Stephen Moore." I said, "Who's he?" They said, "He's an actor who just left here and he's now at the Old Vic." And I thought, "Fuckin' 'ell, I'll do that." I thought, "If he can do it, I'll have a go at that." So that's what I started trying to do.
Who did you get from the Unity Theatre to the Gate in Dublin?
I started going to classes as the Royal Court which you could just turn up for down in the basement run by George Devine. And then they transferred to the theatre at the top of Kingsway. George Devine used to teach. And I used to go to improvisation classes there, and then when Bill Gaskill was made a director of the National in '63, for the opening year, he was auditioning. And so I wrote a letter to him and went along and auditioned for him.
It was one of the happiest things I've ever been in. Everyone has their fair share of laughs and it was just a joy
What age were you when you went to the Unity?
Sixteen or seventeen.
Do you wonder what you'd have done otherwise?
I don't. Something to do with my hands. I don't know the process of becoming an actor. I didn't follow any route. It just happened because you want it. You couldn't do it now because we live in a different world. There's no Unity Theatre now hanging about, there's no amateur theatre. Well, there is but you'd have a hard job. You'd end up playing small parts on the telly, which you wouldn't want to do.
You carried a spear for a long time.
That's better than playing small parts on the telly because it gives you more of an intro to that world. I did a lot of telly in the late Sixties, early Seventies. I was in Softly, Softly. Live Softly, Softly. I was a bloke in a witness stand. A crook or something, I don't remember. Just before we did it the stage manager said to me, "If you dry, I'll press the button, I'll give you the prompt and I'll take the finger off and then you'll be live to the audience."Live. Millions. I didn't fuck up. Jeez, the sweat. I left the television centre, Wood Lane. I had a little van, I drove back and passed a garage and put petrol in and the bloke at the garage said, "I've just seen you on the telly, mate." He had a telly in his cubicle. Amazing.
Do you still suffer from fear?
Oh yeah, Christ. It calms down when you've done it for a week or so.
I had to meet Harold in a pub somewhere and I was terrified. Like meeting God
The dramatist in whose plays you first established a reputation was Alan Ayckbourn, above all in The Norman Conquests. How important a place do the plays have?
Oh, very important because when I did that I got lots of comedy parts on television and other plays. It led to lots of things for me. I think The Norman Conquests (pictured below, Gambon with Felicity Kendal) was my first Ayckbourn. I was doing an Ibsen play somewhere in the provinces. I had done a television play with Eric [Thompson, the director] and I'd got to know him as an actor and he sent me these three plays. I couldn't believe it.
Did Ayckbourn's world seem dark to you?
We thought it was in a wonderful world. I never thought of it being a dark play and anyway I don't know how Alan could make it a dark play. It wouldn't be the same play. We just got gales of laughter every night. It was one of the happiest things I've ever been in. We were a big hit and ran for many months in the West End. Everyone has their fair share of laughs and it was just a joy. There was never any trouble in rehearsal it seemed to all happen effortlessly.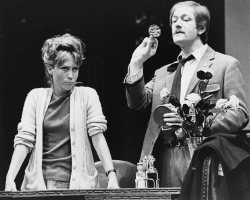 Again, I have to ask. Are the rumours of backstage pranking true?
We used to misbehave a bit. We'd muck about a bit. Sometimes Mark Kingston and I would have to take our shoes off coming in at the stage door because Penelope Keith's dressing room was right by the stage door and sometimes she used to give us a few notes. So she couldn't hear us coming in.
And it's said that in one performance an audience member literally rolled in the aisles.
That's true. I saw that when I was sitting in the low stool at the table. I saw a bloke roll out of his seat in the dress circle and roll down. There was so much laughter in that particular scene the six of us used to just stop acting. We just sat there and had to wait. Sometimes an alarmingly long time. Penny Keith used to pick it up as soon as the laughter had died down. She used to stand there at the head of the table waiting for it to stop. I could control that laughter by getting lower in my seat. It was just fun.
For a while you were Ayckbourn's male lead. Then you started to appear in a succession of Pinter plays. Can you remember your first encounter?
I met him first when I took over from Alan Bates in the West End in Otherwise Engaged. I had to meet him in a pub somewhere and I was terrified. Like meeting God.
Do you absolutely know you are in a Pinter play, and if so why?
He's not like any other playwright. There's no looseness in his plays. Every full stop and coma counts. It's like Beckett in a way, you can't hang around in it. It's very accurate. All his plays have a surface of a thousandth of an inch and subtext of two miles. You can play his plays. That's why actors love them. The depth in them.
How did you relate to him on a personal level? [This was asked before Pinter's death.]

Harold doesn't have much small talk. He is very direct. So he can be rather fearsome sometimes. He was very straightforward, down the centre. He didn't shilly-shally. He likes a bit of gossip now and then, he likes a laugh, but he can be a bit alarming. He had a lovely convertible Mercedes that was stolen. I'd often use that as way to start talking to him. 'How's your car, Harold?' I don't know much about cricket. If I'd have been a bit shrewder I could have done a crash course in cricket. I should have done it. But I didn't do it.
You do a bit of heightened acting, Kenneth Williams-type acting, and then you can do a bit of Robert de Niro-type acting
Is rehearsing Pinter different?
I don't think so. Not now that Harold's made everyone feel easier about his plays. He's made the statement, "Don't worry about the pauses or silences." He said that. Whereas before actors would read his script and they'd see silence. "Oh, fuck." They'd see "pause". "Silence" means real seriousness. Something has happened traumatic. And "pause" means you're thinking about something. But now they don't have a meaning. They do within his dialogue because you can tell where they lie. But he's not worried about them any more. So it relieves a lot of burden from you.
Did you ask him what No Man's Land is about?
No, I wouldn't dare. He wouldn't answer me. I don't know what he'd say. Well, maybe he would. I've never asked him though. It's a similar sort of experience for an actor as Endgame. I loved Endgame. It's not sort of real, is it? And the same with this play. It's out of reality. It's heightened. Some of the dialogue is very similar. Obviously everyone knows that Harold likes Beckett and he worked with him and all that, he was his friend, but if you didn't know that you'd guess it from this play if you knew Beckett's work. Very close. Very linked. It's not to do with reality really. It's sort of heightened acting, along with ordinary acting. You do a bit of heightened acting, Kenneth Williams-type acting, and then you can do a bit of Robert de Niro-type acting. You can be ordinary, real, naturally - "Oh yeah, oh really?" - and then suddenly float up there. Does that make sense?
Can you recall the first time you read the script of Betrayal?
Yeah. Oh, I just thought it was a work of art. Magnificent play. And when we opened we didn't get good reviews. They must have been shocked. They'd never had a play like that from Harold before. It was a completely accessible play.
And yet it's told backwards.
Going the other way. Starting at the end. Breaking up. Finishing. A beautiful play about real agony. It's an easy read, isn't it? I can't believe I was the bloke who first played that part. Quite a privilege, isn't it?
You were cast as the playwright. Were you aware of that?
No. I didn't even think. And one great theatre critic, the Pinter expert, his review was "Michael Gambon isn't good-looking enough to play this part." There's the fucking intellectual for you. The great nob writer. Silly bugger.
What are your memories of Betrayal?
Happy rehearsals, up to a point, Harold used to come in quite a bit, as he does when his play's in rehearsal, particularly a new play. One day he came in and he was sitting there while Penelope [Wilton] and I did a scene together, the scene in the house in Kilburn when they run away together. And I think Peter [Hall] said to him, "Harold, this scene doesn't seem to work." And Harold said, "Yes because the table is in the wrong position." It's a room in Kilburn with a table in the middle of it. So he said, "Move the table." They moved the table to a different position. He said, "Do it again." We did it again, it was perfect. Bit of Ayckbourn there, his awareness of when he writes what he sees, where people are.
You've done copious plays by both. Do they have more in common than people suppose?
I would imagine so. They are both technical men of the theatre. They're both been actors. They know through the hard work of rep and putting on plays they know the technical side of theatre. Particularly Alan.
What did Ralph Richardson mean by the Great Gambon? He must have been drinking or something. I think he meant it in a circus way. A joker. Maybe
Can you remember discovering that it was Pinter's own experience he had dramatised?
I never discovered it. I was told eventually. I think it must have been at the end of rehearsals or soon after. That even the flat in Kilburn was where he rented the flat, the love nest. I think so. I think it was in Kilburn. You were safe in Kilburn. But you don't think. You know you are not really playing him, you're playing a bloke in the text, a publisher. Never affected it at all.
Were you considered for the film?
No, I'm not the right type. Theatre no one gets closer, so you've got the complete shield of movement. You're completely in another world. A film camera, fuck off, right up on you. I freeze in front of the camera. I've never really been confident in front of a film camera. Never really. Never really happy.
You had already played Galileo when you got Betrayal. Was it a surprise to be considered for those roles having done so much Ayckbourn?
I was in a play with Ralph Richardson at the Savoy the day I got Betrayal. It ran for two weeks. It was the biggest flop he'd ever been in. It was called Alice's Boys. It was a disaster. Oh, it was a terrible play. Ralph must have got a shock - a man of his stature, two weeks. I said to him one day, I said, "Ralph, why did you do this play?" He said, "Because I had to do needlework at the beginning." I said, "But it's only two seconds' needlework." He said, "I know but I've always wanted to do that." He mimed it. I said, "You did it for that?" He said, "Yes, just to do this." I said, "Just for a couple of minutes?" He said, "Yes." He said, "Why did you do it?" I said, "I did it and all us other actors did it because you were in it." He said, "Well, I did it for the needlework." I said, "Well, we're all fucked, we're all fucked now." He said, "Well, that's the way it goes."
Richardson was your predecessor as Hirst and is the one who famously described you as the Great Gambon.
He must have been drinking or something.
What did he mean by that?
I don't know. I think he meant it in a circus way. A joker. Maybe. He once gave me a tablet to take in his dressing room. He wasn't well. I asked him how he was and I went in his dressing room and he said, "I'm not too well." I said, "What's wrong with you?" He said, "I don't know," he said, "but I think it stems from the war." True. I said, "The war?" And he said, "Yeah." He said, "Just before the war I was prescribed a tablet by my doctor and I never took it and I think that's what's wrong with me now." I said, "What do you mean?" "Well," he said, "there it is." He had a box on his table. You know, he was a bit... There was a whole grey tablet in it. It looked like a horse tablet. He said, "That's what I was told to take in 1944. I never took it. I've always felt guilty about that." So I said, "Well, I'll take it if you like." And he started laughing. He said, "Do you mean that?" I said, "Yeah." So I took it. That's all the story is. But I mean he was just very eccentric. No side effects.
For five years I didn't act on the stage. It worried me terribly, because I was floundering like fuck
Do you feel that you're cut from the same cloth as him?
No, I don't think so. I'm more downmarket than him, aren't I? He was truly a gent. I didn't know him that well.
I'm talking as an actor.
Well, maybe a little bit. I mean it would be so flattering. I loved him as an actor. I loved watching him. I remember watching No Man's Land and I thought I was watching a Brechtian actor. He seemed on the stage to demonstrate. There were two places where he fell down. When he fell down he almost was demonstrating to the audience, "This is the way you fall down." You know what I mean? "This is the way you do it. Are you watching?"
You are nowadays seen as a consummate stage actor. Why did you stop acting onstage in the early 1980s?
I got fed up. I used to be in one play in the West End and then Alan Ayckbourn would say, "I want you to do my next play." When?" "Next summer." "Fine." For about five years I was constantly booked for a play next year and I couldn't get out of it. It's just this fear of being unemployed, I suppose. My agent said to me, "You've got to stop this, put an end to it." So I stopped and then I got a few parts in America and that series Maigret (pictured above)Toys and Clean Slate and Mobsters, and for five years I didn't act on the stage. It worried me terribly. I had a longing. And then Richard rang me up and said, "Do Volpone and Skylight." Saved my bacon really, because I was floundering like fuck. Extremely lucky. I keep thinking I might be wrong, that I can't have a life as a TV and film actor unless I keep backing it up onstage. That eventually if you live your life on the stage or in television and film it would run out, your credence. I belong on the stage. That's what I believe.
There won't be another five-year gap?
I hope not. Although I suppose then again having said that if you found yourself earning a million pounds a year you'd have a hard job to get back.
I read it in the paper. I read I'd died. It was such a shock. I thought, Jesus Christ
Is Harry Potter a life sentence?
No I like Harry Potter. I died in the sixth one.
How did you find out that you died?
Erm, I think I read it in the paper. I read I'd died. It was such a shock. I thought, Jesus Christ.
Have you read the books?
I just read the scripts. I know people read the whole book but then you get cross about what's missing. A lot of actors get upset that their parts are a bit smaller.
To what extent did you have to inherit Richard Harris's performance?
No one ever spoke to me about it. Not a word. On the first film I did which was directed by Alfonso Cuaron I walked in there and I'm naturally Irish and my first accent is Irish, I will speak Irish with my parents, and I played just a slight touch of Trinity College Dublin. That light lilt. I did that and Alfonso said, "What's the accent here?" I said, "Irish." He said, "That's OK." And no one's ever mentioned it. I'm a little bit more camp, I think, a bit lighter. A bit more ethereal.
What has been your most fulfilling cinematic role? Is there such a thing?
I don't think so.
Where do you sit on the scale between Hoffman and Olivier?
I'm down at Olivier's end. I try to learn my part, try to learn the script during rehearsals and just intuition. You just distort each character you play into yourself. You distort what's essentially you into the person you imagine and see from the script. You read the script, this person becomes... you can begin to see them, the way they behave, the way their responses are. And you become that or you mix the two, in rehearsal.
Another quotation from Richard Eyre's diaries. He says, "Mike's cover is very good.'"You'd just been cast as the King of the Philistines by Nic Roeg. Perfect casting, according to Roeg. Eyre reports that "he's actually very sensitive, highly musical, plays classical guitar and loves ballet".
That's true.
I didn't know you played classical guitar.
Well, I tried to play classical guitar. I'm very flower-like. I love classical music. I love ballet. I go to ballet and I cry. There's nothing so beautiful.
What do you play on the guitar?
All that Villa-Lobos. That stuff you get in the textbook. I went to a teacher at one time called Alexis Chesnikov in Fulham who'd teach you how to hold the guitar. It's very important locking the wrist and swinging the hand from a fixed position. It's all very scientific. And the footstool for your left foot. And if you learn how to hold a guitar properly it actually becomes easier. But I love the sound it makes.
Do you practise?
No I don't practise. I don't play classical guitar. But I do in my mind. I've got it on a stand and I occasionally pick it up and just go like that [he holds an imaginary guitar], like a fuckin' actor at the Albert Hall. I'd love to play it really brilliantly one night and turn up at the Queen Elizabeth Hall.
The first few days of finishing a job you can walk around and be happy. But after a couple of weeks you just go, "I don't exist." You become a shell
Would you like to play it in a part?
Yeah. But there ain't such a part. If David Hare would write a play with a bloke in it who plays the guitar and that's all... And he comes on at the beginning of every scene, he says a few lines to the audience, he says, "Ladies and gentlemen, I hope you're enjoying this play. In this next scene you're about to see, Jeremy falls in love with Daphne, and I think you'll enjoy this section," and then I go, "But first of all, listen to this." It's in 10 sections, the play. So 10 times I come on, wearing the full gear. And I say, "I'm glad you're enjoying it" - all clapping. "The next section we'll have John who you met in part one who will make love to Janet, and I think this piece of music might help you into that particular section." Be fun, wouldn't it? Why can't you ask him or Howard Brenton to write that?
You're thinking of the two least likely playwrights.
That's why I mentioned them. Or maybe Tom Stoppard could.
You've never done a play of his.
No, I'm not good enough.
Do you mean that?
Yeah.
Why?
Stoppard needs actors of the ilk of John Wood. John Wood is an actor of steel, he's accurate, he's literate. I'm more of an actor like an animal who sniffs around. I'm not bullshitting. John Wood requires that beautiful Ian McDiarmid-type acting. Ian McDiarmid, John Wood.
John Gielgud?
John Gielgud. Precise.
Whereas you're more of a Richardson.
I'm more of a wandering fuckin' main chancer trying to get yourself into parts by...
Is that why you struggle with text-angst?
What's it mean?
Trouble with learning your lines.
Oh, yeah. As you get older it becomes more and more difficult. It's a nightmare. When I was in the play with Ralph - this is not to excuse myself - in the first scene he called me by 12 different names.
But he was famous for it.
He was famous for not knowing them, wasn't he? It's very hard.
Will there come a time when it's too much of a struggle?
No, I'll fight it. I mean, it's all right. I can get by.
Is there anything you really want to do?
In terms of play acting? I take what's offered. I mean, I keep a low profile, keep my nose out, and try and hope that people send you good plays. An occasional bit in a film.
Could you ever give up?
No, no. I couldn't do that. I couldn't. I mean, when I'm not working, which is rare, I don't exist. The first few days of finishing a job and you haven't got to go the theatre or you've finished a film you can walk around and be happy. You've just done this job. But after a couple of weeks you just go, "I don't exist," become a fucking shell. Nothing. Everything else in my life relates to being an actor and if the acting isn't going well or I'm not working then everything else goes into a blur. It's a terrible thing to say, but it's true.
There must have been a moment when you realised it was who you were.
I don't think that I really felt I belonged in acting until my late twenties, thirties, when I began an association with Ayckbourn and I thought, "This is my job." When you've got the nous to think you can do this job and people want to see you…
But if you're an empty shell, you must have had an instinct that this is what you needed in order not to be empty.
As a teenager I lived in a fantasy world. Dreams. And I think that's the genesis of being an actor, isn't it? I was always dreaming and fantasising. I do less of that now because I've been an actor so long I've got it out of my system. But when you're a teenager that's the beginning of acting, isn't it? That you want to be someone else. You dream about being other people. Acting is dreaming, isn't it? It's like being in a dream. I suppose the realisation that you want to be an actor is that sort of feeling that you have. But it doesn't come true initially because in order to do that you have to have some worth and if you're standing onstage with a spear that's out of the question because you're just a space filler. You only start proper dreaming acting when you do well and people start giving you bigger parts.
I've always thought, the less people know about you the better
You say you're an empty shell when you're not working, but you have keen interests away from acting.
Anything mechanical. Clocks, cars, planes, anything that works. Eighteenth-century firearms. It's a small world, so I know every dealer in the United Kingdom. If you're in a play you've got all day. You have to be in the play, let it run in, good reviews, playing off the top of your head, and then you can concentrate on other things. I have to have something else. I love the creativity. Inside that block of steel is the part that you want, and sometimes it takes fucking hours. Sometimes it's crude, when you're chopping great blocks of metal off, but finally it's very delicate engraving, and I love that whole process.
What might that part be?
It could be any moving part on an eighteenth-century duelling pistol. It could be something really beautiful that's destroyed. That is what I love best of all. Something of high quality that's for sale that's potentially worth a great deal of money. But bits are missing off it. The wood's broken, the metal's rusty, the whole mechanism's missing. It gives me the greatest pleasure to bring that back again to what it was. It gives me more pleasure if the guys who know don't know.
Can you age metal?
Oh yes. Many techniques for ageing metal. I can't tell you what they are because I keep them to myself.
Could you make a living?
I could, yes. Friends of mine do. But it's not a very good living.
Why do you shy away from interviews?
I've always thought, the less people know about you the better. You walk on and the bloke in the auditorium says, "Oh he collects toy trains." His wife says, "Oh does he?" He says, "He's got eight 'undred. He drives them round his garden." If you were a blank canvas that would be the ideal.
Thank you very much.
Did I talk a load of bollocks?
I'm quite a serious-minded actor. I am! I am! I've got this reputation because I fuck about off the stage they think I fuck about. But I don't
Explore topics
Share this article