theartsdesk Q&A: Playwright David Greig |

reviews, news & interviews
theartsdesk Q&A: Playwright David Greig
theartsdesk Q&A: Playwright David Greig
Leading light of the Scottish playwriting boom on revisiting Macbeth
Saturday, 06 February 2010
A new play by David Greig opens at the Hampstead Theatre for the Royal Shakespeare Company next week. A theatre director as well as playwright, Greig (b. 1969) is one of the most prolific and artistically ambitious playwrights of his generation and a key figure in the current burgeoning of Scottish theatre. In addition to an extraordinarily diverse range of plays such as Europe (Traverse Theatre, 1994), The Cosmonaut's Last Message to the Woman He Once Loved in the Former Soviet Union (Tron Theatre, 1999) and Damascus (Edinburgh International Festival, 2009), his work includes adaptations such as his version of Euripides' The Bacchae, starring Alan Cumming (National Theatre of Scotland, 2007), translations and plays for young people.
Midsummer (Traverse Theatre, 2008), a bitter-sweet play with songs which he co-wrote with Gordon McIntyre, recently transferred to the Soho Theatre. His latest play - for the Royal Shakespeare Company, directed by Roxana Silbert - is Dunsinane, a vision of what might have happened after the demise of Macbeth. It stars Siobhan Redmond (pictured below by Simon Annand, in rehearsal with Lisa Hogg and Mairi Morrison) opens at the Hampstead Theatre on 10 February.
HILARY WHITNEY: Tell me about your upbringing.
DAVID GREIG: I was born in Edinburgh but brought up in northern Nigeria where my dad worked in construction. My parents made quite a big leap from a conventional working-class Scottish background to this rather glamorous expatriate environment, where people owned horses and had glitzy parties. It was a bit like something out of a novel and I loved it. We came back to Edinburgh when I was about 12 and I didn't like it at all. I would have preferred to have stayed in Africa.
When did you become interested in theatre?
I acted in all the school plays and I thought I'd probably be an actor, but I think I'd always known I'd be a writer in some shape or form; I didn't see that one necessarily precluded the other. Then I had two university offers – one was to go to Trinity in Dublin to do English and the other was to do drama at Bristol. I thought long and hard about it because Trinity definitely seemed to me to be the writer's choice. But – and remember, I was about 17 – I was very concerned to hear that you couldn't get contraception in Ireland and I thought it was going to be hard enough to have sex with girls as it was, so that tipped the balance. That and the fact I wanted to hang out with actors. Exciting things happen when you hang out with actors – they're sexy, they make life interesting. So doing drama at university was a way of having my cake and eating it; I was doing something intellectual enough to be considered academic but I still got to hang out with actors.
So why didn't you become an actor?
I wasn't good enough. But I also remember quite clearly deciding I wanted to be a director, which is really how I came to be a writer. At that time, in the early Nineties, the fashionable thing to do was to direct radical versions of the classics – that's what people like Stephen Daldry and Sam Mendes were doing - so I thought that if I wanted to be noticed, I would have to do something different. I couldn't afford to pay the rights for new plays so I thought I'd write my own and that eventually someone would give me plays to direct, but it didn't work out like that.
When I left Bristol, a friend of mine ran a venue for two or three years called Theatre Zoo, which showcased work from university drama departments, like Bristol and Warwick, so it was student drama but of a very high standard - it's where Sarah Kane had some of her first plays put on. I did a deal with my friend whereby I ran the café and he gave me any slots he couldn't fill. I gave him all the box office, after expenses, so my only income was from the café. I had about five plays on in one year and two the next, and then one of them, Stalinland, won a Fringe First and got a lot of attention from the theatres. It subsequently went to the Citizens Theatre in Glasgow but I didn't direct it - in fact, I quickly realised that people wanted to pay me to write but they didn't want to pay me to direct. It's also quite hard to forge a career if you just want to direct because there aren't that many opportunities; artistic directors want to direct plays themselves, they don't really want to bring other people in to do it. So I decided to drop the directing – although I did pick that up again later - and concentrate on making theatre in two different ways: by working collaboratively with my company, Suspect Culture, and writing my own plays.
Tell me about Suspect Culture.
Originally Suspect Culture was made up of people from Bristol University. One of them, Graham Eastough, came to live in Glasgow, where I was also living so we set up the company in Scotland. We had 10 years as a funded company until they [Scottish Arts Council] got rid of us last year.
When did you feel you were really making headway as a playwright?
Europe, which was first produced in 1994, is generally accepted as my debut although as theatres love to have debuts, what is often called a writer's debut very rarely is. I like to point this out when I'm teaching because if you're a young writer you might look at Europe and think, "Wow, that was David Greig's first play," or read Sarah Kane's so-called first play and think, "But I'm nowhere near that standard," and get really discouraged. But Europe was my 12th play and Sarah Kane's "first" play was probably about her fifth. Although I started to get wider recognition because of Europe, it didn't come to London until there was a revival at the Barbican in 2007. It's interesting that my playwriting career coincided not exactly, but near enough, with the devolution in Scotland, and when we founded Suspect Culture we made it very clear that we were looking out to Europe from Scotland and that we weren't interested in London, which was quite unusual at the time – the general feeling was that you had to be accepted in London before you could go further afield. But our strategy worked for us and we did a lot of work in Spain and Czechoslovakia, for example.
The point is that when I first wrote Europe, both the Royal Court and the Traverse [Theatre in Edinburgh] were interested in having it but the Court wanted it for the Theatre Upstairs and the Traverse wanted to do it on the main stage. The Court was a bit dithery, and although I'm not prickly as a person I am quite prideful of my writing, and I felt they regarded the Traverse as a provincial theatre so they thought they could keep me dangling. And that annoyed me so much that I thought, "Fuck them," and as soon as the Court's option expired I gave it to the Traverse. I basically thought, "This is my home. It's not provincial to me, it's my capital city, so I'll fucking well put the play on here."
The result of that decision - and I certainly don't think it was a necessarily wise or clever decision - is that having a play open in London is a relatively rare event for me. The first one was Victoria, which the RSC did at the Barbican. I think I'm quite unusual among my generation of playwrights because I'm generally not perceived as part of the new writing boom of the early Nineties alongside writers like Mark Ravenhill and Jez Butterworth. I think that's partly because I was in Scotland and my plays didn't get put on in London.
But you are very much part of what is considered to be a renaissance of Scottish playwrights.
Yes, there's been a great flowering of writers in Scotland - people like David Harrower and Zinnie Harris and Stephen Greenhorn - and I feel very much part of that. But it look a long time to emerge.
Yet this didn't come entirely out of the blue, did it?
Until about 1945 the only theatre available in Scotland was variety shows and imported touring work, but over the past 50 years we've gradually built up a Scottish theatre tradition, in the first instance by writers who wrote in Scots as a kind of statement, followed by a political wave of writing that came through writers such as John McGrath and companies like 7:84. Then in the Eighties Scottish writing became very rich linguistically, led by writers such as Liz Lochhead, John Byrne and Iain Heggie, who all have very strong idiolect voices – no Scottish person ever talked like a Chris Hannan character, only Chris Hannan characters talk like Chris Hannan characters, but they are very definitely Scottish. Similarly Liz Lochhead is a poet and that's very clear in her work, and Iain Heggie uses a crazy linguistic style, and John Byrne in particular is very ornate and florid.
Those playwrights made the idea of being a Scottish writer a very exciting thing. If you are really going to start developing a tradition, you need people to emulate and those were the people my generation were reading when we started to make our careers. So this great flowering of Scottish writing has been building and building and it's only just broken the surface, so maybe it looks new from the outside but it's taken a while and it's culminated in Blackbird [by David Harrower] winning an Olivier Award and going into the West End, in Black Watch [by Gregory Burke] touring the world, and the National Theatre of Scotland. When I started out, the idea that a Scottish playwright might have a play performed by the Schaubühne in Berlin would have seemed very unlikely but in fact a number of Scottish playwrights have had plays on in Germany and have even been commissioned by German theatres, so that sense of looking outwards to Europe has come to fruition in rather a splendid way.
I've now got this whole new audience who came to Midsummer, which I'm very happy about, but I'm wondering what they'll think if they come to Dunsinane, which is all blood and horror and war
Certainly most of your plays seem to look outwards, beyond the personal to issues such as globalisation and national identity. Is this deliberate? Do you sit down and think, "And now I'm going to write a play about globalisation"?
No, I don't set out to do that. My plays usually start life as a title, an image and some sort of emotional drive all coalescing around a question, and when I have those things I know I've got a play, although obviously it takes a bit of time to work out the story. For example, I was on a train going through Fife and there were all these closed-down factories and mines, and I remember thinking, "It's so horrible, why don't people get out? Why don't people just leave?" And that question interested me. I wanted to find out why people don't leave a place which is so obviously dead.
However, because I was brought up abroad, I don't speak Scots; it's not my natural language and I didn't feel confident enough to write working-class Scottish voices, I felt it would be fraudulent. At the time, my hero playwrights were European - von Horvath, Brecht in particular – and it occurred to me that if I wrote a play as if it was in translation, it would allow two things: a certain sort of formal poetic language because it wouldn't be pretending to be naturalistic as it was obviously translated, and the freedom to write working-class characters as I required them to speak, because no one could say, "A German railway worker wouldn't speak in that way." So I set the play in Europe and called it Europe. It was almost as straightforward as that.

Dunsinane had been in my head for about six or seven years, and it began with the question of "What happened to Macbeth?" but the emotional drive comes from Siward. I had this image of a soldier standing on the edge of a very Scottish landscape, a bog. And the emotional feeling is that he has to conquer this land somehow but it's a bog. His desire is to do good, to be a good commander, but he knows he's about to step into this big horrible morass. The title came because I was interested in the idea of the garrisons and the barracks and then I realised they [the English] would have taken over the castle, so that was it. But I didn't have much more than that for three or four years and it took a lot for it to actually become what you see on stage, but the basic elements have always been there. You don't necessarily see the image of the soldier standing on the edge of the bog, but it's there throughout the whole play.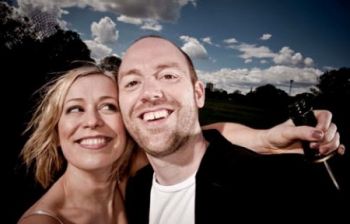 Dunsinane is wildly different to Midsummer, the two-hander play with songs that transferred from Edinburgh to the Soho Theatre recently - and which you also directed. (Left: Cora Bisset and Matthew Pidgeon in Midsummer.)
Again, this is one of the very odd aspects of my career. I think I'm unusual in this regard which is that I have many distinct strands to my work: there are the plays I write for children and young people, such as Tin Tin or Yellow Moon or Dr Korcak's Example, then I had the Suspect Culture work, which was collaborative and experimental and then there are some frivolous pieces, such as Caledonia Dreaming, which is set in Edinburgh and has many similarities in tone and style to Midsummer - and I also directed both of them. But you would have had to have seen theatre in Scotland in 1997 to make the link, so this frivolous side will have come as a surprise to most people. Of course now I'm anxious because I've got this whole new audience who came to Midsummer, which I'm very happy about, but I'm wondering what they'll think if they come to Dunsinane, which is all blood and horror and war. Although it does have some songs.
You've also worked extensively in the Middle East.
My teaching in the Middle East came about by accident, as these things often do. In 1999 I called my agent to say I was really short of money and I needed to get something that paid upfront, and I needed it like now. I thought that she would maybe try and get me an episode of The Bill or something, but she rang back and said she'd been in touch with the Royal Court and would I like to go to Palestine with [the director] Rufus Norris to devise a comedy with the Al Kasaba Theatre in Ramalla? It turned out to be part of a long process that Elyse Dodgson, who is responsible for the very extensive international programme of work at the Court and is very passionate about Palestine, had set up.
While I was there, we also did workshops with writers in Palestine and then the British Council in Syria invited us, in collaboration with the Royal Court, to do workshops with young Syrian writers, whom I worked with for over three years. Then April de Angelis and I did a week-long workshop in Syria with young writers from Syria, Lebanon, Jordan, Egypt, Tunisia and Morocco, which culminated over a two-year period in all the plays being read in all different Arabic countries and five of them being given full-scale readings at the Royal Court in November 2008.
And as a result of that experience you wrote Damascus.
Damascus came to me very much out of that experience, although it's a loose parallel because although it's about a writer, he's a writer of English-language text-books and he gets stuck there. It's me when I first went to Syria, rather than me now. It divided opinion in Arabic countries in rather a splendid way, in that young people really, really loved it but some of some of the older generation were really very angry about it.
Why do you think that was?
Well, I'm not surprised they were cross and I think it's something Scottish people could relate to: if there was a big play at the Edinburgh Festival, bigger than anything I could dream of, called Edinburgh written by an American writer about an American writer's experience of Edinburgh, there is no way I would give that play the time of day. I would be out to hate it from day one. The city Damascus probably only has something like eight professional theatre productions a year and if one of those is a very expensive British-funded play, of course you're going to approach it thinking, "You cheeky bastard, what are you doing writing about us?"
But actually I think the play won over some of those people, because if you think of it like a family, sometimes an outsider can almost naively hit upon some home truths, which can be quite a relief if you feel the same way but have never heard those feelings expressed before, although I suspect the feeling is different if you are an older member of that family. So that's my analysis - but they might have just thought it was rubbish.
Why have you never written about Africa? I would have thought it would have been a rich source of material for your work.
I have written one play about Nigeria, a radio play - no one knows about it because it was on Radio 3 about 15 years ago - and I'm currently adapting Hannah Pool's [journalist and writer] book about finding her Eritrean family. But no, I haven't written about Africa very much. It's cropped up in things; San Diego is a bizarrely autobiographical play and that has little bits about Nigeria in it. But basically I don't seem to have gone back there. I'm sure I will one day.
What if the stories of Macbeth being a tyrant turned out to be propaganda, a bit like the weapons of mass destruction?
As soon as television and film producers get a whiff of any new writing talent, they're round like a shot, because there is a never-ending demand for good screenwriters. Why have you remained so loyal to theatre?
Well, there's a practical reason and an emotional reason. The practical reason is that I had children quite young by today's standards, I was in my mid-20s, so I needed money and by that stage I had my career. If I wrote a play I could be pretty sure it would be put on and I would get an income from it, which is partly why I'm so prolific. And perversely, I quickly reached a stage where to embark on a television or film commission ran the risk of me losing money, because there was no guarantee of these things getting made and I had experiences where I spent six months on a script that didn't get made, whereas I could have written two plays in that time and some of those plays might go out into the world and still be earning me money five years later; so it wasn't really economically viable for me to take that risk.
The emotional reason is that I just really, really like theatre. I like it and I feel at home here and television doesn't respond very well to experiment and frivolousness and language. It might have worked out if I'd started young but then I'd have to have worked on other people's projects and soaps and that never appealed to me. If you are going to work in any form, you have to really adore it and that's the case with me and theatre. Good telly writers really love telly. They really think telly is great. I think telly is all right. I'm not that bothered about it. I'm not hostile to the idea of film and television. I do have film and telly projects – I've already mentioned that I'm adapting Hannah Pool's book and I'm also very interested in adapting Midsummer for the screen, but I want to direct it myself on a very, very low budget. I'm possibly now in a position where I can say, "Look, this is the only terms on which I'm going to do it, so either let me do it or don't." But if I do it, I'm going to muck around and break the rules, because Midsummer the play does that, so I'd want it to be as formally inventive on screen as it is on stage.
I think several of your plays would work well on the screen, The Architect and The Cosmonaut's Last Message in particular.
Funny you should say that. The Architect was adapted into a Hollywood film - not by me - with Isabella Rossellini and a guy I thought was really good but I can't remember his name [Anthony La Paglia]. I thought it was all right but it bombed. It got some very nasty reviews. I felt really sorry for the writer-director because he worked really hard for 10 years to get it made.
Your first play, A Savage Reminiscence, was about Caliban after everyone had left the island in The Tempest, so you seem to have come full circle, writing a play about what happened after Macbeth was killed.
Yes, Dunsinane is another after-Shakespeare play (right: fight rehearsal, pictured by Simon Annand). I find that sort of thing, that what-happened-next, endlessly appealing. I suppose it's because I don't find plays any less real that the real world. It doesn't seem odd to me to speculate in that way.The thing about Dunsinane is that although it all grew from this image of a man standing on the edge of this hostile landscape and it all sounds very bleak and epic, there's also something a bit cheeky about it. You see, it's always slightly annoyed me – now this is turning into a bit of a "chippy Scot" interview, which is interesting because I never think of myself as that at all, but plainly I am in some way – that the most famous play about Scotland was written by England's most famous playwright. It's even called "The Scottish Play".
But there's also something that most Scots know about the real King Macbeth, which is that he probably wasn't a tyrant, he was probably quite a good king. He ruled for about 15 years at a time in Scottish history when the turnover in kings was something like one in every six months, so he must have been doing something right. He also embarked on what, at that time, was an epic six-month journey to Rome; if you had been an unpopular tyrant that would have been insane – you'd have lost your kingdom. So he must have been very confident that his kingdom would be there when he got back.
So the cheeky bit of me thought, "What if the stories of Macbeth being a tyrant turned out to be propaganda, a bit like the weapons of mass destruction?" So the English army were told that Macbeth is a bastard and that the Scottish really need them, but when they arrive they discover that nothing they were told is true. So Siward's got a job on his hands - and Dunsinane follows that story.
It obviously has parallels with Afghanistan and Iraq, but you hit on something when you asked earlier if I sit down to write about big themes like globalisation, because I don't mean to but obviously I do on some level, because that's how my plays end up. I suppose I found that thinking about Afghanistan and Scotland illuminated them both. Scotland in the 11th century was a mountainous country with different clans – or tribes – all fighting with each other to gain control.
There's one exchange I'm very fond of in the play when Siward has become quite ruthless because the war is going so badly, and one of his lieutenants says, "What is this in pursuit of? What are we trying to achieve?" and Siward says, "Peace." And the lieutenant says, "Well, do we have to be quite so violent in the pursuit of peace?" And I think that reflects the attitude towards the wars in Iraq and Afghanistan. "Why won't you fucking stop fighting? We need to fight you into submission to stop you from fighting."
The other cheeky element is that Dunsinane is full of characters going, "Oh, this fucking country - it's cold and the food is awful," and they go on about how great England is. It's quite fun being rude about one's own country in public and it's also quite nice to have the opportunity to write about how good England is. It wouldn't be quite the same coming from an English person. So I can't be that chippy.
Dunsinane is booking at the Hampstead Theatre, London NW3, 10 February-6 March
Share this article