Domesday, BBC Two/ Treasures of the Anglo-Saxons, BBC Four |

reviews, news & interviews
Domesday, BBC Two/ Treasures of the Anglo-Saxons, BBC Four
Domesday, BBC Two/ Treasures of the Anglo-Saxons, BBC Four
How - and how not - to make history programmes for the television
What was originally a coincidence of reviewing – two dispatches from the Dark Ages, Treasures of the Anglo-Saxons on BBC Four and Domesday on BBC Two – in fact turned into a remarkably instructive diptych of how and how not to make history programmes for the television.
In reverse historical order, Domesday is the exemplum of what not to do, which is turn an average idea for In Our Time on Radio 4 into an hour-long documentary for the television. This is the greatest sin: when given time on the television, fill it with interesting pictures. There is nothing – almost nothing at all – in this discussion of the Domesday Book which demands a picture; the depilation of a cow's hide to make parchment is at most mildly diverting, and certainly nothing that couldn't be tackled on the radio with a few words and a rummage around the BBC's sound effects department.

Most of the time we have presenter Dr Stephen Baxter ladling out thin gruel on commissioners interviewing landowners or the methods of scribes. The shots of Norman cathedrals are gratuitous, and showing us illegible columns from the Domesday Book soon gets repetitive.

One should also not promise major revelations, as Dr Baxter does, when none are to be given. His grand claim is that no one has yet realised that a chronicle of land ownership made by an invading king is an attempt to legitimise his territorial dispositions. No one, of course, except countless academics and even mildly historically aware television viewers: the Romans were fixing censuses a thousand years before William the Conqueror got there, and the gerrymandering of Westminster's constituencies is in this week's papers.

Finally, one should at least feign interest in one's subject and interviewees. Dr Baxter seems disengaged, not at all managing to connect with those he talks to. When a scribe writes out "Cambridgeshire", the best Dr Baxter can offer is a hesitant, "That's my home county," seeming ill at ease. This comes across sharply on television and makes it impossible to connect with him, severing any real desire to watch on.

One might argue for a pardon for a first-time presenter, but Dr Nina Ramirez of Treasures of the Anglo-Saxons removes any need for this. Filled with enthusiasm, Dr Ramirez manages to make everything seem exciting (which nearly makes up for her voice, not always wholly euphonious or strong): she is almost breathless when allowed to see the Finglesham buckle, much to the consternation of the starchy aristos who own it. Indeed, Dr Ramirez even manages to get in a pointed question about how the Lords Northbourne came to own it in the first place.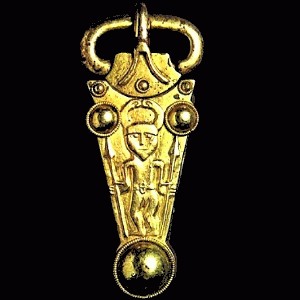 Dr Ramirez's promise of something new is not oversold but is in fact perfectly suited to television: she offers an art-historical perspective on Anglo-Saxon treasures. That the Anglo-Saxons were capable of making beautiful and intricate jewellery will not be news to anyone born after the discovery of the hoard at Sutton Hoo. Dr Ramirez's strength, however, is in her explication of what the symbols mean, which diverse cultures influenced the styles, how the pieces melded art and practicality: to learn that they used garnets from India will force a reassessment for most viewers.

Partly an illustrated lecture – slides and all – Treasures of the Anglo-Saxons delivers visually, the screen usefully occupied in close-ups of intertwining snakes or the self-referentiality of the Finglesham buckle (the buckle's Odin is himself wearing a buckle, pictured above). There are far too many shots of Dr Ramirez's quasi-dominatrix boots – look! She's a feisty female historian! – but these are forgiven when the rest of the hour is so well occupied.

They say television adds 20 pounds, but what this really means is that it accentuates what is there already: Dr Baxter's dry manner and Dr Ramirez's enthusiastic one are magnified, one dragging down a dull subject, the other causing a promising one to spark into life.
Explore topics
Share this article