The Kennedys get the Dynasty treatment |

reviews, news & interviews
The Kennedys get the Dynasty treatment
The Kennedys get the Dynasty treatment
TV miniseries about star-crossed Kennedy clan sparks controversy
'Former JFK speechwriter Ted Sorensen described the script of The Kennedys as "malicious and vindictive"'
Writer/producer Joel Surnow, creator of the War-on-Terror thriller series 24, is executive producer of The Kennedys. He insists that the series is "100 per cent historically accurate" and was vetted "extremely microscopically" by lawyers and historians from the US History Channel. However, Surnow is a well-known conservative who has worked for Fox News, which prompted suspicions in some quarters that his series would be a hatchet job on the fabled Democratic dynasty (Tom Wilkinson as Joe Kennedy, pictured below).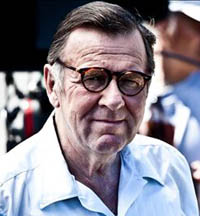 An early draft of the script, apparently written in a lurid, tabloid-esque tone, didn't help his cause, and the toned-down finished version doesn't shy away from portraying Joseph Kennedy as an appeaser of Hitler or from the sexual profligacy of Joe and his son and future president, Jack. There's little here that wasn't already in the public domain, but that didn't stop former JFK speechwriter Ted Sorensen (before his death last October) decrying the screenplay as "malicious and vindictive".
It's also known that Caroline Kennedy (daughter of JFK and Jackie Kennedy) and Maria Shriver (JFK's niece and Mrs Arnold Schwarzenegger) lobbied strongly against it. All of this may have influenced A&E Television Networks (AETN) - parent company of the History Channel - to think twice, particuarly since Ms Kennedy will have a book published in September by Hyperion, which is a division of Disney, which is one of AETN's controlling partners (Katie Holmes plays Jackie Kennedy, pictured below).
However, from 3 April The Kennedys is airing Stateside on ReelzChannel, a relatively obscure family-owned cable network which anticipates that the series will give its profile a hefty boost. Stan Hubbard, CEO of ReelzChannel, describes The Kennedys as an "old-school miniseries treatment" of its subject, and adds: "It's not Kennedy-bashing by any stretch of the imagination. In fact, the Kennedys come out looking really good."
Following its UK showing on the History Channel, The Kennedys will be screened on BBC Two in May.
The Kennedys is on History at 9pm on Thursday, 7 April
Watch the trailer for The Kennedys