Mo, Channel 4 |

reviews, news & interviews
Mo, Channel 4
Mo, Channel 4
Human drama outshines political shenanigans in Mo Mowlam biopic
It was a bit like the Ghost of Labour Past at Channel 4's screening of this biopic of Mo Mowlam at BAFTA a couple of weeks ago. A cohort of party veterans turned out, including Charles Clarke, Neil Kinnock and Adam Ingram (a close ally of Mowlam's and played by Gary Lewis in the film). There was even a brief introductory talk by "Batty" Hattie Harman, recalling how she first met Mowlam at Westminster. What a thrill that must have been for Mo.
The star of the piece, Julie Walters, admits that she has become so disillusioned with politicians that she doesn't know if she can bear to vote for any of them any more, so she must have been relieved that the film tried to downplay party politicking in favour of Mowlam's human qualities, such as down-to-earthness, bawdy humour, extrovert emotionalism, and courage in the face of a terminal illness. Bubbling along as a subtext of Neil McKay's screenplay was the notion that despite her wholehearted involvement in New Labour, uncynical, big-hearted Mo represented the traditional Labour values subsequently incinerated by people like Alastair Campbell.
Walters turned every knob up to 13 for her portrayal of Mowlam as an unstoppable and unconventional force of nature
However, if she hadn't been one of those "Blair Babes", nobody would have made a film about her, and McKay used her stint as Secretary of State for Northern Ireland, during which she helped drive forward the process that culminated in the 1998 Good Friday agreement, as the pivot of the drama. I imagine there could be some lively debate over whether she was as significant a player in the process as depicted here - Tony Blair would love everyone to believe it was all his doing, and John Major deserves a nod - but Walters threw caution to the winds and turned every knob up to 13 for her portrayal of Mowlam as an unstoppable and unconventional force of nature.
Unstoppable, at least, until she ran into the two-headed obstacle of Blair and Peter Mandelson. Blair only featured in archive news clips and as a voice down the phone, but his deviousness and apparent jealousy of Mowlam's high profile were evoked through onlookers' comments and his executive decisions. As far Mowlam's husband Jon (an embarrassingly gushing and sentimental David Haig) was concerned, his sudden removal of Mowlam from the Northern Ireland job to Cabinet Office Minister precipitated the final onslaught of the brain tumour she'd been battling for several years."She was fine until Blair shafted her," he said desolately.
It was Mandelson who replaced Mowlam in Belfast, the culmination (according to the script) of a long history of mutual loathing between the pair of them ("devious c***," raged Mowlam during one climactic flare-up). Mandelson was played with snide cold-bloodedness by Steven Mackintosh, lurking in corridors and ante-rooms like an assassin from Sir Francis Walsingham's secret police, ready to slip a knife between the ribs of anyone blocking his own advancement.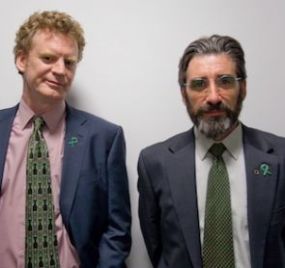 The depiction of Mandelson typified the sometimes cartoonish quality of McKay's writing, also evident in the way Gerry Adams and Martin McGuinness (pictured right, played by Eoin McCarthy and John Lynch) were presented as a monosyllabic black comedy duo. Perhaps it didn't help that despite Walters' energy and range, you're always inclined to think of her as a comic actress. The incident where she flashed her knickers at David Trimble (Adrian Dunbar), stunning the tight-lipped Ulster Unionist supremo into shocked silence, was based on a true story, but the collision of farce and high political drama didn't feel comfortable. As Mandelson put it to her later in the piece, "if you carry on like this people are going to ask if there's something wrong with you."
As there was, of course, and some of the most powerful scenes dealt with the horror and anguish caused by her cancer. The self-doubt, self-loathing and loss of control of bodily functions were not glossed over, and Mowlam was seen trying to absorb the possibility that her "loveable, larger-than-life" personality had been only a collection of symptoms caused by the tumour. It gave a merciless twist to an already cruel fate.
Share this article