PhoneShop, E4 |

reviews, news & interviews
PhoneShop, E4
PhoneShop, E4
Is it worth signing a six-week contract with this sitcom sales team?
On the evidence of this opening episode those hopes will have been cruelly dashed. Except for a few brief moments of respite (most of them supplied by Emma Fryer, but more of her later), I just didn't find it in the slightest bit funny. Not a smile did I crack. The Office can be glimpsed, Mount Everest-like, on the horizon, but PhoneShop rarely ventured out of base camp. Is Gervais losing his touch, or was there an element here of helping out an old mate? And as we know from his continuing involvement with Karl Pilkington (from Sky1's quite amusing An Idiot Abroad), Gervais can be laudably supportive of his old muckers.
Phil Bowker's background is in comedy production – he was responsible for the first two series of BBC Three's Pulling and BBC Two's 15 Storeys High, unfairly neglected gems the pair of them. And while at Avalon, Bowker was responsible for getting Gervais his first job in television, as a writer and then performer on The Jim Tavare Show. The two have been good friends ever since, and now that Bowker (since 2008 the Comedy Editor at Talkback Thames) has moved into comedy writing, you can't entirely avoid the suspicion that Gervais is returning the earlier favour.

It seems that when Bowker finished his script for PhoneShop he became alarmed that the shop manager Lance (played by Martin Trenaman, pictured below) might be regarded as a variation on David Brent. You can see his point, but you could equally say that Bowker should be so lucky. Compared to Brent, Lance is a cipher, and that goes for most of the other characters inhabiting the Sutton branch of this mobile phone emporium. One of the many great joys of The Office was the recognisable workplace types and the recognisable manner in which they interacted. Bowker and his co-author John McQueen may have researched phone shops to within an inch of their lives, but beneath their no doubt accurate observations of life in such an establishment, they don't seem to have created credible characters. And it's not as if high-pressure salesmen can't be funny and touchingly human – take Barry Levinson's 1987 movie Tin Men for starters.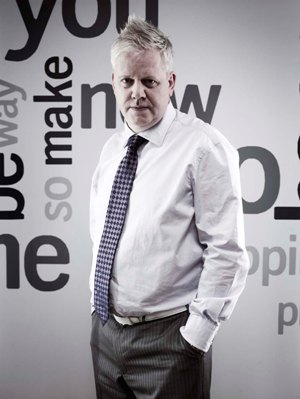 I just didn't believe in these people at all – not Lance, not new boy Christopher (Tom Bennett), who first we meet stuck in the staff loo; and certainly not Ashley and Jerwayne, the former a white guy old enough to know better who, over a decade after Ali G first made the "wigger" a figure of fun, comes on with the Jamaican street slang that has been colonised by Britain's teenagers.
Only Emma Fryer, as Janine, seemed to show any real comedic spark – but then Fryer is an original talent, as she proved in her self-penned BBC sitcom Home Time. There was perhaps an element of improvisation in Fryer's performance (the opening credit informed us that there was "additional material from the cast"), and she managed to sneak in some promising bits of business amongst this uninspiring ensemble.

Workplace sitcoms don't necessarily have to resemble the real world, of course. No computer backroom staff would operate like Roy, Moss and Jen in The IT Crowd, but Graham Linehan's sitcom does capture, in exaggerated form, truths about certain geeky, under-socialised techie basement dwellers. But then not every sitcom can star the wonderful Richard Ayoade, or have Linehan's zestful lightness of touch.

The best line of the night came at the very end – when the Sutton branch was visited by their hyper-competitive rivals from the Croydon branch. "Oh sorry, I thought this was a charity shop," says one of them. "Guess I'll have to come back in six months." It's notoriously difficult (though not impossible) to judge a sitcom from its first episode, but a few more lines like that, and a touch more subtle detailing in the other characters, and PhoneShop might just be worth ringing back. Strictly pay-as-you-go only, however; I doubt I'll be tying myself into a six-week contract with this bunch.