Storyville: Mandelson - The Real PM?, BBC Four |

reviews, news & interviews
Storyville: Mandelson - The Real PM?, BBC Four
Storyville: Mandelson - The Real PM?, BBC Four
The Dark Lord emerges unscathed from Hannah Rothschild's documentary
Wednesday, 24 November 2010
The title could have used a bit more work, I'd have thought. No, Peter Mandelson was never "the real PM", and won't be now. As for the real Peter Mandelson, there is no evidence that any such mythical beast exists. And why hadn't Lord Mandelson become prime minister, film-maker Hannah Rothschild asked him in one of her deferential voices-off moments? Because Tony Blair and Gordon Brown had entered parliament in 1983, Peter explained with exaggerated patience, while he himself had only got there in 1992. He was stuck at the back of the queue and had to wait his turn. This being the Labour party, an organisation which makes the Titanic look state-of-the-art, his chances of speedy advancement to pole position were more or less nil. And lots of people hate him of course, though he left that part out.
There had been efforts to whip up eddies of controversy around Rothschild's film (it was "likely to ruffle feathers in the Westminster establishment", The Guardian promised), but its cunning protagonist had already drawn its fangs with the publication of his autobiography, which made a rocket-assisted arrival at your local Waterstones in July. Thus, while the wobbly camerawork, which kept cutting off people's heads or legs as if the project was being secretly shot with a camera hidden in a lapel or a wristwatch, imparted an air of investigative secrecy, this was an illusion. This was a Mandelson-approved project from opening frame to final credits, and whatever you thought you saw was what he'd agreed to show you.
Indeed, after spending six months dogging his footsteps before and during the recent general election, it was remarkable how little of Rothschild's material felt brand new. True, we hadn't seen Mandelson changing his trousers before, or at home playing with his dog, or dropping yoghurt down his tie, but his description of
Gordon Brown
as being "like a cross between a snowplough and a combine harvester" had a familiar ring to it, and his condemnation of Messrs Cameron and Osborne as being like "a couple of greedy schoolboys guzzling sweets" was remarkable only for its non-lethal quaintness. He didn't like their "sense of entitlement", but probably only because it looked likely to trump his own. There was one intriguing little snippet where Osborne asked him "When are we going to see your film, Peter?" "Not for a long time," said Mandelson, adding that he might decide to include some scenes from Corfu. This was the setting for the Osborne-Mandelson row concerning meetings on Oleg Deripaska's yacht in 2008, which also involved Nathaniel Rothschild, brother of Hannah the film-maker
(pictured below with Mandelson)
. Small world.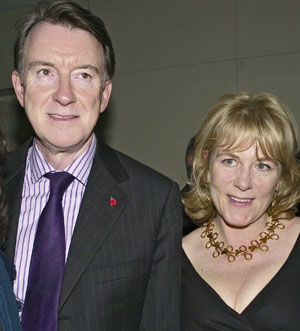 In fact, Mandelson seemed to hate the Tories less than people within Labour who he felt had stitched him up (these would include Alastair Campbell and Gordon's former bouncer Charlie Whelan), though his various falls from grace and subsequent comebacks did enable him to adopt a martyred, prophet-without-honour air. You could hardly expect some of these ignorant buffoons, he seemed to be saying, to appreciate my rare and precious gifts.
Coming out of the film, you probably felt much the same about Mandelson as you had done going in. He's ruthless, suave, shrewd to an almost psychic degree, lethally articulate and totally focused on the promotion of Peter Mandelson. As one of his aides pointed out, Mandelson was sent out for fire-fighting duties during the election because he has an instinct for avoiding pitfalls and "Peter has the best command of language." But there are fatal flaws alongside the brilliance. He recalled how
Tony Blair
had told him he was "too imperial", and showed his "sense of power" too much. His fascination with wealth and glamour has cost him dearly. And, like the scorpion in the old proverb, he wouldn't be able to resist stinging you because that's his nature.
Watch Mandelson - The Real PM? on BBC iPlayer
Find Peter Mandelson's The Third Man: Life at the Heart of New Labour on Amazon
Explore topics
Share this article