Carlos Zuniga, Edel Assanti Gallery |

reviews, news & interviews
Carlos Zuniga, Edel Assanti Gallery
Carlos Zuniga, Edel Assanti Gallery
Obsessive Chilean artist transforms imposing portraits and landscapes
Thursday, 25 November 2010
The thin line between Art and Craft gets slimmer as artists like Carlos Zuniga ignore the borders and delve into hands-on production processes. This Chilean photographer, architect and graphic designer works compulsively on large, imposing portraits and landscapes using intensely obsessive techniques.
His earliest portraits featured young people from his home town, Santiago de Chile, but the collection has now expanded literally and metaphorically into images which represent the generation born during the era of Latin American dictators - in Zuniga's case, during the Pinochet years. The works, particularly the landscapes, are deceptively beautiful and accessible and that veils the truth, but also echoes the handling of Chilean and Argentine history since that time. And that's part of the artistic thrill of these art works.
Zuniga's approach is carefully conceptual and layered; it can be taken literally or excavated for underlying meanings. At the opening of his London show, he explained that "the first impression of an artwork should be superficial in order to produce effective language retention. After that, secondary readings will emerge." That's obvious in both portraits and landscapes; only with close-up viewing do these implications emerge, and then trigger a curiosity and the realisation that there's no magic at work but the result of intense, repetitive, physical involvement.
Zuniga's original technique presents the images against a background of pages from local telephone books. For this exhibition, he flew to the Falkland Islands and photographed local residents and the bleak, rugged winter landscapes surrounding them. Back home, he used the Buenos Aires directory as his backing and embedded each digital photograph into the pages, transforming them into something resembling a negative. Head shots and rocky terrain were all redefined through a process loosely resembling tracing: he outlined and filled in the features and details by marking them with stumpy strokes of black ink, striking out the names listed on the pages, which means eradicating the people they represented. The portraits took days, the landscapes weeks, as Zuniga watched the newly transformed images emerge like faces in a tray of chemicals in a dark room.
The process is exacting and precise and here's where the craft work comes in. The most complex triptych titled Falkland Islands – Air (pictured above right) is a perfectly detailed reproduction of a pilot at the deck of a propeller-driven plane. These fascinating replicas, though, carry an additional weight created by erasing the names and that, for any Argentinian or Chilean, resonates with the censorship by the dictatorship, and more poignantly, the Disappeared victims. It's surprising, then, that Zuniga denies any political motives behind his work when he explains, "As part of the lost generation [born into that era], I don't like to contextualise things so much - I guess my work does that for me."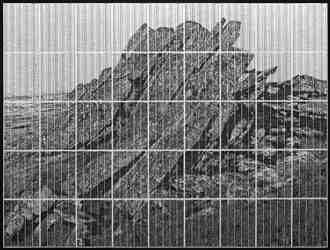 The Falkland scenes of course evoke memories of the war, both for the English population on the island, photographed here, and the families of missing Argentinians on the mainland. For the landscapes, though, a different artistic character emerges: seen from the near distance, they resemble etchings. The process creates what now seems like scratching and cross-hatching and highlights the rocks' and the seas' dense, rough textures (pictured above). As with the portraits, the underlying meaning is concealed but Zuniga admits to their political subtexts: "I've not created images of the war, but the landscape of the islands… The horror of war, the abuse and fear are all underlying, encrypted in the secondary awareness."
Explore topics
Share this article