Exposed: The Late Flowering of Ana Tzarev |

reviews, news & interviews
Exposed: The Late Flowering of Ana Tzarev
Exposed: The Late Flowering of Ana Tzarev
Introducing a 75-year-old artist as she holds her first show in London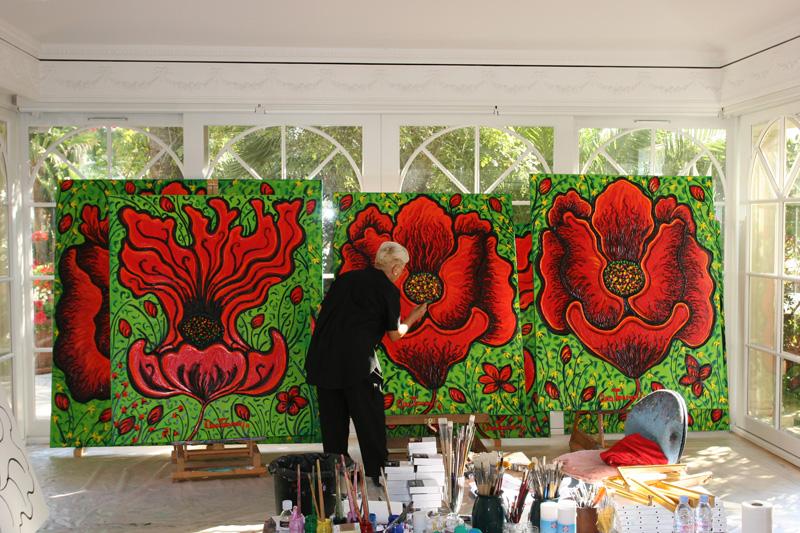 'I'm a big brush person. Pencils are not for me': Ana Tzarev at work in her studio
"It was a beautiful sunny day and we were just doing our work. All of a sudden the double doors opened of this gorgeous school on the waterfront, built by Austro-Hungarians in the Gothic style." Ana Tzarev remembers as if it was yesterday the moment in 1947 when she received her first review as an artist. She was 10. A drawing of hers was on display on the classroom noticeboard, depicting the way in which subtle variegations of light and shade played on three differently shaped vases.
"It was a beautiful sunny day and we were just doing our work. All of a sudden the double doors opened of this gorgeous school on the waterfront, built by Austro-Hungarians in the Gothic style." Ana Tzarev remembers as if it was yesterday the moment in 1947 when she received her first review as an artist. She was 10. A drawing of hers was on display on the classroom noticeboard, depicting the way in which subtle variegations of light and shade played on three differently shaped vases.
The city was Trogir, the beautiful port on the Dalmatian coast of Croatia, which had recently been subsumed into the confederation known as Yugoslavia. While the school's Hapsburg architecture harked back to a cultured pre-war yesteryear, in through its double doors walked the future, in the figure of the new communist head of state: Marshall Tito. Preceded by a very large dog.
It's not every childhood memory that features a plaudit from a newly installed dictator
"This German shepherd comes walking in," Tzarev continues, "and Tito strides in in his army uniform with his shiny belt and his brown reddish boots and two bodyguards with him. He said, 'Zdravo,' the communist greeting which means 'health'. We all froze. The dog passed me in the second row and I was dying of fear. Tito walked to the back of the class, not saying a word, and then he returned and looked at this noticeboard and the three vases that I did. He always had a cane under his arm. He got his little cane and went bang onto my drawing and said, 'Good work.' Our hearts were jumping out of our chests. And then he left without another word."
This little vignette is gripping not just for the undoubted strangeness of the incident itself, but also for the intense vivacity with which, 65 years on, Tzarev brings it to life. Of course it's not every childhood memory that features a plaudit from a newly installed dictator. But a couple of days in the company of Ana Tzarev reveals that the way she tells one story says much about how she has lived a very remarkable life, about who she is and, above all, how she paints. Just like her work her manner is direct, open and, most of all, strikingly positive. The more she talks, the more one becomes aware of her extraordinary magnetic force of will. The fruits of that labour will be on display at the Saatchi Gallery in May, when a collection of Tzarev's flower paintings is to be exhibited.
In recent years Tzarev's striking talent has been acknowledged and celebrated with exhibitions in Paris and St Petersburg, Monaco, Hanoi and Istanbul. Her long journey towards creative fulfilment asks an imponderable question: what makes a painter? What are the conditions that allow such an artistic sensibility to burst into being like a flower on one of Tzarev's vibrant canvases? This artist, it can safely be asserted, has followed none of the known paths.
The traditional trajectory towards public recognition involves an early start. In A Life in Art: A Journey of Self-Discovery, art critic Edward Lucie-Smith draws parallels between Ana Tzarev's late start and that of Van Gogh and Gauguin, Bacon and Warhol. "One can perhaps argue that the leading artists of the Post-Impressionist and Modernist epochs benefited from the fact that they waited to commit themselves to a life in art until they felt they had something to say." This would certainly be applicable to Tzarev. Her path was initially blocked by war and political upheaval, poverty and exile. And then for three decades she threw everything into bringing up a family and making a living. It was only in her fifties that she was free to turn her mind to painting. Long before she began painting her creativity was required to seek other outlets and take other forms: she founded a highly regarded retail business, and she produced three sons, two of whom are immensely successful in the world of international finance and have gone on to become hugely generous and creative in supporting the cause of education and culture in the developing world.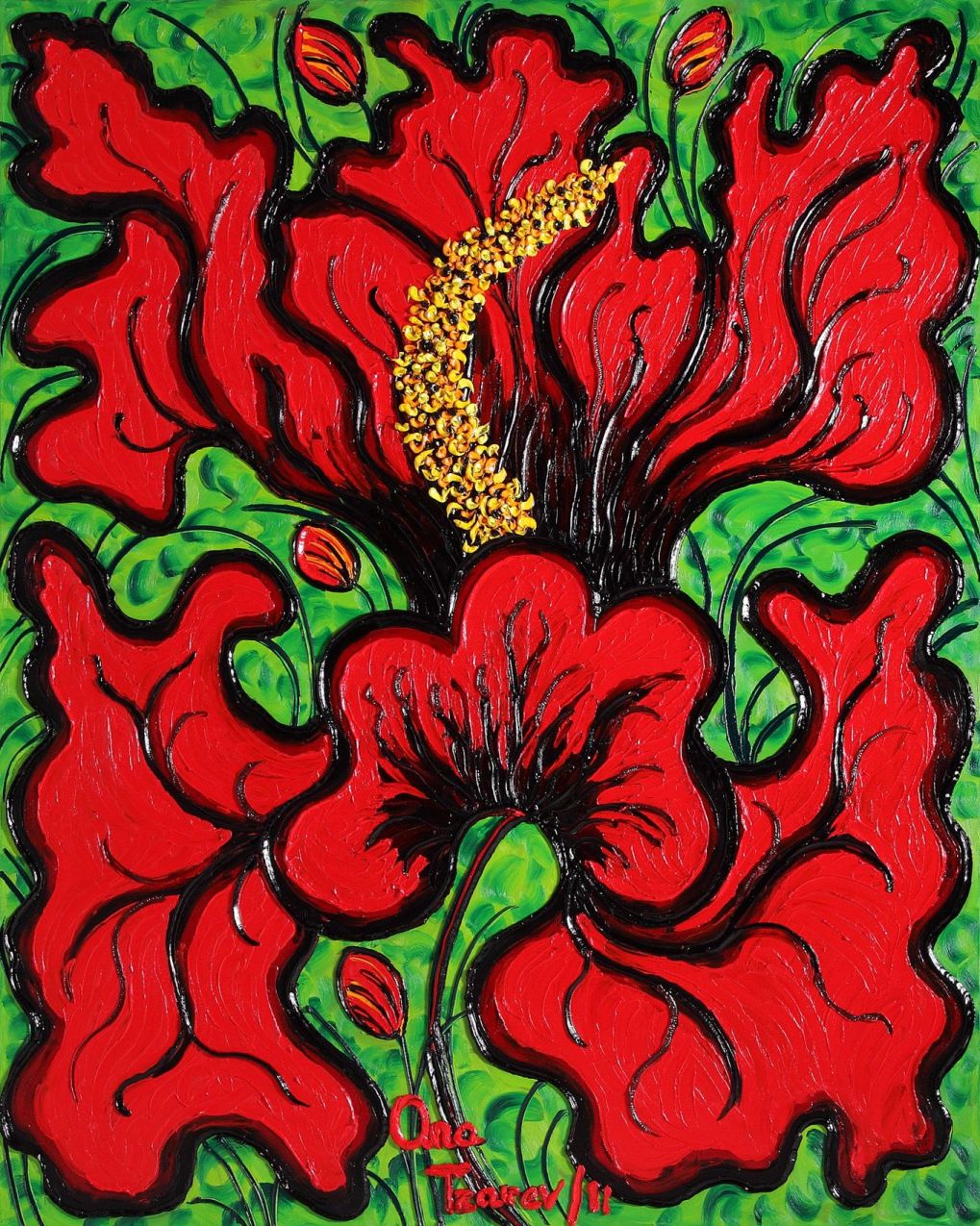 All of which means that there is something highly persuasive about the theme of the work which Tzarev is bringing to London. The subject of Tzarev's vigorous work is horticultural. Seeing her tropically bold canvases in one space is like entering the hottest house of a botanical garden. Petals burst effulgently into being, heavily crimsoned, radiantly yellowed, deeply swathed in blues and greens. Pictured above right, Love Song (Hibiscus).
Her fascination with the natural world places her in a tradition with a lengthy pedigree. "Ana Tzarev is part of a long lineage of artists who have not been afraid of tackling one of the most difficult aspects of painting," writes Véronique Chignon-Burke in her essay "The Power of Flowers": "how to capture the ephemeral qualities of flowers in a medium as permanent as oil paint?" The answer lies partly in a lifetime's preparation.
My meeting with the artist takes place in Phuket, Thailand, where Tzarev now lives for six months of the year. The sea shimmers beyond a garden densely decorated with exotic plants. She has created many gardens in a variety of climates. Indeed her first memory of drawing features flowers she sketched in the sandy hopscotch squares at the age of four. The knowledge of tropical plants she now surrounds herself with was planted in her at a very early age by a grandmother who taught her about flowers. "She used to keep the main cathedral supplied with flowers all the year through. I was the flower-runner taking armfuls of flowers to the nuns to do the altar. She taught me everything I know about flowers – how to propagate them and grow them. During the war there were no flower shops. I had a little friend and our main interest was going to the cemetery 200 metres from my house, which had most beautiful flowers growing on the graves because so many people were dying - there were executions against the cemetery wall. We would take the cuttings of geraniums or carnations and plant them in our tin pots and grow them. I had about 70 of these pots that were really Red Cross powder milk five-pound tins. I used to go around the neighbourhood and say, 'I'll do a chore for you if you give me the empty pot of your powdered milk.'"
Another story, another illustration of the way in which, starting as a young girl and not always with the financial means, Tzarev has been guided by a powerful determination to give her life an aesthetic dimension.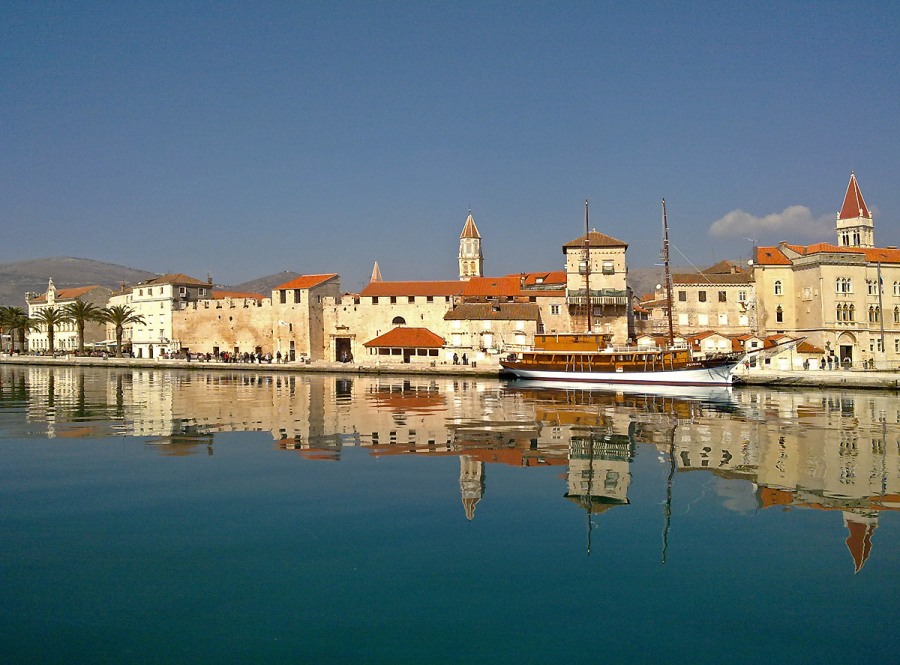 So who exactly is this gardener in oils? Ana Tzarev, to begin at the very beginning, is not her actual name. She was born Marija Guina. Her father's surname arrived with the Venetian conquerors in the 13th century and is in the baptistery of the city's Gothic cathedral (Trogir pictured left). Her mother's family name was Tzarev, from a family of White Russians who settled on the Dalmatian coast in around 1700. When eventually Ana Tzarev began to date her work and sign it, she opted to take her mother's name in thick oil squeezed straight from the tube as a statement. "I honour my mother for all the suffering in her life and the opportunities that she didn't have."
There were many more Guinas in a teeming household where both Italian and Croatian were spoken by all. But the real matriarchal influence in the young Marija's life was her father's mother, who as well as gardening and flower arranging taught her granddaughter to sew and knit. The ability to stitch and darn clothes allowed her to make money for her bus fare into school when money was extremely hard to come by (and subsequently helped her to design the fashions stocked by the department stores she created with her husband in New Zealand.)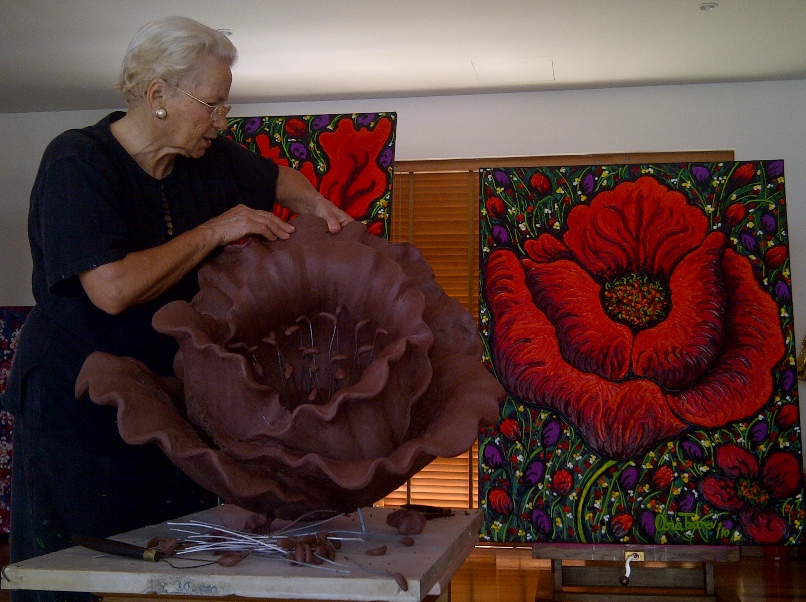 The circumstances imposed by global geopolitics are another building block in Tzarev's artistic personality. If wealth was a theme of her young years – her father was a landowner – it all changed with war and the new reality was further established when the partisans formed the government of a new country. Communist Yugoslavia was not friendly to aristocrats.
"My father was a persona non grata. He refused to vote in one-party elections so we had no coupons, and we were totally looked upon as reactionaries. His land was confiscated. He never sacrificed his principles to feed us. If I didn't have my aunt who had no children and was able to feed us I would have starved, because my father would rather die. When his land was confiscated he never signed the documents and they nailed it to the door where it stayed for six months until the wind ripped them off."
It's hard to resist a connection between her fierce self-reliance – and eventual decision to leave her beloved Croatia – and her father's defiant response to the march of history. In spite – or more likely because - of this alarming first critique from Marshall Tito, Tzarev has no memory of nurturing her talent any further. Although she excelled at school and dreamed of becoming a medical student, her teenage years were dominated by the dread knowledge that there was no future for the daughter of a political outcast in Yugoslavia. "Walking home from the school bus from Split at 14 along this long lonely road, I would look at the moon and the trees and my father's land and sob. It was so beautiful and in my heart I knew I would have to leave. I was in love with the place, so much so that when I did leave and went to New Zealand my husband used to find me crying over the dishes. I loved every stone, every tree, every flower."
She was 19 when Robert Chandler, a New Zealander in his early thirties whose two older brothers had died flying Spitfires in the war, came to Trogir with friends in search of the best bathing in reach of Venice. One warm evening in the city square he approached the group of students among whom his future wife was sitting, bent down and politely asked her to dance. "He walked me home the first night and it almost struck me like a bolt of lightning: this is my husband. He had never kissed me, he had never touched me. And it's lasted now 55 years."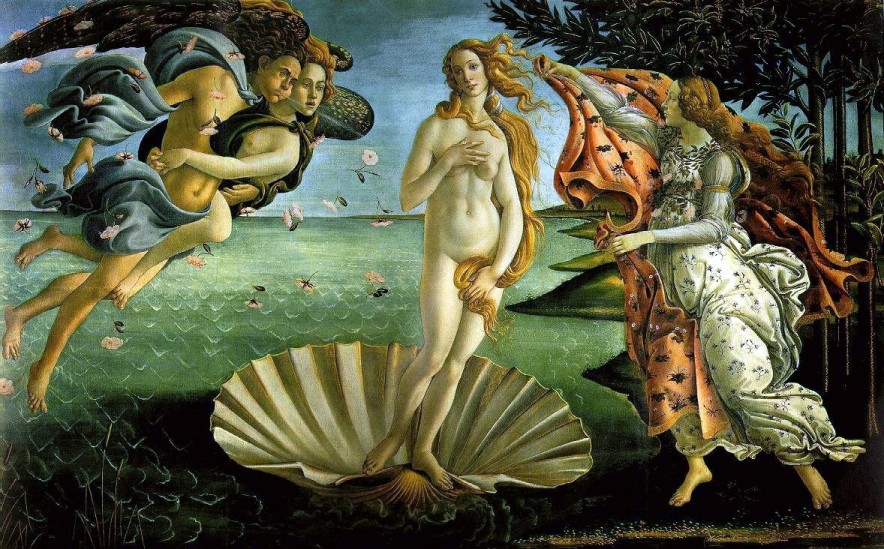 Once the formalities had been completed – the bureaucracy took about a month – she was driven away from her old life. On the way to the UK she was vouchsafed a first view of the jewels of Renaissance Italy and finally made the acquaintance of artists whose work she knew intimately from books. Venice was "like visiting a friend I had visited millions of times before." In Florence she distinctly recalls the moment she first set eyes on Botticelli's Birth of Venus. "That was really a homecoming to me. It took my breath away. I had seen it so many times and yet when it's in front of you it's so much larger than life and her body is stretched out and elongated and her hair is like snakes. You just stand there speechless thinking, how did he do that? That had more impact on me than any other picture I have seen before or since."
And there, cut off from European culture, her contact with artistic stimuli went into shutdown for several years as she brought up three sons. The Chandlers lived in Hamilton on the North Island of New Zealand - she calls it "a hermetically sealed jar" - where for several years her husband made his living as a beekeeper. Then in 1972 she set up Chandler House selling quality goods from fashion to furniture, art to antiques. For the next 15 years, Chandler House expanded across New Zealand until there were 10 outlets from Dunedin in the south to Auckland in the north. The stores had to be stocked, not only with her designs for clothing, but with artefacts. Marija Chandler, as she was known in business, began to travel.
It was now that she reacquainted herself with European art. "I immersed myself in the history of painting – I had to. I imported antiques from Sotheby's and Christie's. We had an art gallery, not very expensive but still very good. I used to go to Europe three or four times a year to do the Milan and Paris fashion shows, and buying trips to England. I would go to the museums. I was absorbing everything, especially the evolution of art. I was so very interested in how things were put together. Looking at the faces, the eyes, the hands. I went to Monet's garden a number of times, to Van Gogh's grave many times. And then I accumulated literally thousands of books on artists."
When she and her husband retired to Queensland, Australia, she handed on the baton to her sons. No account of Tzarev's life would be complete without reference to Christopher and Richard Chandler. They both did extremely well in business and, having accumulated wealth, have gone on to spend many millions each year on schools and clinics all over Asia and Africa. "I am proud of what my sons have achieved," she says. "The family narrative is one of entrepreneurship and innovation and, coming from a multicultural family, they see themselves as citizens of the world. What gives me more satisfaction than their commercial success is what they are doing to benefit humanity through their works in education, health and their other innovative approaches to the world's human development."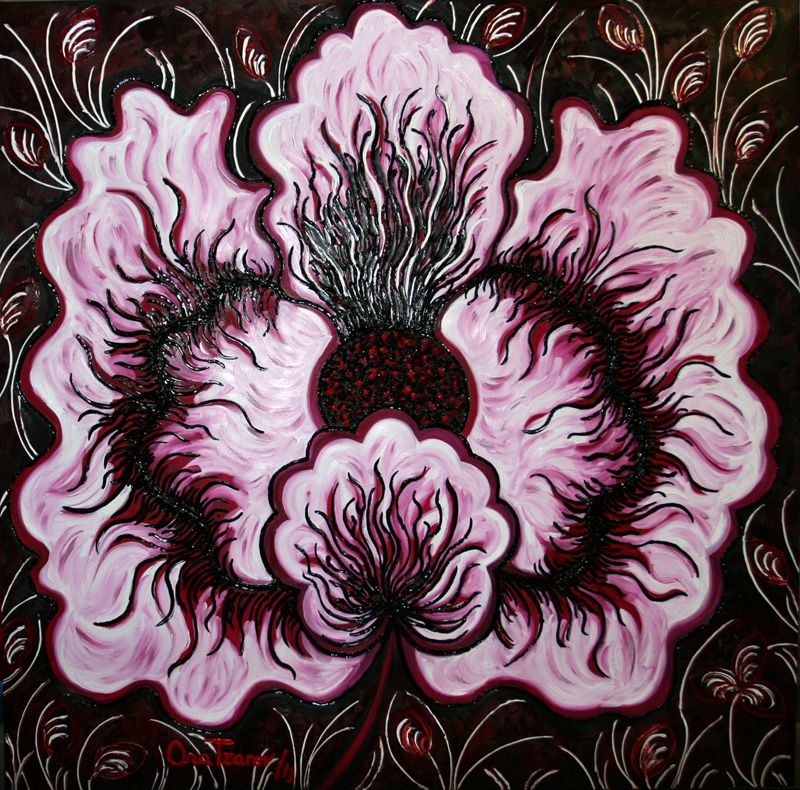 It was no doubt the knowledge that her sons were launched that enabled her to disappear one day into the spare room and start to paint. "My husband came in and looked at it. He said, 'You are going to paint?' I said, 'Yes.' He said, 'Ah, I'm so glad because you won't be dragging me round the galleries any more. And at least I'll have some peace.'" She went at it with no suggestion that she would spend a preparatory period working in pencils. "Straight into the big stuff. You have to be yourself and express yourself in the mode that you really feel is suitable to your own feelings. I'm a big brush person. Very emotional. Pencils are not me at all." (Likewise she doesn't have much truck with watercolours.) Pictured above right. Ice Queen (Poppy)
She speaks of this period as a birth – "It's something that has to happen: you don't tell it, it tells you" - but also a kind of rebirth. "It felt as if I was with an old friend that I have known before. It felt like, 'Ah there you are at last.'" But it was only after a few years that her own distinct voice began to emerge sufficiently for her to start signing and dating her canvases. The spur was the winters she began spending in Hawaii. "I got so very fond of Hawaiian people," she explains, "and got so steeply into their history and their flora. Chinese and Filipino workers coming to the sugar cane fields brought with them their native flowers, cuttings of hibiscus and frangipani and Hawaii became a paradise for flowers. And I wanted to paint it."
It may not be painted in a documentary style, and her use of rich warm colour may tend to the fantastical, but those years of Hawaiian immersion triggered a desire to record diverse cultures. She has since travelled widely in Asia and Africa, appraising a succession of ancient cultures with a trusting, unjudgemental eye and an implacable urge to celebrate traditions under threat from all-smothering modernity. "No painter however independent in sprit can be wholly without artistic influences," writes Edward Lucie-Smith, "and it is clear that one of the non-European cultures that have interested Ana Tzarev most is that of Japan. Many of her paintings express her fascination with both Japanese art and with the traditional aspects of the Japanese way of life." It's intriguing to note that her Japanese paintings teem with cherry blossom, summoning the ghost of the cherry trees which festooned her father's estate.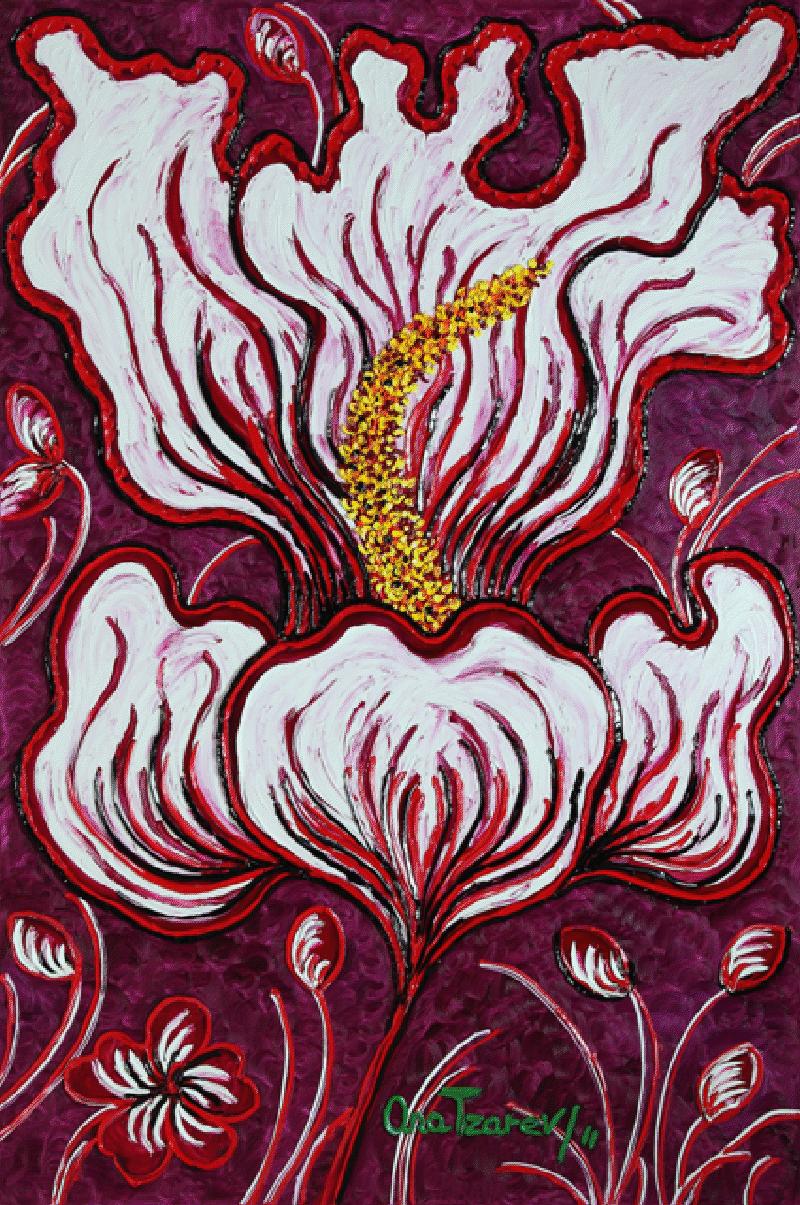 Her works in this field are what she calls "postcards to posterity" from mostly warm cultures where the heat radiates off the canvas in vibrant colour. But her palette is, Tzarev feels strongly, an extension of a sunny personality, the same child who trained herself to please a houseful of adults. "I am all about colour," she says. "If I am painting a scene it's about how strongly I feel about it. All my colours are very vivid. I am a very positive, very happy person. My own temperament is very much of a Pollyanna looking on the bright side of life and making sure that everybody is happy. I want to leave behind me beauty. There is enough misery in the world, enough badness and enough grey and black things that I would like to really be remembered for painting a garden full of flowers rather than showing sorrow in the deepest sense. I feel we have enough sorrow in the world." Pictured above left: Evening Song.
Over the past 20 years she has painted and painted, putting that world view onto canvas after canvas in thick impastoed oils. The output speaks of relentless energy, but also of obsessive desire to improve. Where another artist might scrape away at the same work for sometimes years, Tzarev will complete hers in days and then start again on another version of the same image, subtly varying, carefully enhancing. The guiding zeal is to record and record.
And it's here too in her studio in Phuket. You step from the engulfing muggy warmth of the air through a steel-framed glass door into the regulated cool of a storage chamber where rack upon rack, row upon row of fresh Tzarevs are drying at 18.5 degrees centigrade, sometimes for up to two years. Whole series of paintings are stored side by side, some clearly experimental, others more fully formed expressions of her empathy with the natural world and mankind's place in it. "I do everything obsessively," she says. "I'm sorry."
Of course she's not sorry at all. In fact she seems inordinately proud that her work is being taken seriously out in the real world of museums and art dealers. "I'd like to be seen as blazing a trail for all the people with unspent energy and unfulfilled longings. Stick with it and do what your heart tells you what you should do, and damn the torpedoes. Full speed ahead, live your life to the last drop and paint your canvas in all the colours of the rainbow".
This essay was written for the Exposed catalogue
I'd like to be seen as blazing a trail for all the people with unspent energy and unfulfilled longings
Explore topics
Share this article